Newsletter
Stocks covered:
Compensation:
Avg $ Volume for Period:
NWGC

$5000

53456

Max Profit:

6.12 %

Gain at close:

-8.16 %

*We think that this promoter is a part of a group of promoters.
Dear Subscribers,
Can you say we have been ON FIRE!!! Our new alert from this morning rocketed to 140%! PUNK hit 200% today, and we brought you LBAS two weeks ago, now it is steadily above 200%!!

We have a new alert for you tonight!!!! Lets keep the good times rollin'! We know we have been on fire recently from all the great feedback from all of you!!


Our latest Alpha Alert is NWGC, New World Gold Corp.
NWGC is in the process of defining and producing gold reserves on existing leases, while attempting to acquire additional gold reserves. The corporate strategy takes a long-term result-oriented approach to exploration and development in an efficient, profitable manner, while remaining environmentally responsible.

NWGC has both domestic and international reserves, it has made a conscious decision to bring the domestic reserves on production first. NWGC has proven developed domestic reserves with mining permits. The United States is one of the least hostile and most government friendly places in the world to operate a mine.

NWGC feels that there are no new gold discoveries, but that new technology has been developed to find new gold at old sites. That is the reason that the company has been examining old gold sites, sites that have sufficient reserves to be economical and are ready to come on production, and sites with enough historical data to redefine the ore body.

NWGC will continue to look for additional gold leases that meet its corporate criteria of being able to go into production quickly.


The company just updated everyone today with what could be an EXTREMELY POSITIVE new press release:
New World Gold Posts Continued Positive Financial Results
NWGC announced that for the six months ending June 30, 2011 it had revenues of $1,824,364 versus "$0" revenues for the six months ending June 30, 2010. The Company had a net profit of $265,303 for the period ending June 30, 2011 versus a loss of $169,919 last year. The significant positive changes in the financial condition of the Company are a result of the production being generated by the Company.
The Company expects to continue its financial growth in 2011 and to expand its facilities in 2011/2012 though increased gold production and efficiency of operations. With the current price of gold exceeding $1700 an oz, operating expenses remaining stable and gold production increasing, the Company expects the future financial results of the Company to show excellent growth.

Gold Continues the Climb Higher in Price


With unprecedented demand sending gold prices higher, the world's savviest investors are scrambling for faster and more innovative ways to make fortunes from gold. The sector that profits more than any from the growth in precious metal demand: Junior Mining Stocks. The best ones are those in production or about to go into production. "Demand for gold will rise as central banks become net buyers for the first time in 20 years," Christopher Wyke, Schroder Investment Management Ltd. Gold is a hedge against currency risk. Central banks are net buyers instead of net sellers as part of this hedge.

The United States remains one of the world's most important gold producers. The United States is the third largest gold producing nation behind only China and South Africa. America is also a net exporter of gold. The USGS believes that there is $700 billion worth of gold in the United States that remains undiscovered. The company feels that there are huge opportunities to acquire small non-producing mines that have undiscovered reserves waiting to be unearthed.

Gold is immune to the rise and fall of industrial sectors and commercial trends: gold is always an asset, never a liability and maintains its value regardless of what happens in the market.

Montana Project

The Montana property has been mapped and tested over the last three years for gold and sapphires.

Both have been found in significant quantities to justify very good commercial operations. The property has four significant pay zones—two gold and two sapphire.

Random sampling was done to define the pay zones. Based on the results of the random sampling, a pit was dug to define the pay zones. The results obtained from the pit were sufficient enough to justify a plant being built and a settling pond put in place. Regulatory approvals were applied for and received.

Colorado Project

The second project is based in Colorado. The company has a 33% interest in the project with the opportunity to increase our interest to 50%. The project has previously been in production and already has established facilities for production.

International Projects

The company has two gold projects internationally. Both projects have proven and probable reserves based on significant drilling and development work. The reserves, based on the historical work and work completed to date, appear to be significant.

Development of these projects will continue on an on-going basis with consideration regarding political stability in the regions. The international reserves, while excellent projects with significant reserves, also need the time to let the infrastructure catch up with the development of the projects.


The Stock Chart Setup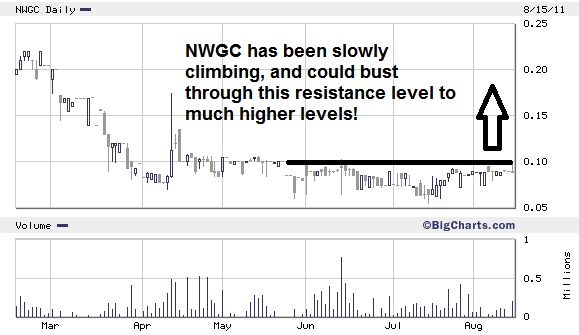 With gold being in the spotlight right now, we thought we would find a lower priced play for everyone. If you missed out on the previous gold stock picks we have released, you have another chance, NWGC could be our next BIG WINNER!

Check our twitter and facebook pages for alerts and daily trades.
**Sign up for premium alerts ahead of the crowd here

.**



Our FREE members get our featured company profiles & special alerts, but subscribing to our PREMIUM newsletter will give you an extra edge in the market.

- PREMIUM members will receive our alerts BEFORE the Free members.

- PREMIUM members will receive valuable insights, trading techniques, and special research reports.

- PREMIUM members have full support of our Team of Experts that can help you with your questions.






Best Regards

,
AlphaPennyStock.com Staff
Follow us on the two most popular social media sites:
***PLEASE MAKE SURE TO CHECK YOUR SPAM FOLDERS AND WHITE LIST/ADD THE EMAIL ADDRESS: INFO@ALPHAPENNYSTOCK.COM TO YOUR ADDRESS BOOK SO YOU RECEIVE OUR EMAIL UPDATES WITHOUT ANY PROBLEMS***

Never invest in any stock featured on our site or emails unless you can afford to lose your entire investment.

PLEASE NOTE WELL: The AlphaPennyStock.com employees are not Registered as an Investment Adviser in any jurisdiction whatsoever.

Full disclaimer can be read at http://www.alphapennystock.com/disclaimer.html

The disclaimer is to be read and fully understood before using our site, or joining our email list.

None of the materials or advertisements herein constitute offers or solicitations to purchase or sell securities of the companies profiled herein and any decision to invest in any such company or other financial decisions should not be made based upon the information provide herein. Instead AlphaPennyStock.com strongly urges you conduct a complete and independent investigation of the respective companies and consideration of all pertinent risks. AlphaPennyStock.com does not offer such advice or analysis, and AlphaPennyStock.com further urges you to consult your own independent tax, business, financial and investment advisors. Investing in micro-cap and growth securities is highly speculative and carries and extremely high degree of risk. It is possible that an investor's investment may be lost or impaired due to the speculative nature of the companies profiled.

Any statements that express or involve discussions with respect to predictions, expectations, beliefs, plans, projections, objectives, goals, assumptions or future events or performance are not statements of historical fact may be "Future looking statements". Future looking statements are based on expectations, estimates, and projections at the time the statements are made that involve a number of risks and uncertainties which could cause actual results or events to differ materially from those presently anticipated. Future looking statements in this action may be identified through use of words such as "projects", "foresee", "expects", "will", "anticipates", "estimates", "believes", "understands", or that by statements indicating certain actions "may", "could", or "might" occur. Understand there is no guarantee past performance will be indicative of future results.

In preparing this publication, AlphaPennyStock.com has relied upon information supplied by its customers, and press releases which it believes to be reliable; however, such reliability cannot be guaranteed. Investors should not rely on the information contained in this website. Rather, investors should use the information contained in this website and newsletter as a starting point for doing additional independent research on the featured companies. The advertisements in this website are believed to be reliable, however, AlphaPennyStock.com and its owners, affiliates, subsidiaries, officers, directors, representatives and agents disclaim any liability as to the completeness or accuracy of the information contained in any advertisement and for any omissions of materials facts from such advertisement. AlphaPennyStock.com is not responsible for any claims made by the companies advertised herein.

AlphaPennyStock.com may receive compensation and its employees and affiliates may own stock that they have purchased in the open market either prior, during, or after the release of the companies profile which is an inherent conflict of interest in AlphaPennyStock.com statements and opinions and such statements and opinions cannot be considered independent. AlphaPennyStock.com and its management may benefit from any increase in the share price of the profiled companies and hold the right to sell the shares bought at any given time including shortly after the release of the companies profile. Any and all compensation received in cash will always be disclosed below. AlphaPennyStock.com has been compensated up to five thousand dollars cash for a one day awareness campaign on NWGC by a third party - ALG Financial LLC. AlphaPennyStock.com never accepts compensation in free-trading shares for it's marketing services of the company being profiled, however the third party that might have compensated AlphaPennyStock.com may hold free-trading shares of the company being profiled and could very well be selling shares of the company's stock at the same time the profile is being disseminated to potential investors; this should be viewed as a definite conflict of interest and as such, the reader should take this into consideration. If AlphaPennyStock.com ever accepts compensation in the form of free trading shares of the company being profiled and decides to sell these shares into the public market at any time before, during, or after the release of the companies profile our disclaimer will be updated accordingly reflecting the current position of those free trading shares received as compensation for our services.
---
---