Newsletter
Stocks covered:
Compensation:
Avg $ Volume for Period:
PSLRF

$7500

UNKNOWN

Max Profit:

Pending

Gain at close:

Pending

November 30, 2011
Penny Stock Profile ....



Hodgins Auctioneers Inc.

(TSX-Venture: HA)

For complete profile, CLICK HERE.

"Hodgins' system sales are holding a steady course of approximately $40 to $50 million with gross revenue between $3.5 and $4.2 million annually. Net profits are holding margins typically greater than 50 percent."

Company Profile | Quote & News



V.HA PROFILE
Despite the recession of a few years ago and despite the current "doom and gloom" or European financial woes, there are a few industries that are absolutely thriving in today's economic climate. Many investors just miss these hotbeds of potential while sifting through the rubble of shattered big board stocks that still seem years away from true recovery. One such industry is conglomerates specializing in the auction business, a time-tested business that seems impervious to the financial conditions of the world. Really, it makes sense because when times are good, people are selling to buy new products; and when times are tough, people are selling to generate capital. Both conditions keep auctioneers busy and putting cash on the balance sheets.

Auctions were introduced over 2,000 years ago and the industry continues to grow every year. In 2008, when the financial industry began to collapse, $268.5 billion in goods and services were sold at live auction in the U.S., representing an increase of 5.3 percent over 2007. Some of the leading categories by dollar volume in 2008 auctions included: Automobiles ($83.1 billion); Real Estate ($58.6 billion); Art, antiques, collectibles & personal property ($21.6 billion); and Heavy machinery & equipment ($31.2 billion). It is pertinent to note that those statistics are from "live" auctions and do not include the billions of dollars generated through online auctions.

The auction business has definitely gone mainstream in recent years, boosting the popularity of the age-old profession. Hugely popular websites such as Ebay (NASDAQ: EBAY) and Overstock.com Inc. (NASDAQ:OSTK) have hit the scene. Heavily-viewed television shows such as A&E's "Storage Wars," Discovery Channel's "Auction Kings," and Barrett-Jackson Auto Auctions enthrall audiences numbering well into the millions on a regular basis.

The bottom line is that sellers of commodities need auctioneers to maximize value of any sale. For starters, auctioneers are much more than the fast-talking person rattling off dollar values and accepting bids from an audience. Esteemed auctioneers have large resources to isolate target markets and connect sellers to a deep market of potential buyers. They have the capabilities to handle every facet of an auction from start to finish, including, but not limited to auctioneers, ring people (bidders' assistants), cashiers, clerks, set-up services, catering and live internet bidding. In short, to be successful an auctioneer is an advertising, marketing and administrative expert.

So who are the big players in the industry? The fact is that there are a limited number of big names in the field and only a handful which are publicly traded. Also noteworthy is that the largest company commands less than one percent of the total market, leaving exponential room for growth by smaller competitors.

Ritchie Bros Auctioneers, Inc. (NYSE:RBA) is the world's largest industrial auctioneer. Over the last decade, shares of RBA have risen from $3.50 to over $31 earlier this year. Sothebys Holdings Inc. (NYSE:BID) is another popular public auctioneer, but the company primarily deals in fine arts. Shares trade around $28 a piece. Liquidity Services Inc. (NASDAQ:LQDT) has seen shares surge from $4.55 in early 2009 to over $36 each in 2011. Some other majors in the game are held tightly and include Adesa (formerly owned by Minnesota Light & Power) and Manheim, which is owned by Cox Enterprises (77,000 employees and $15 billion in annual revenue).

A sleeper of a company, Hodgins Auctioneers (TSX-Venture:HA) perhaps holds some of the greatest unrealized potential in the industry. Based in Melfort, Saskatchewan, Hodgins is a full-service auction company providing its services to agricultural producers and dealers, as well as industrial plant and construction equipment, automotive and real estate sellers and buyers. The Company has been in the auction business for 54 years and is starting to hit its stride to capture more market share through strategic execution of its business model.

Hodgins is focused on three of the most lucrative markets in the industry: agricultural, industrial and real estate. Combined, these three sectors represent over a third of the total market in 2008, or around $90 billion. Gauging an aging farm population, a study by Royal Bank said that $50 billion in farm assets will be changing hands in the decade prior to 2016. The industrial sector represents more than $15 billion annually in North America.

Hodgins has conducted more than 6,000 auctions since inception and is an expert in all components of the auction business. President and Chief Executive Officer Barrie Jung and General Manager Grant Hodgins have cumulatively nearly 60 years in the auction business and possess the skill set to take the firm to the next level. Mr. Jung previously served as President and Vice President of both Canadian and Saskatchewan Auctioneer Associations. They have surrounded themselves with industry professionals to build a team of marketing experts, a call center staff, operational technicians and trust administrators that are unparalleled by a company of its size. As part of its comprehensive offerings, Hodgins has more than 100,000 customers in its database to ensure motivated target audiences are driven to client's auctions.

Additionally, Hodgins sometimes provides sellers with a financial guarantee for a package of assets. This is typically a minimum guarantee to the seller, based on seller participation in any amount over the quoted guarantee. Hodgins Auctioneers also occasionally purchases assets outright for resale on its own account.

Hodgins intends to capitalize on the weaknesses of its larger competitors through its core competencies and to expand its sales and marketing efforts in all segments it serves. For example, Ritchie Bros. carries large overhead costs associated with brick-and-mortar operation and also lacks personal touch associated with smaller firms. Regional competitor Kramer Auctions does not offer financial guarantees or outright purchase options to clients.

Presently conducting approximately 100 auctions per year, both live and online, system sales are holding a steady course of approximately $40 to $50 million with gross revenue between $3.5 and $4.2 million annually. Hodgins maintains stellar gross profit margins of roughly 50 percent. With its growth strategy to increase margins with more bought deals, diversification by segment and geographic expansion, Hodgins appears well-positioned to grab an even larger portion of the market in the near term by potentially doubling the number of auctions it conducts.

A look at the share structure of Hodgins reveals its large upside potential. There are only 8.6 million shares issued and outstanding (9.2 million fully diluted) and management owns 55 percent of those shares. This not only shows the extreme confidence of the management team, but only leaves less than four million freely tradable shares available. Stocks that trade as thin as Hodgins can move rapidly as a simple matter of supply versus demand.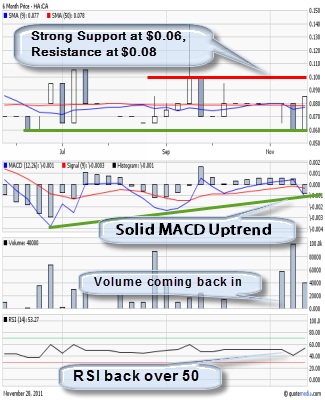 Technically speaking, the best view of the HA chart is derived from the six month/weekly perspective because of its tiny float and thin trading pattern. The weekly chart clearly shows a strong support level at 6 cents, which is also an all-time low for the stock price. Resistance comes into play at a dime, but then not again for another 50 percent move upwards at the 15 cent level. Beyond that, the 20 cent level represents a 52-week high and a significant point for a breakout as no more resistance is in sight until 35 cents. Importantly, the price per share has now climbed over top of the 50 day moving average, a characteristic of bullish charts.

The Moving Average Convergence/Divergence (MACD) has been on a solid upward trend since July and is holding the uptrend right around the zero mark. The MACD demonstrates the trend in the stock and the trend for HA is showing strength in its present position. The break through and hold above zero – commonly referred to as "the money line" – is a bullish indication.

The Relative Strength Index (RSI) is now registering above 50, which is a bullish sign of momentum. The stock price has risen this week by more than 40 percent, giving a kick of momentum into the play as it heads towards resistance. After several weeks of no volume, 200,000 shares have traded hands recently, giving hints that investors are seeing a move of support as a solid buying opportunity.

To further ignite the technical prospects of this stock, the Company just put our strong quarterly financials after the bell. The news was solid with the Company boasting net year-to-date earnings of $552,712 or 6 cents per share, while year-to-date gross sales came in at $30,457,309 representing an increase in gross sales year over year of 46% and an increase in average gross sales per auction from $410,165 to $525,126 among other important highlights. It seems as though business continues to boom for Hodgins Auctioneers, and these financials couldn't have been more timely to prove that point.

With support hovering around $0.06 currently, stop losses just below that level would make a lot of sense in case of wild swings in the wrong direction. As we always mention at this point, these are merely the interpretations of AllPennyStocks.com. We encourage all investors to do their own due diligence and consult with a financial advisor prior to making any investment decisions.

The investment world offers many real possibilities on a daily basis of companies that are aligned to experience strong growth in the near term. Few, however, offer the incredible potential of Hodgins. Trading at only 8.5 cents a share with an absolutely miniscule market cap of $730,000, Hodgins has a long history in the industry, regularly drives millions in revenue, has a highly-experienced team and has offerings similar to its limited, but much larger competitors. The footprint is clearly there. Now it is ready to be expanded. It is for these reasons, as well as those mentioned above, that we at AllPennyStocks.com are pleased to turn our latest Canadian spotlight on Hodgins Auctioneers Inc. (TSX-Venture:HA) and encourage our members to begin their due diligence and promptly add it to their watchlists.
As always, more information on Hodgins Auctioneers Inc., (TSX-Venture:HA) can be found by going to the full Hodgins profile at AllPennyStocks.com or by clicking here.
INVESTMENT HIGHLIGHTS
Booming Industry. The auction industry is still thriving in today's economic climate. Not only is there strong organic growth, but well-marketed web auction sites and national television shows are helping bolster growth through exposure.
Limited Competition. The auction industry has many small players, but few majors. Only a handful of companies are publicly-traded and trade at substantially greater prices. Even so, the largest company still only commands less than one percent of the total market, leaving exponential room for growth by smaller competitors.
Established Company. Hodgins Auctioneers has been in the auction business for more than half a century. A full service auction firm that has conducted more than 6,000 auctions, Hodgins provides its services to agricultural producers and dealers, as well as industrial plant and construction equipment and real estate sellers and buyers.
Solid Management. President and Chief Executive Officer Barrie Jung and General Manager Grant Hodgins have cumulatively nearly 60 years in the auction business. They have surrounded themselves with industry professionals to build a team of marketing experts, a call center staff, operational technicians and trust administrators that are unparalleled by a company of its size.
Share Structure. Hodgins has a share structure that includes only 8.6 million outstanding shares. Insiders hold more than 50 percent of those shares, leaving less than 4 million shares in the float.
OVERVIEW
Headquartered in Melfort, Saskatchewan for more than fifty years, Hodgins is a provider of professional auction services and is renowned for its experienced auctioneers, award-winning promotions, dependable results and commitment to providing the ultimate marketplace for the sale of assets by auction.

Corporate Information

Exchange: TSX-Venture
Market Cap: 730K
Outstanding Shares: 8.6 Million
Price: $0.085
52 Week Low / High: $0.06 / $0.14
Information As Of November 30, 2011




Useful Profile Links

Corporate Information

Recent News & Press Releases

Management Team

Contact Information




Forward Looking Statements

This report includes forward-looking statements that reflect Hodgins Auctioneers Inc. current expectations about its future results, performance, prospects and opportunities. Hodgins Auctioneers Inc. has tried to identify these forward-looking statements by using words and phrases such as "may," "will," "expects," "anticipates," "believes," "intends," "estimates," "plan," "should," "typical," "preliminary," "we are confident" or similar expressions. These forward-looking statements are based on information currently available and are subject to a number of risks, uncertainties and other factors that could cause Hodgins Auctioneers Inc.'s actual results, performance, prospects or opportunities to differ materially from those expressed in, or implied by, these forward-looking statements. These risks, uncertainties and other factors include, without limitation, the Company's growth expectations and ongoing funding requirements, and specifically, the Company's growth prospects with scalable customers, and those outlined above. Other risks include the Company's limited operating history, the Company's history of operating losses, consumers' acceptance, the Company's use of licensed technologies, risk of increased competition, the potential need for additional financing, the terms and conditions of any financing that is consummated, the limited trading market for the Company's securities, the possible volatility of the Company's stock price, the concentration of ownership, and the potential fluctuation in the Company's operating results.

Disclaimer

AllPennyStocks.com feature stock reports are intended to be stock ideas, NOT recommendations. Please do your own research before investing. It is crucial that you at least look at current SEC filings and read the latest press releases. Information contained in this report was extracted from current documents filed with the SEC, the company web site and other publicly available sources deemed reliable. For more information see our disclaimer section, a link of which can be found on our web site. This document contains forward-looking statements, particularly as related to the business plans of the Company, within the meaning of Section 27A of the Securities Act of 1933 and Sections 21E of the Securities Exchange Act of 1934, and are subject to the safe harbor created by these sections. Actual results may differ materially from the Company's expectations and estimates. This is an advertisement for Hodgins Auctioneers Inc. The purpose of this advertisement, like any advertising, is to provide coverage and awareness for the company. The information provided in this advertisement is not intended for distribution to, or use by, any person or entity in any jurisdiction or country where such distribution or use would be contrary to law or regulation or which would subject us to any registration requirement within such jurisdiction or country.

© 1999-2011 AllPennyStocks.com. All rights reserved. AllPennyStocks.com is not a Registered Broker/Dealer or Financial Advisor, nor do we hold ourselves out to be. All materials presented on our web site and individual reports released to the public through this web site, e-mail or any other means of transmission are not to be regarded as investment advice and are only for informative purposes. Before making a purchase or sale of any securities featured on our web site or mentioned in our reports, we strongly encourage and recommend consultation with a registered securities representative. This is not to be construed as a solicitation or recommendation to buy or sell securities. As with any stock, companies we select to profile involve a degree of investment risk and volatility. Particularly Small-Caps and OTC-BB stocks. All investors are cautioned that they may lose all or a portion of their investment if they decide to make a purchase in any of our profiled companies. Past performance of our profiled stocks is not indicative of future results. The accuracy or completeness of the information on our web site or within our reports is only as reliable as the sources they were obtained from. The profile and opinions expressed herein are expressed as of the date the profile is posted on site and are subject to change without notice. No investor should assume that reliance on the views, opinions or recommendations contained herein will produce profitable results. AllPennyStocks.com may hold positions in securities mentioned herein, and may make purchases or sales in such securities featured on our web site or within our reports. In order to be in full compliance with the Securities Act of 1933, Section 17(b), AllPennyStocks.com will disclose in it's disclaimer, what, if any compensation was received for our efforts in researching, presenting and disseminating this information to our subscriber database and featuring the report on the AllPennyStocks.com web site. AllPennyStocks.com has been compensated seven thousand five hundred dollars by the Company for its efforts in presenting the V.HA profile on its web site and distributing it to its database of subscribers as well as other services. AllPennyStocks.com may decide to purchase or sell shares on a voluntary basis in the open market before, during or after the profiling period of this report. As of the profile date, no shares have been sold. Information presented on our web site and within our reports contain "forward looking statements" within the meaning of Section 27A of the Securities Act of 1933 and Section 21E of the Securities Exchange Act of 1934. Any statements that express or involve discussions with respect to predictions, expectations, beliefs, plans, projections, objectives, goals, assumptions or future events or performance are not statements of historical fact and may be "forward looking statements." Forward looking statements are based on expectations, estimates and projections at the time the statements are made that involve a number of risks and uncertainties which could cause actual results or events to differ materially from those presently anticipated. Forward looking statements in this action may be identified through the use of words such as "expects'", "will," "anticipates," "estimates, "believes," or that by statements indicating certain actions "may," "could," or "might" occur.

THE READER SHOULD VERIFY ALL CLAIMS AND DO THEIR OWN DUE DILIGENCE BEFORE INVESTING IN ANY SECURITIES MENTIONED. INVESTING IN SMALL CAP SECURITIES IS SPECULATIVE AND CARRIES A HIGH DEGREE OF RISK.

We encourage our readers to invest carefully and read the investor information available at the web sites of the Securities and Exchange Commission (SEC) at: http://www.sec.gov and/or the National Association of Securities Dealers (NASD) at: http://www.nasd.com. Readers can review all public filings by companies at the SEC's EDGAR page. The NASD has published information on how to invest carefully at its web site.