Newsletter
Stocks covered:
Compensation:
Avg $ Volume for Period:
UAPC

$10000

176733

Max Profit:

1.57 %

Gain at close:

-0.79 %

*We think that this promoter is a part of a group of promoters.
Hello Class and New Students,
Our latest alert, United American Petroleum (OTCBB: UAPC), could start moving up the
charts today!
United American Petroleum is an independent oil and gas company focused on the exploration, development and production of energy reserves in the US.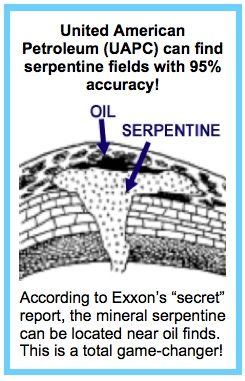 UAPC already has a potential oil strike worth $442 million dollars at today's oil prices of $110 a barrel using their sensitive magnetic equipment that finds the mineral serpentine with a phenomenal 95% accuracy rate!

As if that wasn't enough to get you excited about the company, consider this:
UAPC has the ability to generate revenue from two sources, not just one - Operations and Production of Hydrocarbons!
United's principal business is the acquisition and management of leasehold interests in petroleum
and natural gas rights, either directly or indirectly, and the exploitation and development of properties.
Additionally, UAPC can generate revenues from the production of hydrocarbons which distinguishes them from most of the competition!
The company looks to broaden its scope of business through organic growth and exploitation of
untapped resources within the oil and gas arena.
United's principal business is the acquisition and management of leasehold interests in petroleum and natural gas rights, either directly or indirectly, and the exploitation and development of properties.
Lesser-known "Secondary" energy stocks like UAPC can produce Rapid-Fire Gains the big guys just can't match!

The money-making potential of little-known energy stocks is a true Wall Street secret. Consider the fact that Exxon has a market cap of $413.2 billion dollars. They'd have to find another Saudi Arabia to make it go up 25%, they're that big.
However, UAPC has a market cap of only $55 million which could see an exponential increase with
a substantial find.

The prices below show the low and subsequent high, adjusted for splits, of "invisible" energy companies.

Past performance is no guarantee of future success, of course, but when they succeed they do so with magnum force. Just look at these gains!
Panam Petroleum went from $2.25 to $295—up 131 times!
Essar Oil went from from $3.25 to $320—up 98 times!
Key Energy went from 25 cents to $18—up 72 times!
Valero Energy went from $1.50 to $64—up 43 times!
World Fuel Services went from $1.15 to $48—up 42 times!
Because of UAPC's potential for exponential gains like these stocks, we cannot urge our subscribers enough to get a toe-hold in United American Petroleum now before a possible
huge oil discovery or even a buyout!

UAPC a Prime Acquisition Target for such neighbors as Exxon (NYSE: XOM) ConocoPhillips (NYSE: COP), EOG Resources (NYSE: EOG) and others!

We believe this is the case because UAPC has exploration acreage in and around Eagle Ford,
America's Hottest Oil Discovery! Take a look at all of the major players surrounding UAPC!





UAPC Has Three Separate Factors that could cause Huge Growth for those
who Act Now!

1) Advanced Technology
UAPC is equipped to find more oil using their highly sensitive magnetic equipment that locates
serpentine mounds with a jaw-dropping 95% accuracy rate.

At $100 a barrel, this can turn into a multi-million dollar flow of cash like you wouldn't believe!

2) Potential Buyout

As we stated above, UAPC is definitely a buyout candidate in our opinion. Oil development is a capital intensive business and every small oil company usually has one thing on their mind: Buyout from a major with the money to develop the oil they've found.

If this happens, those who hold shares of UAPC stand to see exponential gains like
we highlighted earlier!
3) Prime Location in and around America's Hottest recent Oil Discovery!
The location of UAPC's properties—in Eagle Ford Shale District and surrounding area makes this a
real possibility. Remember, last year $43.6 billion was spent by the majors acquiring shale exploration rights, according to Simmons, a respected energy investment bank.

It is easy to see why we are so bullish on UAPC right now and we urge all of our subscribers
to perform their research now so you are ready to ride the wave up the charts!
Please do not let this incredible buying opportunity pass you by and as always, remember to use
limit and stop-loss orders to maximize potential profits and minimize losses with UAPC!
The Professor Has Spoken!

Sincerely,

Penny Stock Professor


This message was sent to xxxxxx@gmail.com from:

PennyStockProfessor.com | P.O. Box 416 | Penns Park, PA 18943

Email Marketing by