Newsletter
Stocks covered:
Compensation:
Avg $ Volume for Period:
SUWN

$3500

UNKNOWN

Max Profit:

5.54 %

Gain at close:

0.00 %
By reading this email you acknowledge you have read our disclaimer provided as an image near the bottom of this email or the link included. This is a paid News Dissemination Advertisement. FN Media Group is not responsible or held liable for the information in the email or any included press releases issued by any public company contained herein. Please be sure to ALWAYS perform your OWN Due Diligence. To stop receiving our news alerts and immediately Remove yourself from the FNM online community, please scroll down to the bottom of this message and use the links provided.


Sunwin Stevia International (SUWN) - Market Mover Alert
SUWN Reports Several Stevia Purchase Orders
- May 17, 2015 -

FinancialNewsMedia.com (FNM)

is a leading provider of top tier Market Updates & News Alerts for evolving companies on the move.

FNM

Alerts

never contain hype, over promotion, predictions or personal opinions - just true Time Sensitive News Alerts that are 100% News Driven.
SUWN Breaking News: Sunwin Stevia International Completes Several Purchase Orders of Stevia Extracts



PRNewswire, May 17, 2016 -- Sunwin Stevia International, Inc. (OTC: SUWN) ("Sunwin Stevia"), one of the top global suppliers of high quality stevia extracts including Rebaudioside A 98 and Rebaudioside A99, announced today that it has recently delivered several purchase orders for a total of 5 tons of stevia extracts in a value of excess $300,000.

The clients are based in Asia and both North and South Americas. The delivered stevia extracts include both high grade stevia (Reb A: 95% to 99.8%) and low grade stevia (Reb A: 60% to 80%).

Ms. Dongdong Lin, CEO of Sunwin Stevia stated, "We expect substantial growth in sales of our stevia extracts in the coming years, as we continue to develop new products for our global clients and expand our market reach worldwide. In the past two years, we have invested substantial capital and resources in R&D and production facilities. As of now, we focus on expanding our market share of stevia extracts in Asia, Europe, North America and South America. As we continue to expand our market efforts, we believe we will see substantial growth in our stevia extracts for years to come."
Continued...

Read the entire SUWN press releases here:
http://www.fnmprofiles.com/profiles-suwn.html
---
Sunwin Stevia International, Inc. (SUWN) engages in the areas of zero calorie, all natural sweeteners (Sunwin Stevia™ Extracts). As an industry leader in high quality stevia production, Sunwin Stevia has built an integrated firm with the farming and production capabilities to meet the needs of consumers throughout the world.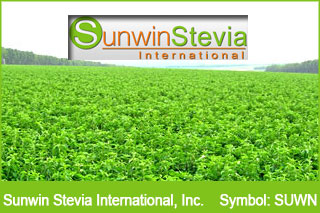 ---
Keep a close eye on your inbox for a future alerts and please feel free to constantly check the FinancialNewsMedia.com website for new announcements posted daily.

You are currently receiving this message because you have visited, opted in or requested information from one of a many affiliated or associated financial sites. FN Media Group completely respects everyone's right to online privacy and wishes to only communicate to those who are interested in receiving premium news alerts for companies that issue real news with real developments. If you believe you have received this message in error or prefer to no longer receive our alerts, please use the unsubscribe link provided below to immediately remove yourself from our online investment community.
FinancialNewsMedia.com is a news dissemination and financial public relations company that delivers breaking news alerts and market commentary updates to the investment community. This complimentary news service is viewed by hundreds of thousands of retail investors from around the globe that frequent other popular online news & financial destinations such as TradeKing, Forbes, CBSMarketwatch, Morningstar, Bloomberg and so many more.

FinancialNewsMedia.com... When the market moves, don't get left behind

Follow Us Now On
FNM Disclosure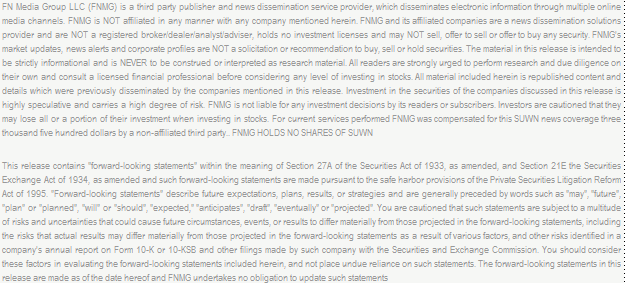 If you are unable to view this disclosure in the included image, please go here to read our entire disclosure online
Contact FN Media by mail:
FN Media
4613 N. University Drive #374
Coral Springs, FL 33067

[Change Subscription] [Cancel Subscription]