Newsletter
Stocks covered:
Compensation:
Avg $ Volume for Period:
ORYN

$10000

622613

Max Profit:

19.88 %

Gain at close:

8.43 %

*We think that this promoter is a part of a group of promoters.
Hello Class and New Students,
Our next pick, ORYN, is set to take a $110 Billion dollar global industry by storm and
could provide early shareholders with huge gains!

Oryon Technologies, Inc. (OTCBB: ORYN) has patented and trademarked its next-
generation electroluminescent ("EL") lighting technology called ELastoLite®.
Elastolite® is a first-of-its-kind self-illuminating fabric that can revolutionize
branding and name recognition for juggernauts like Nike or Adidas and take
fan-based marketing for major league franchises like the NFL, MLB, NBA and
NHL to new heights!
As if that wasn't enough, ELastoLite®'s thin, flexible, crushable, water-resistant lighting
systems can be incorporated into several other applications such as safety apparel,
consumer applications, membrane switches to name a few.
Click Here to watch a video showing how ORYN's amazing Elastolite® technology works
and how it has already been used in a Hollywood Blockbuster, Tron: Legacy!

The time to act on this Technology Superstar is right now! Why?
ORYN is showing "Very Bullish" Technicals across the Board Right Now!

Also, ORYN has moved up 100% slowly since the summer and it looks to have a ton
of support in place! What kind of support?
There appears to be a massive amount of accumulation going on in the low 80 cent
range which could serve as major support and an important catalyst in the next leg up
for ORYN!
Because of several bullish signs and technical indicators as well as its literally
industry-changing lighting technology, Penny Stock Professor is extremely
excited about both ORYN's short and long term potential as a HUGE winner!
Now let's uncover why Oryon Technologies and ELastolite® represent one of the
biggest technology stock opportunities that we have seen in a very long time.
ORYN's ELastoLite® Technology Could be the Most Significant
New Technology in the Sports Apparel Industry in Decades!
ELastoLite® is a first-of-its-kind self-illuminating fabric that can revolutionize branding
and name recognition in the Sports Apparel industry.
In fact, we believe that the biggest names in the sports apparel industry will be competing
to be the first to market with ORYN's game-changing technology!
As ORYN partners with these and other huge companies, the stock could soar,
which is why the time to get involved is now!

Why are we so confident?
Because ORYN has reported that it is moving forward on new product ideas with
a "leading Fortune 500 sports apparel brand," which we think could be Nike or
Adidas!
Oryon Technologies has already reported working with Nike on new products.

This would be a solid entry into its $110 billion global market, of which Nike holds a
significant and growing share.
Not only that, but ORYN has brought on one of the best-connected sports apparel
and merchandising experts in the world today, Tom Schaeffer, to lead their marketing
efforts!
Who is Tom Schaeffer?
Schaeffer helped launch a little-known company, Blue Ribbon Sports that turned
into Nike, the world's largest sports apparel company!
Over the past 30 years, Schaeffer has established a large network of high-level contacts
with major league franchises in the NFL, MLB, NBA, NHL, MLS and dozens of top-tier
university sports programs through his sports merchandising company, Active Concepts.
Because there is such intense competition for market share in sports apparel and
merchandise, being first to market with an ELastoLite® product could be worth billions
in new market share to a company like Adidas or Nike!
This makes sense when you consider the fact that just one-tenth-percent gain in
market share can translate into more than $100 million in sales.
High level contacts combined with the fact that ELastoLite®'s self-illuminating
fabric can be applied to jerseys, T-shirts, running shoes and protective gear
make ORYN such an amazing ground floor opportunity right now, as we see it!
ORYN Could Generate a Billion Dollar Licensing Deal in the
"High Visibility Clothing" Market
In addition to the sports apparel market, ELastoLite® has been test marketed in over
100,000 apparel and gear items sold by Marmot Mountain and Lands' End.
While ORYN's main focus appears to be in apparel right now, and as we've shown,
that market alone is gigantic, ELastoLite®'s potential industry applications are enormous,
particularly the "High Visibility Clothing" Market.
In fact, ORYN reports that the company is moving forward on new product ideas
with a "Fortune 100 Occupational Safety Products licensee!"

The only occupational safety company we know of that has a place on the Fortune
100 is 3M and they have a commanding share of the world market for high visibility fabrics.

3M Co. (NYSE: MMM) covers just about every area of personal safety equipment including
fire, medical and police first responders, industrial manufacturing, automotive, shipbuilding,
military, building contractors and consumers.
In fact, high visibility clothing and safety equipment for police, fire, medical and military
represent a major component of 3M's market.
This is where a prospective buyout comes into play for ORYN, which would send
its shares through the roof!

Why a Possible Buyout for ORYN by 3M?
Because ORYN's ELastoLite® has the potential to render reflective cloth obsolete,
forcing 3M into the position of either buying the rights, buying the company, or
losing the market!
3M has to be aware of the ORYN's threat to its reflective fabric market because and losing
the market is not an option and 3M is not shy about stepping up big to grow or maintain
its markets.
Recently, 3M paid $1.2 billion to buy out Indiana-based Aearo Technologies, adding new
products in hearing and eye protection.

For this reason, we believe that a billion-dollar-plus licensing deal for ORYN's
ELastoLite® by 3M is absolutely possible!
The sky is the limit right now for ORYN - Do not miss this golden ground-floor opportunity
and check your inbox tomorrow morning before the open for more on this superstar
technology stock!
The Professor Has Spoken.

Sincerely,

Penny Stock Professor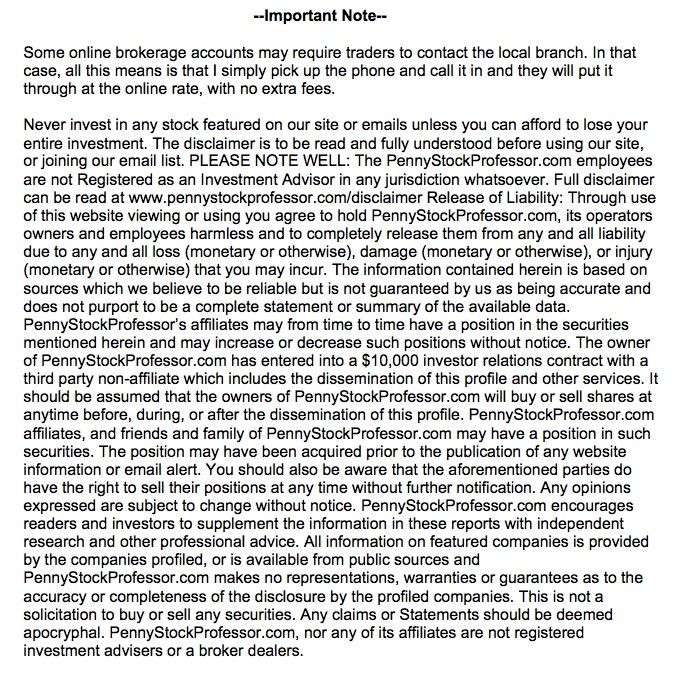 | | |
| --- | --- |
| PennyStockProfessor.com | P.O. Box 416 | Penns Park, PA 18943 | Email Marketing by |