Newsletter
Stocks covered:
Compensation:
Avg $ Volume for Period:
CLKZ

$60000

86244

Max Profit:

93.53 %

Gain at close:

79.41 %

*We think that this promoter is a part of a group of promoters.
Check out our site -

MicroStockProfit.
Trade Alert: Clicker Inc. (CLKZ)
CLKZ Shifts Gears and Turns Up

the Heat Under its Shares!
Hello Again!
Clicker, Inc. (CLKZ)
runs high-traffic finance-oriented websites and is now moving, under its new and aggressive CEO, into mass market content categories such as: Hollywood gossip, sports, job listings, among others.
And that's got traders excited, especially since just one of its websites,
WallSt.net
, brought in $766,000 last year. (Read
more
)
So when
CLKZ
bought big name
CelebrityMagazineOnline.com
– the stock shot
up 21%
in pre-open trading and then another 9% after the bell. (Read
more
)
Swings like that are not out of the ordinary for
CLKZ.
Over the past month, the stock jumped anywhere from
10% to 60%
at the open or printed a dip-to-close candlestick of
12% to 50%
.
And half the time, traders have gotten a shot at both moves in the same day!
Plus, ever since
CLKZ
announced on March 8th that Lloyd Lapidus will be its new CEO average turnover is up a solid 50%.
And when the stock moves to the upside...
buyers outnumber sellers 6 to 1!
By the way, CEO Lapidus, a serial entrepreneur, has a major talent for raising cash. He recently raised $33 million for handbag rental site:
Bag, Borrow or Steal
.
And Get This:
The old CEO's separation agreement takes his shares, 37% of the float, off the market. He can't sell them, and if
CLKZ
books just $100,000 in revenue before next March,
the company gets all his shares!
In other words, there's suddenly 23 million fewer
CLKZ
shares out there – exactly when traders are climbing aboard – and that's a tasty recipe for increased VOLATILITY!
Now let's take a look at the chart...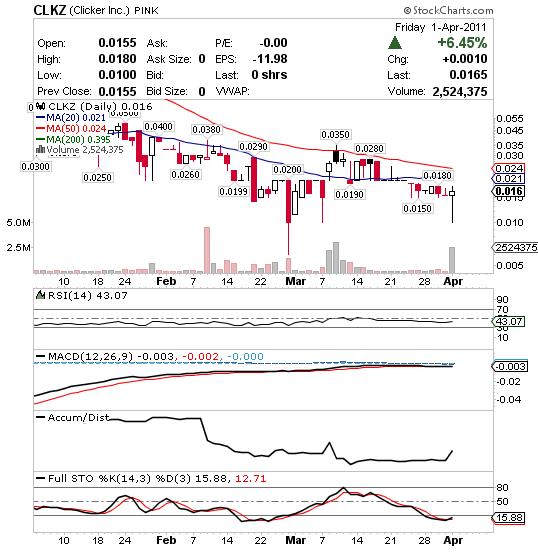 Technical Bullets for CLKZ:
Price action has locked in a double-bottom at $.01
MACD has been leading signal upward since late last year
STO has retrenched after touching "overbought" at 80 and is now at the edge of "oversold"
RSI is hovering just below the centerline
Bottom Line:
Traders are clearly excited to play
CLKZ,
as evidenced by its 50% rise in turnover since the arrival of new CEO Lapidus.
And why not,
CLKZ's
60% moves are pure bait for penny stock lovers.
Load
CLKZ
onto your platform RIGHT NOW and check it out for yourself!
Sincerely,
Jay Geller
This newsletter is a paid advertisement and is neither an offer nor recommendation to buy or sell any security. We hold no investment licenses and are thus neither licensed nor qualified to provide investment advice. The content in this report or email is not provided to any individual with a view toward their individual circumstances. MicroStockProfit.com is a wholly-owned subsidiary of BlueWave Advisors, LLC. BlueWave Advisors has been compensated sixty thousand dollars from SOS Resource Services, Inc. (a non-controlling third party shareholder) for CLKZ advertising and promotion. This compensation constitutes a conflict of interest as to our ability to remain objective in our communication regarding the profiled company. Because of this conflict, individuals are strongly encouraged to not use this newsletter as the basis for any investment decision. BlueWave Advisors, LLC does not hold a position in the covered company.
While all information is believed to be reliable, it is not guaranteed by us to be accurate. Individuals should assume that all information contained in our newsletter is not trustworthy unless verified by their own independent research. Also, because events and circumstances frequently do not occur as expected, there will likely be differences between the any predictions and actual results. Always consult a real licensed investment professional before making any investment decision. Be extremely careful, investing in securities carries a high degree of risk; you may likely lose some or all of the investment.