Newsletter
Stocks covered:
Compensation:
Avg $ Volume for Period:
CPOW

Unknown compensation

UNKNOWN

Max Profit:

21.40 %

Gain at close:

20.70 %

*We think that this promoter is a part of a group of promoters.


The Bull Report
December 16, 2010

Tonny,

Put CPOW on your radar now... It looks like
we could have another huge winner!

CLEAN POWER CONCEPTS (CPOW.PK)
Clean Power Concepts Inc. was incorporated in Nevada on October 17, 2005 and trades on the OTC-BB under the symbol CPOW. To implement expansion of our business in the environmentally friendly green energy industry we acquired 95.1% of General Bio Energy Inc. based on a share exchange concluded on April 29, 2010. General Bio was incorporated in Saskatchewan, Canada on February 14, 2006 and operates a fully integrated commercial oilseed crushing, bio-diesel refinery, and environmental lubricants manufacturing and bottling, and nutraceutical and food processing plant in Regina, Saskatchewan.

The current plant has a crush capacity of 19.7 million liters of crushed oil annually. Its biodiesel fuel processor can produce up to 20 million liters of biofuel and biofuel additives and the crushing system can produce nearly 32.8 thousand metric tonnes of meal and protein related products for agricultural and aquaculture feedstock annually. The plant is capable of specialty and toll crushing a wide variety of oil seeds.

General Bio's primary brand is: 'MOPO Environmental Lubricants' and other key trade names include: 'General Bio Health' and 'Spirit of Health', under which General Bio manufactures, distributes, and retails essential oils, camelina, canola, flax, and hemp, in various formats including capsules, gourmet cooking oils, and skin care formulations. Website: cleanpowerconcepts.com

Clean Power Concepts Comments on Record Revenue
Impressive results so far in 2010 include a 12 fold increase in canola oil sales and a 100% increase in sales of canola meal," said Mike Shenher, President and CEO. "In the years to come, Clean Power Concepts will seek to extend our market in oil sales into other countries with an aim to double our revenues each year. Read the news

Keep your eye on the market and watch for our new picks!

Download your copy on Atomic Stock Chatter today or try the online version! Go to tools now!



The Bull Report
TheBullReport.com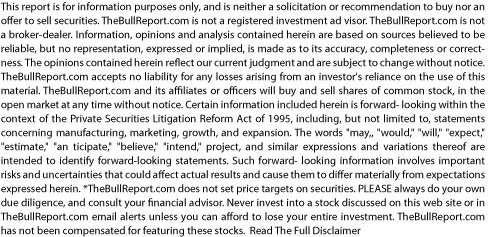 Read The Full Disclaimer
---
---