Newsletter
Stocks covered:
Compensation:
Avg $ Volume for Period:
CHTL

$20000

411766

Max Profit:

0.78 %

Gain at close:

4.65 %

*We think that this promoter is a part of a group of promoters.


The Bull Report
March 23, 2011

Tonny,

Put CHTL on your radar now!

CHTL looks like it could breakout tomorrow volume is picking up.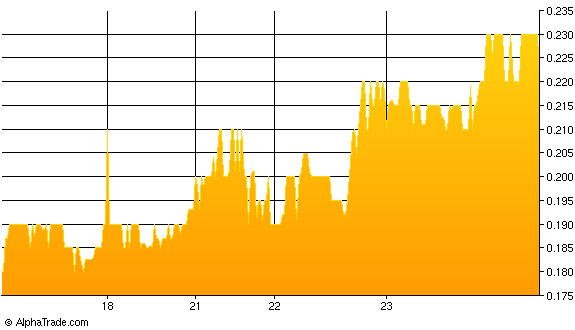 CHINA TEL GROUP INC (CHTL.PK)
China Tel Group, Inc., through its subsidiaries, provides engineering and architectural deployment services related to the build-out of a wireless broadband telecommunications networks. The company provides radio frequency engineering; site acquisition; preparation and approval of architectural and engineering drawings; installation of equipment and network architecture; and engineering services. It also offers local and international long distance telephone services, including fixed line and voice over Internet protocol services. In addition, the company holds licenses and permits to build and operate a 3.5 gigahertz wireless broadband telecommunications network in 29 cities of the Peoples Republic of China; and a 2.5 gigahertz spectrum covering cities of Peru. China Tel Group, Inc. was founded in 2008 and is based in San Diego, California.

Website: http://www.chinatelgroup.com

Recent News
ChinaTel Signs Contracts for ZTE to Supply Equipment and Services for Its Wireless Broadband Network in Fujian Province

Keep your eye on the market and watch for our new picks!

Download your copy on Atomic Stock Chatter today or try the online version! Go to tools now!



The Bull Report
TheBullReport.com


This report is for information purposes only, and is neither a solicitation or recommendation to b-u-y nor an offer to s-e-l-l securities. TheBullReport.com is not-a-registered-investment-advisor. TheBullReport.com is not-a-broker-dealer. Information, opinions and analysis contained herein are based on sources believed to be reliable, but no representation, expressed or implied, is made as to its accuracy, completeness or correctness. The opinions contained herein reflect our current judgment and are subject to change without notice. TheBullReport.com accepts no liability for any losses arising from an investor's reliance on the use of this material. TheBullReport.com has been hired by a third party to perform an investor awareness program on the stock listed in this report and has receive $20,000. TheBullReport.com and its affiliates or officers will b-u-y and s-e-l-l shares of common stock, in the open market at any time without notice. Certain information included herein is forward-looking within the context of the Private-Securities-Litigation Reform-Act-of-1995, including, but not limited to, statements concerning manufacturing, marketing, growth, and expansion. The words "may,, "would," "will," "expect," "estimate," "anti-cipate," "believe," "intend," project, and similar expressions and variations thereof are intended to identify forward-looking statements. Such forward-looking information involves important risks and uncertainties that could affect actual results and cause them to differ materially from expectations expressed herein. *TheBullReport.com does not set price targets on securities. PLEASE always do your own due diligence, and consult your financial-advisor. Never invest into a stock discussed on this web site or in TheBullReport.com email alerts unless you can afford to lose your entire investment. The creative in this email was furnished and paid for by a third party advertiser.
---
---