Newsletter
Stocks covered:
Compensation:
Avg $ Volume for Period:
SNXG

$5000

22955

Max Profit:

0.00 %

Gain at close:

-14.81 %
smspennypicks does its best to bring you accurate information but errors may and sometimes do occur. Always do your own research before investing. smspennypicks is not a licensed financial advisor. This is a paid for marketing newsletter which will state compensation, if any, for the specific company being marketed in the disclaimer at the end of this newsletter, this is not a solicitation or recommendation to buy or sell securities.
Greetings,
Last week every play we looked at closed green. Now we look to kick off this week with a bang by introducing a new and very interesting play. Put Sunx Energy (SNXG) on your watch-list immediately… it could see a breakout week ahead.
Keep a very close eye on this new play: SNXG
Yet, before we get that, here are some very interesting facts that I'd guess will be quite shocking to most people. From what materials do we produce energy from?
Coal 39% :: Natural Gas 27% :: Nuclear 19% :: Hydropower 7% :: Other 8%
Why do I think these facts are so important in our society and in our economy today?
Because; we're a society of innovation… pioneers for science and discovery. We changed the world with Microsoft, ushering in a new age of technology. We're the home of Tesla Motors and the Google driverless car. The country to which, seven years ago, Steve Jobs introduced a touch-screen phone with a built-in-camera.
We're front-line innovators in countless technologies and yet STILL here we are a nation that relies on Coal to produce nearly half of its energy… still relying on the same old materials we've relied up for not just decades… but centuries!
Now it's time for a change! Let me rephrase that… we are ready for a change and it's happening as we speak!
Continuing its explosive growth the U.S. solar industry produced record-shattering years, year after year, since about 2010.
But here is the single most important figure when considering the future of energy:
36% of All New Electric Capacity in 2014 comes from Solar Power.
As our current but outdated energy systems are replaced over time, they will be replaced by tomorrows leading technologies. And if you're going to ride the wave of a booming market then you need to know what the future holds...
… and once again, 36% of All New Electric Capacity in 2014 comes from Solar Power.
Now we may have our answer… and I just have just one more question for you:
Would you like to be on the ground floor of solar before it just may find itself at the center of the largest paradigm shift in energy that the world has ever seen?
Sunx Energy (SNXG) is a very unique solar company as they are in the business of making "solar powered portable generators".
- SNXG is a ground floor solar play that could have a very big upside.
- SNXG's recent candlestick chart analysis is VERY BULLISH at the moment.
Do not sit on your hands; this is a company with a Very Cool technology that could see a major breakout just around the corner. So keep reading, get ready to do your research, and be ready with SNXG on your watchlist come first thing tomorrow morning:
My New Trade Alert Is:
Sunx Energy, Inc. (SNXG)
Website
http://sunxenergy.com/
For a visual overview of the solar market read this article:
http://cleantechnica.com/2014/08/18/explosive-us-solar-power-growth-jobs/
Sunx Energy is a premier retailer of turn-key energy savings products specializing in complete solar system systems and their unique portable solar powered generators. All of the Company's equipment utilizes the latest and most state of the art technology for all residential and commercial customers.
Now just in case you haven't been following the solar sector this past year, we have seen some enormous developments that mark significant milestones in the growth of this industry:
The U.S. installed 1,133 MW of solar PV in Q2 2014, up 21 percent over Q2 2013, making it the fourth-largest quarter for solar installations in the history of the market.

Cumulative operating PV capacity has now eclipsed the 15 GW mark thanks to three consecutive quarters of more than 1 GW installed.

As of the first half of 2014, more than half a mln homeowners and commercial customers have installed solar PV.

53 percent of new electric generating capacity in the U.S. in the first half of 2014 came from solar.
Prior to 2014 much of the world looked at Solar Power as a pipe-dream, something that could never truly compete as a leading provider of energy. But if these numbers show us anything, it is that the improvements in Solar Power technology have reached a level where it can truly compete as a leading source of Energy throughout the world.
SNXG's strategy is aimed at making renewable energy, clean energy and energy savings a reality for everyone in America and beyond.
SNXG is at the center of one of the fastest growing markets in the world: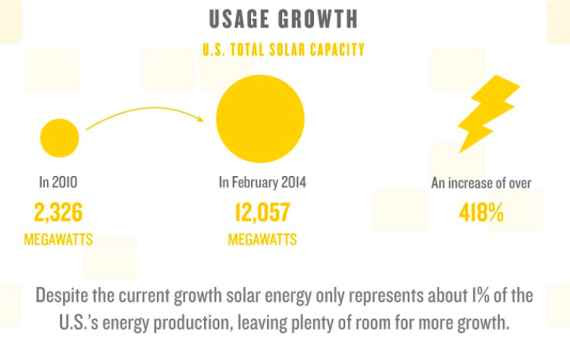 SNXG looks to capitalize on the growth of this industry with their state-of-the-art solar technology.
By partnering with their network of leading manufacturers and installers, SNXG plans to continue offering unsurpassed products, large product engineering, lowest pricing, and residential financing and installation across the U.S.
The Company's unique business model and extensive experience in the solar industry allows them to offer the most sophisticated energy generated and clean energy products at the most competitive prices on the market. They strive to be the industry leader by marketing direct to consumers, all leading dealers, and professional integrators.
Solar Products:
SNXG can size and design complete solar arrays for any residential and commercial need. They supply the most technically advanced and state of the art equipment available.
Their product line consists of some of the most efficient panels on the market, including both grid tied and off grid systems, ground mount, any type of roof mount, and even commercial ballasted solar systems. They also have a variety of string and micro inverters also optimizers. All products are tested and certified under CEC, NEC, IEC and UL standards.
Generator Products:
SNXG offers a unique new product, the first complete portable clean power source called the SXEnergy Solar Core System. The SXEnergy SXS line is the industry leader when it comes to clean portable power source equipment.
Their state of the art, extremely efficient, and technologically advanced clean generators are the ultimate portable power source for many applications including: residential, business, medical facilities, job sites, the trucking industry, and the RV camping world.
To get an idea on the massive growth potential here, I would highly recommend you read this quote from one of the Company's recent Press Releases:
"The company is also focusing on establishing additional product lines for its distribution channel with solar items that are manufactured and available from China through the Alibaba portal. The company will also identify and test items from China that will suit our consumers' needs in this growing industry," said Bill Schaefer, Sunx Energy's CEO.
Growth Potential:
SNXG has developed a groundbreaking growth strategy, which combined with its breakthrough solar technology has the ability to rocket them to the top of this rapidly growing market.
As for the "rapidly growing" solar sector, it is one of the fastest growing markets you will find ANYWHERE in the world today. It took solar a LONG time to get to its "tipping point," yet it is here now… it is exploding:
49pct overall increase in US installations during 2013.

In 2013 alone, the global solar industry expanded by 100pct, amounting to 2.3 Mln jobs worldwide.

Today, the solar industry employs 143K Americans and injects nearly 15 Bln Dlrs a year into our economy.
As for testimonies of the world's largest users?
The top 25 corporate users have more than doubled their solar capacity since 2012 demonstrating their satisfaction of prior use and their confidence in the future of solar.
But here is the biggest fact:
- Two-thirds of the country's power still comes from coal and natural gas, according to the Energy Information Administration.
In other words, there is massive room for growth because "less than 1 percent of the electricity generated in the U.S. today" is generated from solar sources.
And although the above statement is true, Americans already live in close proximity to current projects. In fact, 129 mln people - 41 percent of Americans - live within 20 miles of at least one current solar installation.
So, as solar continues to spread, it doesn't have to spread very far until we see a massive shift that could very quickly change the face of global energy.
The Company's unique business model and extensive experience in the solar industry allows them to offer top-tier energy generation and clean energy products at the most competitive prices on the market today.
SNXG has a short-term breakout chart and its Candlestick Analysis is very bullish, so let's take a closer look at the technicals of this play:
StockTA Recent CandleStick Analysis: Very Bullish
On the last day of trading, February 27, 2015: SNXG showed a Bullish Engulfing CandleStick pattern
See it here: http://www.stockta.com/cgi-bin/analysis.pl?symb=SNXG&cobrand=&mode=stock
Chart Indicators:
Short Term
Moving Average Convergence Divergence: Very Bullish
Low Analysis: Very Bullish
Stochastic: Bullish
Medium Term
Moving Average Convergence Divergence: Bullish
Three Day Displaced Moving Average: Bullish
Low Analysis: Bullish
Long Term
Exponential Moving Average: Very Bullish
Moving Average Convergence Divergence: Very Bullish
Between the Bullish Chart Indicators and the Recent CandleStick Analysis' "Bullish Engulfing" pattern we could have an incredible opportunity on our hands… and when the opportunity like this is put into your hands it's not time to sit on them it's time to open your eyes, look at what is in your hands, and start your research ASAP.
Conclusion:
One very clear observation I've made recently in researching the solar industry is the bold and certain statement made by each article's headline:
- Nothing Can Stop The US Solar Industry Juggernaut Now
- U.S. Solar Market Grows 41%, Has Record Year
- US Solar Industry Continues Rapid Growth
These are not the words of confused authors, yet rather the statements of very confident people. These people seem to know the direction of future energy growth.
SNXG has a unique solar product with enormous potential in a market that is exploding right now at record breaking rates.
The Company appears as though it could be moments from a serious breakout… not to mention that the candlestick analysis of SNXG is "Very Bullish" as we speak!
Once you take all of these factors into account you may conclude that we are faced with a remarkable situation… a situation we almost never see in these small-cap markets.
Currently there could be a significant upside for traders who take quick action.
Considering SNXG's groundbreaking technologies and innovative solar products, we could be looking at one of the Next Big Things to hit the small markets.
Don't wait, get started on researching SNXG right away.
Wishing you much gains in the market,
Elijah Brockman
editor@smspennypicks.com
Contact me anytime
Please Read Our Full Disclaimer: http://smspennypicks.com/disclaimer/

Important Notice & Disclaimer
*Never invest in a company mentioned by SMSPennyPicks unless you can afford to lose your entire investment.
Release of Liability: Through use of this newsletter and website viewing or using you agree to hold SMSPennyPicks, its operators owners and employees harmless and to completely release them from any and all liability due to any and all loss (monetary or otherwise), damage (monetary or otherwise), or injury (monetary or otherwise) that you may suffer. The information contained herein is based on sources, which we believe to be reliable, but is not guaranteed by us as being accurate and does not purport to be a complete statement or summary of the available data. Please be advised that SMSPennyPicks is often compensated for issuing press releases, profiles or opinions concerning particular companies, its opinion is therefore biased and you should consider the factor when evaluating SMSPennyPicks's statements regarding a company. SMSPennyPicks's officers and directors do not own any shares of the mentioned company(s). When SMSPennyPicks receives free or restricted trading shares as a compensation for a profiled company, SMSPennyPicks may sell part or all of such shares during the period in which SMSPennyPicks is performing such services. SMSPennyPicks will disclose how many and what type of shares we have been compensated if we do receive shares or buy shares of a profiled company. SMSPennyPicks will also disclose any compensation. This compensation/expected compensation, expired or not, is a major conflict of interest in our ability to be unbiased. Therefore, this newsletter should be read as a commercial advertisement only. The third party, company, or their affiliates will liquidate shares, which has the potential to hurt share prices. Our emails may contain forward-looking statements, which are not guaranteed to materialize due to a variety of factors. We do not guarantee the timeliness, accuracy, or completeness of the information on our site or in our newsletters. The information in our email newsletters and on our website is believed to be accurate and correct, but has not been independently verified and is not guaranteed to be correct. SMSPennyPicks encourages readers and investors to supplement the information in this report with independent research and other professional advice. All information on featured companies is provided by the companies profiled, or is available from public sources and SMSPennyPicks makes no representations, warranties or guarantees as to the accuracy or completeness of the disclosure by the profiled companies. SMSPennyPicks, nor any of its affiliates are not registered investment advisors or a broker dealers.
smspennypicks has been currently compensated by a third party up to fifteen thousand USD via Bank Wire Transfer for a 2 Day Marketing Program regarding SNXG starting on 3-01-2015.
This message was sent to xxxxxx@gmail.com from:

Elijah Brockman | editor@smspennypicks.com | smspennypicks | C 155, Vaishali Nagar | Jaipur, Rajasthan 302021, India

Email Marketing by