Newsletter
Stocks covered:
Compensation:
Avg $ Volume for Period:
OREO

$10000

UNKNOWN

Max Profit:

1.41 %

Gain at close:

-4.23 %

*We think that this promoter is a part of a group of promoters.
Hello Class and New Students,
Our latest alert on American Liberty Petroleum (OTCBB:OREO) is based on
recent developments that we believe could potentially move the stock significantly
in the near future!
In yesterday's email, we highlighted how OREO recently engaged Netherland,
Sewell & Associates for consulting services to determine next steps on its Cortez
oil lease.
We believe that this points to one of two things on the
Upside for OREO!
American Liberty Petroleum has set the stage for a major exploration and


production plan on its Nevada property.

As a rising star producer, OREO shares carry enormous profit potential for
entry-level shareholders.
American Liberty Petroleum just leaped on the radar screen of every big


league oil company in America!

This means that one of them could buy OREO out before the first drop of
oil is produced which would mean entry-level shareholders could pocket
enormous profits on this acquisition play!
Either scenario suggests that OREO is working itself toward a headline story
in American oil production in our opinion!
The Professor believes that this may be the Last Opportunity
to grab a Ground Floor Position in OREO!

When Grass Roots Research recently released its report on American Liberty,
a huge run on OREO shares triggered a substantial short-term price spike.
However the run didn't hold and OREO settled to its current trading range but we
strongly believe that, as we mentioned in yesterday's email,
OREO could experience a potential short squeeze in the near future which could
send the stock soaring!

With a possible short squeeze on the way and a top global petroleum consultant
just getting on board…making a move on OREO is more urgent than ever!
OREO sits on an Enormous Anticline Trap that could hold as
much as 4.67 Billion Barrels of Oil!
What makes this trap rare is its vertical depth. Because of Nevada's unique geology,
these formations are typically isolated and deep, trapping enormous volumes of oil
over a relatively small area.
Newly released geologist reports describe this formation as being 2,000 feet thick
with a surface area of just a few dozen square miles.
These deep anticlines are extremely hard to find, however, when they are found, the
oil production can be staggering!
In fact, a similar site east of American Liberty Petroleum produced an average
4,105 barrels per day for a full year and became the top producing well in the
United States for four straight years!
In a recent Research Report, analysts put a price target on OREO at $3.85 and said the
following about OREO:
"Nevada's oil business, being underdeveloped is less attractive to the oil majors and thus
provides opportunities to smaller companies such as OREO to carry drilling and exploring
activities for oil production.
"The Gabbs Valley prospect of OREO covers 6,397 acres on the 26,000 Nevada-based oil rich Cobble Cuesta structure.
The structure has estimated reserves of over 4 billion barrels of oil based on
reservoirs and production data from producing Nevada oil fields!
Even if a small part of the reserves are present in the Cobble Cuesta structure, it will account for huge oil accumulation for OREO and subsequently large projected
revenues."
In this email we have established that OREO could very well be sitting on billions of
barrels of oil, the company has recently brought on a leading worldwide petroleum
consultant and the stock could see a potential short squeeze in the near future.
Based on these factors, OREO currently looks to be oversold and to have hit its
bottom which makes right now the perfect opportunity to get involved!
As always, do your own research, don't chase gaps, use limit orders to enter positions,
always use stop loss orders to protect your position, and take profits when you are in a
position to do so.

The Professor Has Spoken.

Sincerely,

Penny Stock Professor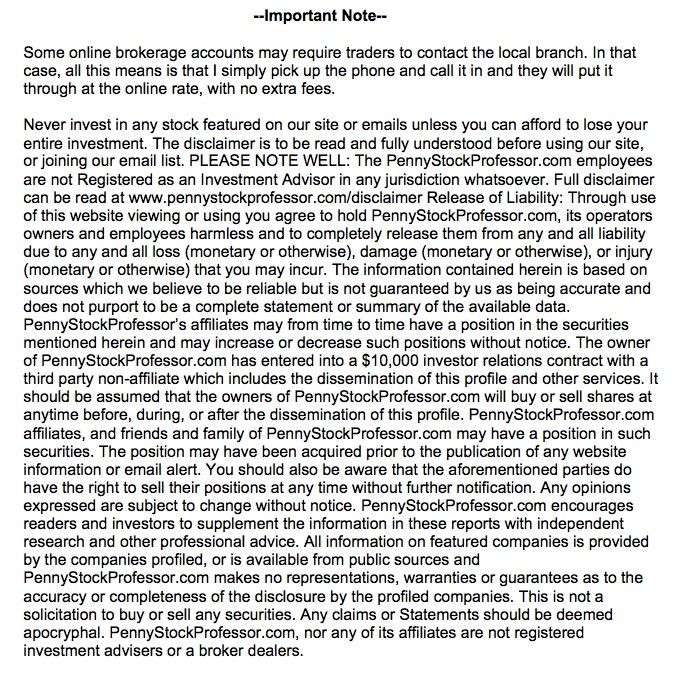 This message was sent to xxxxxx@gmail.com from:

PennyStockProfessor.com | P.O. Box 416 | Penns Park, PA 18943

Email Marketing by