Newsletter
Stocks covered:
Compensation:
Avg $ Volume for Period:
ABBY

$10000

67342

Max Profit:

15.89 %

Gain at close:

12.15 %

*We think that this promoter is a part of a group of promoters.
Hello Class and New Students,

Our latest pick, (OTCBB: ABBY), could be on the verge of breaking out after the
company announced the execution of an option to acquire a second parcel on the
Stateline oilfield in Lincoln County, Nebraska!
Abby, Inc. is an oil and gas exploration and development company focused on
developing partnerships with experienced oil & gas operators throughout the US
and Canada to identify low-risk prospects to explore and develop into producing
properties.
Those of you that read the Professor's Profile can see how ABBY's working
interests in Nebraska and its pending acquisition of 15 working wells in the
Bakken Formation could create serious shareholder value in the near future.

That's why we believe that...

Now is the Time to Act on ABBY before Drilling Begins on
the Stateline Oilfield which could send Shares Soaring!
When could this happen? The company states that drilling is slated to commence
on the Nebraska oilfield on December 24th.
Consider the fact that on November 5th the company announced that it executed
an option to acquire up to a 75% working interest in oil wells in Richardson, Nebraska
and just over a week later it announced that it would be acquiring a second parcel.

And just a week before that on October 31st that the company signed the original
Option Agreement with Black Star 231 Corporation comprising the first of six parcels
on the State Line Prospect and exercised the first option on the "Rose Dome" parcel.
As you can see, Abby, Inc. is moving FAST and so should you in order to
position yourself for potential profits! Read ABBY's News Releases Here.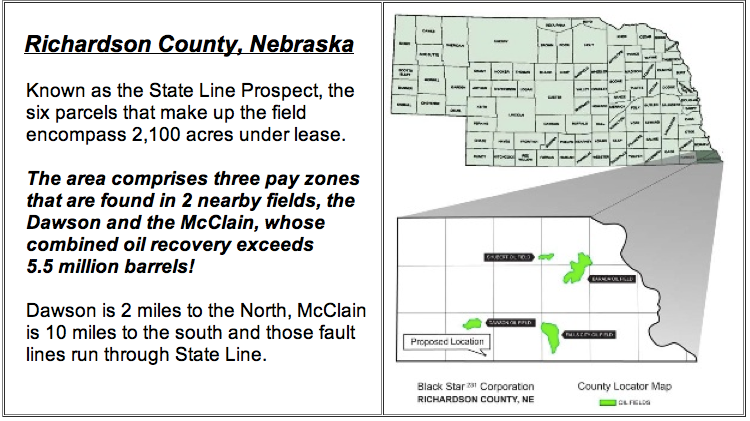 Abby, Inc. looks to seasoned operators to participate in the development of its low-
risk oil prospects which is evident by its first US partner, Black Star 231 Corporation,
headed by veteran oilman Jim "Blacky" Pryor.
Pryor has discovered recoverable oil reserves in Kansas, Oklahoma,
Nebraska and Missouri which range from 300,000 to 3 Million barrels!

If you are a current or potential shareholder of Abby, Inc., this is the type of track
record that you want its partners to have!

In addition to this Nebraska property, the company is also plans to work with Black
Star 231 to acquire low-risk properties in Colorado, West Texas and Louisiana!

All of this and we haven't even highlighted ABBY's pending acquisition of Rogers
Oil & Gas which holds working interests in 15 producing oil wells in the Bakken
formation in the Saskatchewan Province as we highlighted in this in last night's profile.
We strongly urge you to research our latest pick if you have not already and
prepare to take advantage of this considerable buying opportunity with ABBY!

As always we encourage our subscribers to use stop-loss orders in order to minimize
losses and maximize potential profits.
The Professor Has Spoken.

Sincerely,

Penny Stock Professor