Newsletter
Stocks covered:
Compensation:
Avg $ Volume for Period:
TAPM

$3500

UNKNOWN

Max Profit:

0.00 %

Gain at close:

0.00 %
By reading this email you acknowledge you have read our disclaimer provided as an image near the bottom of this email or the link included. This is a paid News Dissemination Advertisement. FN Media Group is not responsible or held liable for the information in the email or any included press releases issued by any public company contained herein. Please be sure to ALWAYS perform your OWN Due Diligence. To stop receiving our news alerts and immediately Remove yourself from the FNM online community, please scroll down to the bottom of this message and use the links provided.


Tapinator (TAPM) - Action Alert Issued

TAPM Reports 2015 Revenue Increase of 159% Growth!!

- March 29, 2016 -

FinancialNewsMedia.com (FNM)

is a leading provider of top tier Market Updates & News Alerts for evolving companies on the move.

FNM

Alerts

never contain hype, over promotion, predictions or personal opinions - just true Time Sensitive News Alerts that are 100% News Driven.
TAPM Breaking News: Tapinator Releases Q4 and Annual 2015 Results 2015 Revenues of $2.49 Million, an Increase of 159% Year-Over-Year


New York, NY, (PRNewswire - March 29, 2016) Tapinator, Inc. (OTC: TAPM), an emerging growth company within the mobile gaming industry, today announced financial results for the period ended December 31, 2015, and the filing of its annual report and audited financial statements for the years ended December 31, 2015 and 2014. The annual report and audited financial statements may be found at http://www.otcmarkets.com/stock/TAPM/filings.

"Tapinator continued to show solid business expansion in the fourth quarter of 2015," stated Tapinator CEO, Ilya Nikolayev. "Our fourth quarter revenues grew 87% year-over-year to approximately $693-Thousand, representing our sixth consecutive quarter of at least double-digit year-over-year revenue growth. Our revenue expansion can be attributed to both the continued broadening of our rapid-launch games portfolio, as well as our continued investment into a select number of full-featured titles that we believe have significant franchise potential. In addition to our strong revenue growth, Tapinator is also pleased to announce adjusted EBITDA (a non-GAAP measure) of approximately $150-Thousand in the fourth quarter of 2015, an increase of 187% year-over-year and our seventh consecutive quarter of positive adjusted EBITDA.

For the year ended December 31, 2015, Tapinator achieved revenue of approximately $2.49 million and adjusted EBITDA of approximately $523-Thousand, representing year-over-year growth rates of 159% and 414%, respectively. We are very pleased with of our accomplishments in 2015, in terms of our financial performance, product traction and user growth. Tapinator was able to deliver these results even as we continue to make substantial investments in our new game development, human resources, marketing and data/analytics infrastructure. We believe that we have laid the appropriate groundwork to allow Tapinator to support a much larger enterprise and we look forward to demonstrating continued business growth in 2016 and beyond."

Financial Highlights From TAPM Report
• Annual revenue of $2.44Million; up 159% year-over-year
• Quarterly revenue of $692-Thousand; up 87% year-over-year
• Annual adjusted EBITDA (a non-GAAP measure) of $522-Thousand; up 414% year-over-year*
• Quarterly adjusted EBITDA (a non-GAAP measure) of $149-Thousand; up 187% year-over-year*
• $1.49 million in cash and cash equivalents as of December 31, 2015

Continued...
Read the entire TAPM press release:
http://www.fnmprofiles.com/profiles-tapm.html
---
Tapinator (OTC: TAPM) designs, develops, and publishes mobile games on the iOS, Google Play, and Amazon platforms. Tapinator's owned and operated portfolio includes over 200 mobile gaming titles that have achieved over 190 million cumulative downloads, primarily within the Simulation, Arcade, Role Playing, Casino and Sports genres. A number of these titles have risen to the top of the mobile leaderboard charts and have been featured by the Apple, Google, and Amazon App Stores. Tapinator generates revenues through the sale of advertisements, the sale of paid downloadable games, and the sale of additional in-game content. Founded in 2013, Tapinator is headquartered in New York, with product development teams located in Denmark, Pakistan, Indonesia, Canada, and the United States. For a full listing of Tapinator game titles, please go to Tapinator.com.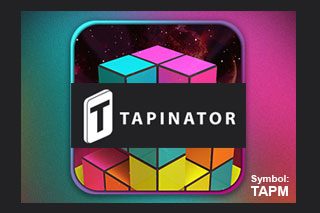 ---
Keep a close eye on your inbox for a future alerts and please feel free to constantly check the FinancialNewsMedia.com website for new announcements posted daily.

You are currently receiving this message because you have visited, opted in or requested information from one of a many affiliated or associated financial sites. FN Media Group completely respects everyone's right to online privacy and wishes to only communicate to those who are interested in receiving premium news alerts for companies that issue real news with real developments. If you believe you have received this message in error or prefer to no longer receive our alerts, please use the unsubscribe link provided below to immediately remove yourself from our online investment community.
FinancialNewsMedia.com is a news dissemination and financial public relations company that delivers breaking news alerts and market commentary updates to the investment community. This complimentary news service is viewed by hundreds of thousands of retail investors from around the globe that frequent other popular online news & financial destinations such as TradeKing, Forbes, CBSMarketwatch, Morningstar, Bloomberg and so many more.

FinancialNewsMedia.com... When the market moves, don't get left behind

Follow Us Now On
FNM Disclosure

If you are unable to view this disclosure in the included image, please go here to read our entire disclosure online
Contact FN Media by mail:
FN Media
4613 N. University Drive #374
Coral Springs, FL 33067

[Change Subscription] [Cancel Subscription]