Newsletter
Stocks covered:
Compensation:
Avg $ Volume for Period:
TAPM

$3500

UNKNOWN

Max Profit:

0.00 %

Gain at close:

0.00 %
By reading this email you acknowledge you have read our disclaimer provided as an image near the bottom of this email or the link included. This is a paid News Dissemination Advertisement. FN Media Group is not responsible or held liable for the information in the email or any included press releases issued by any public company contained herein. Please be sure to ALWAYS perform your OWN Due Diligence. To stop receiving our news alerts and immediately Remove yourself from the FNM online community, please scroll down to the bottom of this message and use the links provided.


Tapinator (TAPM) Aggressive for 2016

TAPM Enters 2016 Aggressively
With Plans for 9 Product Launches

- January 22, 2016 -

FinancialNewsMedia.com (FNM)

is a leading provider of top tier Market Updates & News Alerts for evolving companies on the move.

FNM

Alerts

never contain hype, over promotion, predictions or personal opinions - just true Time Sensitive News Alerts that are 100% News Driven.
TAPM Breaking News: Tapinator Announces Nine Full-Featured Games for 2016


New York, NY, (PRNewswire - January 22, 2016) Tapinator, Inc. (OTC: TAPM), today announced plans to release nine full-featured games for 2016. These titles are:

First Quarter:
• Video Poker VIP: social casino game, multiplayer update
• Miss the Moose: quick fix game

Second Quarter:
• ROCKY: game based on the legendary franchise
• Combo Quest 2: freemium sequel to the original hit, Combo Quest
• Big Sport Fishing 2: freemium sequel to the 14+ million downloaded, Big Sport Fishing

Third Quarter:
• Turn Left: quick fix game
• Pavlov's Puppy: quick fix game
• To Be Announced: game based on an upcoming major motion picture

Fourth Quarter:
• Fusion Heroes: strategy game with match-3 elements

The Company will continue to announce new major launches and title updates as the year progresses.

"Our goal for the launches that we are announcing today is to position the Company within the top grossing charts in the app stores. A number of the nine titles above are built, from the ground up, to leverage the best practices of the freemium, live operations business model. While our rapid launch ad-supported business continues its solid performance, we believe that these full-featured titles present the greatest opportunity to diversify our revenue mix and significantly scale our business," said Ilya Nikolayev, Tapinator's CEO.

Continued...
Read the entire TAPM press release:
http://www.fnmprofiles.com/profiles-tapm.html
---
Tapinator (OTC: TAPM) is a global developer and publisher of mobile games on the iOS, Google Play, and Amazon platforms. The Company focuses on operating its own titles, publishing properties where it holds substantial ownership positions, and making strategic investments into promising mobile companies. Tapinator's owned and operated portfolio includes over 100 mobile gaming titles that, collectively, have been downloaded by over 65 million players. A number of these titles have risen to the top of the mobile leaderboard charts and have been featured by the Apple, Google, and Amazon App Stores. Founded in 2013, Tapinator is headquartered in New York, with development offices in Denmark, Pakistan and Canada. For a full listing of Tapinator game titles, please go to Tapinator.com.
The Company ended Q3 with 153 games, of which 26 were launched in the quarter. Tapinator has 37 titles in its portfolio that have each achieved at least one million downloads, up from 20 games that had reached this milestone at the end of Q2. Within its full-featured games business, the Company had seven titles that have been selected as "Best New Games" and one "Free App of the Week" on iOS as of the end of Q3.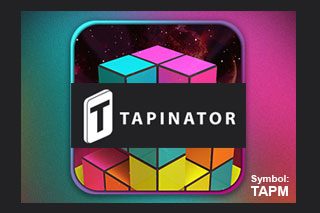 ---
Keep a close eye on your inbox for a future alerts and please feel free to constantly check the FinancialNewsMedia.com website for new announcements posted daily.

You are currently receiving this message because you have visited, opted in or requested information from one of a many affiliated or associated financial sites. FN Media Group completely respects everyone's right to online privacy and wishes to only communicate to those who are interested in receiving premium news alerts for companies that issue real news with real developments. If you believe you have received this message in error or prefer to no longer receive our alerts, please use the unsubscribe link provided below to immediately remove yourself from our online investment community.
FinancialNewsMedia.com is a news dissemination and financial public relations company that delivers breaking news alerts and market commentary updates to the investment community. This complimentary news service is viewed by hundreds of thousands of retail investors from around the globe that frequent other popular online news & financial destinations such as TradeKing, Forbes, CBSMarketwatch, Morningstar, Bloomberg and so many more.

FinancialNewsMedia.com... When the market moves, don't get left behind

Follow Us Now On
FNM Disclosure

If you are unable to view this disclosure in the included image, please go here to read our entire disclosure online
Contact FN Media by mail:
FN Media
4613 N. University Drive #374
Coral Springs, FL 33067

[Change Subscription] [Cancel Subscription]