Newsletter
Stocks covered:
Compensation:
Avg $ Volume for Period:
MFTH

Unknown compensation

UNKNOWN

Max Profit:

2.80 %

Gain at close:

-22.12 %

*We think that this promoter is a part of a group of promoters.
HRTE

Unknown compensation

UNKNOWN

Max Profit:

2.80 %

Gain at close:

-22.12 %

*We think that this promoter is a part of a group of promoters.
ATTENTION HUNTERS!
We hope you had a relaxing and inspiring weekend!
Here are the Stocks we've Hunted for Monday!
MFTH expects Revenues to exceed $10 million in 2012!
That's what today's breaking news says! MFTH is on the forefront of medical safety breakthroughs! MFTH seeks to effectively prevent unauthorized administration of a drug or medicinal substance by hypodermic needle. MFTH's patented technology is a medical assembly with a locking mechanism that is intended to ensure the substance cannot be released from the hypodermic needle without a positive match between the substance and its intended patient. MFTH 's expected revenues will be derived from the licensing of their patented locking devices on syringes and the licensing of the related Bar-Code Pre-Matching safety device software application. Mass production of licensed products is on the horizon and shareholders in at these levels should be ecstatic!
HRTE ran to .09 after our last alert, now back under .07 we see the possibility of a healthy bounce!
HRTE is a developer of wind power, our nation's fastest growing renewable energy resource. HRTE is engaged in planning, developing, acquiring and operating wind farms in the United States to generate clean, profitable wind energy. HRTE acquired it's first wind energy development project, Cycle Ranch, in September, 2010 and recently annouced they have selected A&C Green Energy Inc. to provide wind turbines for its first development project! This will allow HRTE to expedite their development strategy and maximize wind power generation at Cycle Ranch. HRTE also recently signed an agreement with A&C Green Energy Inc. to resell A&C's high performance wind turbine systems, creating a new revenue stream for the Company! Pay attention to this one as plans seem to be moving fast!
AS ALWAYS DO YOUR RESERACH AND WATCH FOR MORE STOCKS FROM THE HUNTER!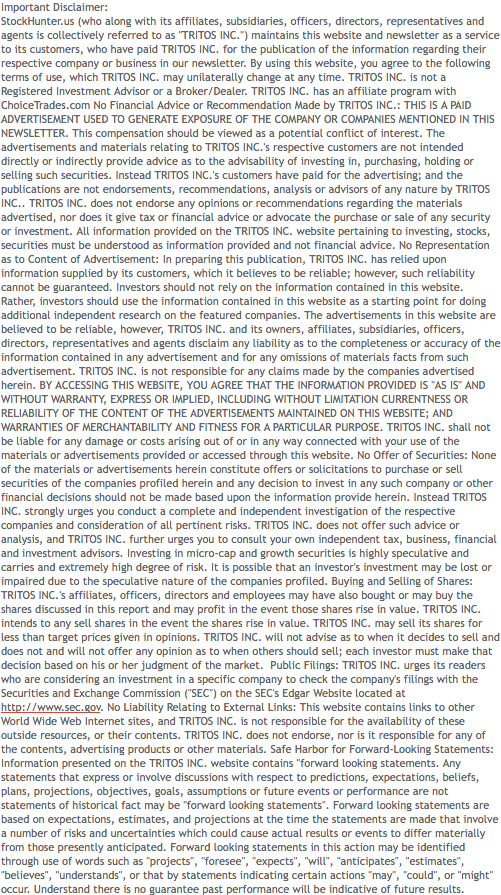 This publication is a free service of Tritos Inc., a financial public relations firm that is sometimes compensated by companies it profiles. All direct and third party compensation received is and will be fully disclosed in any communication regarding a profiled company. This compensation constitutes a conflict of interest as to our ability to remain objective in our communication regarding the profiled companies.