Newsletter
Stocks covered:
Compensation:
Avg $ Volume for Period:
SPOW

$15000

16820

Max Profit:

16.33 %

Gain at close:

0.00 %

*We think that this promoter is a part of a group of promoters.
Our next pick is SPOW and it's sub-penny!
I'm looking for a double digit gain out of SPOW.
Look at the technical setup on the chart for SPOW.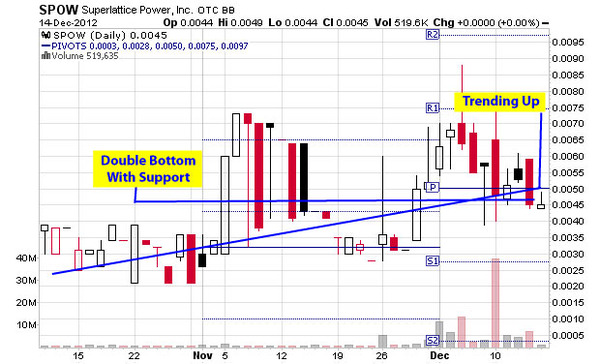 Sky Power Solutions, Corp, (OTCBB: SPOW), an emerging leader in the development and marketing of next generation lithium-powered batteries worldwide, and a leading developer of residential concentrated solar collector power systems able to produce in excess of 2 Kilowatts (kw) of electric power with ZERO emissions using Sunlight as the only fuel.
Learn more http://www.skypowersolutions.com

Regards,
The Bull Report
Text: pennys to 69302 to get my alert before the bell!
Forward this message to a friend
This report is for information purposes only, and is neither a solicitation or recommendation to b_u_y nor an offer to sell securities. TBR is not a registered investment advisor. TBR is not a broker-dealer. Information, opinions and analysis contained herein are based on sources believed to be reliable, but no representation, expressed or implied, is made as to its accuracy, completeness or correctness. The opinions contained herein reflect our current judgment and are subject to change without notice. TBR accepts no li_ability for any losses arising from an investor's reliance on the use of this material. TBR has been compensated fifteen thousand dollars from a third pa_rty for coverage of SPOW. TBR and its affiliates or officers currently hold no shares of SPOW. TBR and its affiliates or officers will pur_chase and sell shares of common stock of SPOW, in the open market at any time without notice. TBR will not update its purchases and sales of SPOW in any future postings on TBR's websites. Certain information included herein is forward-looking within the context of the Pri_vate Securities Litigation Reform Act of 1995, including, but not limited to, statements concerning manufacturing, marketing, growth, and expansion. The words "may", "would," "will," "expect," "estimate," "anticipate," "believe," "intend," " project," and similar expressions and variations thereof are intended to identify for ward-looking statements. Such forward- looking information involves important risks and uncertainties that could affect actual results and cause them to differ materially from expectations expressed herein. *TBR does not set price targets on securities. Never invest into a stock discussed on this web site or in this email alert unless you can afford to lose your entire investment.
---
---
The Bull Report
4846 Rosemead #104
Dallas, Texas 75007
US