Newsletter
Stocks covered:
Compensation:
Avg $ Volume for Period:
SKTO

$3000

35376

Max Profit:

1.53 %

Gain at close:

-0.76 %

*We think that this promoter is a part of a group of promoters.
---=Crew!..
If your looking for fast green gains on a chart that`s screaming for an immediate bounce.. look no further then SKTO
(Chart Below)

SKTO blasted off a few months back after they acquired Medical Greens™ and changed the business model to focus purely in themedical marijuana space.
SKTO is a healthcare logistics and fulfillment consultancy focused on the delivery of alternative care and medicine.
SKTO recently shifted its business model to focus purely on the medical marijuana space with the acquisition of Medical Greens™
A business that currently provides licensing, management, and logistic services for medical marijuana collectives throughout California.

SKTO Medical Greens $30 Million In New Contracts
SKTO announced that its newly acquired subsidiary, Medical Greens™, has contracted for over $30 Million in annual licensing, management, and logistic services from collectives throughout California, after only its first full week of operations under SK3 Group, Inc. | SKTO.
Kevin Allyn, Chairman of SKTO Stated:
"Our team has been exceptional in establishing new client relationships, as we have assembled a complete state-of-the-art service package for the collectives we will manage and consult,"
"We have teamed up with top industry experts to offer the highest quality of service and experience for our clients. Currently, we are working with several additional collectives in transitioning their current services and operations into Medical Greens™."
_______________________________________________________________________________________________
SKTO (Sk3 Group, Inc.) is a great example of a company in the right place at the right time with the medical marijuana industry/acceptance growing at a such a rapid pace.
______________________________________________________________________________________________
SKTO Secures over 50 acres for Medical Marijuana
This is HUGE for SKTO investors and the land secured will enable the collectives to maintain a perpetual harvest year round!
The newer land acquisition in Northern California utilizes several proprietary technologies to produce the finest medicine year round, in a very energy-efficient manner.
The facility combines greenhouse growing with HID and LED enhancement, photoperiod control via light deprivation, growth acceleration by C02 enhancement (utilizing captured CO2), and hydroponic growing techniques utilizing organic nutrients and enzyme teas.

______________________________________________________________________________________________
SKTO bridges the gap between collectives & patients
SKTO announced this year that it has contracted over a dozen healthcare facilities and providers in Southern California to become their Medical Cannabis Administrator (MCA).
"Medical marijuana eases the suffering of our patients," says Armen Kazanchian, M.D. Ph.D. "With our relationship with Medical Greens, we will be able to better administer this important treatment to our patients."
SKTO also indicated that it will continue to aggressively seek newcontracts with medical facilities & providers throughout California.
______________________________________________________________________________________________
So what does all this mean for you as an investor in SKTO?
It means that SKTO is looking at contracts, LOTS of contracts andplans to sell LOTS of medical marijuana in a country that is showing no signs of slowing down..
And LOTS of medical marijuana sales means LOTS
of profits for the Company!
-Gavin Newsom - Lieutenant Governor of California
SK3 Group, Inc. | SKTO
"While legislators here (in California) and across the country grapple with how to implement or reform medical and other marijuana laws, it is refreshing to see public companies, like Medical Greens, take a thorough and compliant approach to defining industry standards.
As (parent company) SK3 Group's Chairman, Kevin Allyn, continues to assemble his world class team, it's obvious that they are going to bring real change to medical marijuana by developing best practices to assist state and local governments better deliver, administer and monitor a controversial and growing industry.
With recent surveys showing that a majority of Americans support legalizing marijuana, this business is bound to grow."
Kevin Allyn, Former Executive of King World Productions and Licensing Expert Leads SKTO as its New Chairman
SKTO Kevin Allyn, Chairman
(pictured with Bill Gates, Gov. Schwarzenegger, Pres. Clinton, Beatles' Ringo Starr) has broad experience as a senior executive and entrepreneur in entertainment, television, film, music, sports, licensing, and talent management.
Mr. Allyn was formerly a president of King World Productions, one of the most successful television companies in history.
King World is the leading worldwide distributor of first-run programming, including the two highest-rated, first-run strips in syndication, "Wheel of Fortune" and "Jeopardy," as well as "Oprah," 'CSI," "Inside Edition," "Dr. Phil," "Everbody Loves Raymond," "Hollywood Squares," and "The Little Rascals."
Mr. Allyn's legendary list of contacts, his ability to innovate and his management expertise allow us to form a team that can scale effectively into the lucrative MMJ market.
Advisor to companies that include multi-billion dollar
public and private firms.
________________________________________________________________________________________________
See the World of SKTO`s Kevin Allyn - Click Image To View
______________________________________________________________________________________________
Michael Choo, Director of Operations, has over 30+ years of experience in healthcare with expertise in Operational Executive Management, Hospital Turnarounds, Hospital Acquisitions, and Ground Floor Start-ups.
He is presently the Chief Executive Officer for Pacific Health Corp and previously served as Principal, Managing Partner, President & Chief Executive Officer of Integra Healthcare, Inc., Principal, Managing Partner, & Chairman of The Board of Directors of Doctors' Hospital of Shreveport, and Principal, Managing Partner & Senior Vice President of Operations for Ethicus Healthcare Management, LLC.
Mr. Choo was also previously the Senior Vice President of Promise Healthcare, Inc., Chief Executive Officer of Promise Specialty Hospital of Shreveport, Chief Executive Officer of HealthSouth in Reno, and Vice President of NPSI.
_______________________________________________________________________________________________
Roy Laughlin, Director of Media Relations, was the General Manager of Clear Channel Los Angeles and Magic Broadcasting. Mr. Laughlin lead KIIS FM to the #1billing radio station in the US for 9 years and as Market Manager of the CCLA 8 stations, delivered record billing of $300mill annually.

Mr. Laughlin and his brother launched GAP Broadcasting in 2006 which purchased 52 stations from Clear Channel in Texas for $139M (GAP later merged into TownSquare Media). Laughlin continues as an equity partner in Rincon Broadcasting which he co-founded with Sr. Partner John Hearne through the purchase of the Santa Barbara Clear Channel Cluster in 2006.
Mr. Laughlin also re-launched the Steve Harvey Radio Show in LA Radio while upgrading the signal at 93.5 KDAY / 93.5 KDAI. Mr. Laughlin later teamed up with Mr. Hearne to purchase an additional FM move-in to the Riverside/San Bernardino market in 2010 (KQIE, Q104.7).
_______________________________________________________________________________________________
Jeffrey Benz, General Counsel and Executive Vice President of Business, Legal, and Government Affairs, has broad experience as a senior executive, lawyer, and entrepreneur in entertainment, sports, licensing, intellectual property, and technology.
Jeff has been a trusted advisor to a variety of companies, both private and public, and has advised a number of high profile executives.
Among other things, Mr. Benz was the General Counsel and head of business and government affairs for the United States Olympic Committee, AVP Pro Beach Volleyball Tour, and a variety of private companies in sports, entertainment (television, film, and online), and technology (mobile phone applications, computer software and hardware, and medical devices), and has lead high profile legal and operational functions in a wide array of industries, including internationally.
Mr. Benz's extraordinary experience and background, and his legal leadership skills, uniquely fit our current needs and will lead SKTO into lucrative new markets.

Mr. Benz has BA and MBA degrees from the University of Michigan and a JD from the University of Texas. Mr. Benz is also an accomplished arbitrator and mediator, and has served as a private judge in, among other things, disputes over athlete doping issues in sports, having lead the function of anti-doping at the USOC when he was there.

Website: http://www.medicalgreens.com/
SKTO Chart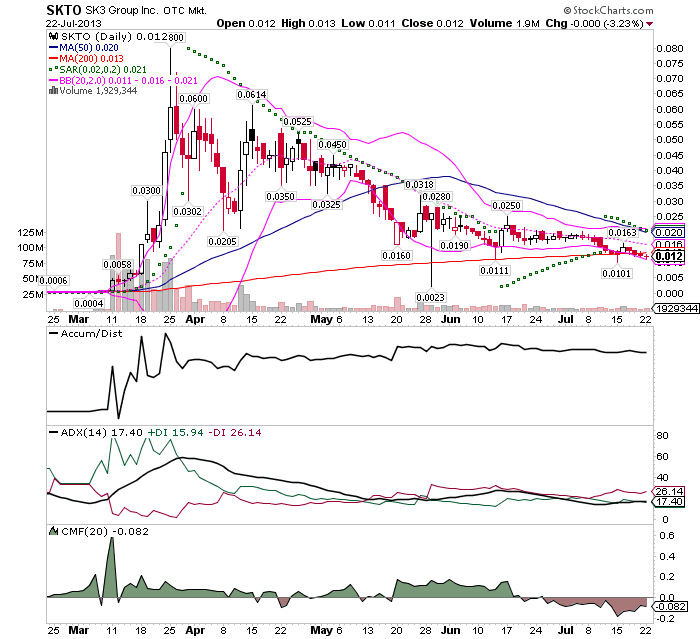 To Ensure Delivery of these TIME SENSITIVE Emails..
Make absolutely sure you add us to your safe sender list.
If you need some help "whitelisting" our address
Read This for instructions on how to do so.
Carriage Consulting Group compensation: up to 3000.00 for a 1 day awareness campaign on skto from a third party