Newsletter
Stocks covered:
Compensation:
Avg $ Volume for Period:
DNAP

$2000

UNKNOWN

Max Profit:

8.11 %

Gain at close:

0.00 %

*We think that this promoter is a part of a group of promoters.
You are receiving this free stock alert email because you have signed up at LiquidPennies.com
If you no longer wish to receive winning stock picks from us, at the bottom of every email sent from our system, there is a Manage Subscription link where you may unsubscribe at any time.
Thank you for being a valued member and Happy Trading!
Put DNAP on your radar NOW!
We've been rocking and rolling for the past couple weeks totaling about +170% in returns in a very short amount of time!
We started this run with a bounce play and I think it's time for another.
Turn your attention to DNAP (DNA Precious Metals Inc)
DNAP closed just mere .02 above it's 52 week bottom of .16
Once again, plays like this are an attempt to maximize upside with minimal downside since the chart appears to be bottomed and supported.
DNAP fits the bill having recent highs 100% above Tuesday's close.
With many days having recently traded over .30 a share... a climb back from current levels could deliver a really nice profit.
The intraday chart for Tuesday shows a major technical reversal toward the end of trading which is why I am issuing an immediate alert for Wednesday!
As always, follow the rules below to maximize your trading.
Make sure you get all your research in before Wednesday's open and make sure you're ready at 9:30am est!
RECENT NEWS!
DNA Precious Metals, Inc. Completes Montauban Mine Property Acquisition With Tectonic Resources
DNA Precious Metals, Inc. ("DNA" or "the Company") (OTCQB: DNAP) today announced that the Company has completed the acquisition for an undivided one hundred percent (100%) interest in all of the Montauban Mine Property mining claims of Tectonic Resources. The newly-acquired 57 contiguous mining claims ("Mineral Claims") cover an approximate surface area of 2,560 hectares. These new mining assets represent another significant expansion to DNA's currently 100% claimed Montauban Mine Property mining claims. The Mineral Claims acquisition solidifies the Company's Montauban Mine Property bundle, while expanding exploration and mining potential. Highlights of historical selected grab samples include 17.14% Zinc, 483 g/t Ag and 14.96% Zinc and 1.92% Lead. "We are extremely excited with this latest acquisition as it provides the Company with the potential to significantly increase the Company's long-term exploration program while enhancing the investment value of these mining claims," said James Chandik, President & Chief Executive Officer of DNA Precious Metals, Inc.
Read the FULL Releases and past news:
http://finance.yahoo.com/q?s=DNAP&ql=1
About the Company:
DNA Precious Metals Inc. (DNAP) is quoted on the Over The Counter Bulletin Board ("OTCBB) in the United States. DNA is focused on near term production of the Montauban gold silver tailings mine in the Province of Quebec, Canada. Principal operations office is in Montreal. The Company has an aggressive search for acquisition targets internationally with a mission to create a medium sized precious metals mining producer.
In June of 2011, DNA Precious Metals Inc. completed the first acquisition of its Montauban exploration properties located in the Portneuf County, Quebec, Canada, based on a report estimating an historical resource of 47,198 ounces of gold and 480,998 ounces of silver on the Montauban Project. The resource totals are in reference to a portion of the gold bearing surface ore over a distance of approximately 600 meters in length.
In addition, Engineering Geologist Yves Gagnon's January 2011 National Instrument 43-101 Technical Report on the Resource Evaluation of the Montauban Tailings states the actual market value of the Montauban Tailings to be at least 32 million dollars with the potential of increasing this value with the mica (phlogopite). This report was based on the total measured resources of approximately 428,000 metric tonnes of tailings. Various official government documents estimates the total amount of tailings located on the Montauban Mine Property to be more than 2 million metric tonnes. Mr. Yves Gagnon has worked as a Geological Engineer for 35 years and he fulfills the requirements to be a "qualified person" as required by rule 43-101.
Since the acquisition of the Montauban Mine Property, DNA Precious Metals Inc. has worked closely with the Quebec Provincial Government and most importantly the local Municipality. As a result, a protocol agreement was signed between DNA Precious Metals Inc. and the Municipality of Notre-Dame de Montauban after the Municipality's Council voted unanimously in favor of the Montauban Mining Project presented to them by DNA Precious Metals Inc. In September of 2012, DNA Precious Metals Inc. received the Certificate of Authorization issued by the MDDEP (Ministère du Développement durable, de l'Environnement et des parc) to process the mining residues, subject to conditions, further permits and approvals.
As of March 2013 DNA Precious Metals Inc. has the final plans of the mill for the extraction process of the industrial and precious metals. Certain processing equipment has been purchased by the Company and is being stored nearby the mining property. In addition, the Company has completed construction of all access roads to and from the new milling facility. The newly erected milling facility consists of an industrial steel structure building totaling 16,000 square feet. The power line source to the milling facility totaling 1.3 kilometers has also been completed.
DNA Precious Metals Inc. has rapidly evolved towards becoming a production company since the completion of the Montauban Mine acquisition in June of 2011. Contingent upon adequate financing, the Company is focused on being in production of the recuperation of industrial and precious metals from the mining residues in the second half of 2014. DNA Precious Metals Inc. has Provincial and Municipal Government support for the Montauban project especially since the Company is restoring an environmental area with mining residues. The project will enable DNA Precious Metals Inc. to generate attractive cash flow with low initial capital cost required to start the project.
Quebec has grown to become one of the largest mining jurisdictions in the world through the abundance of world-class mining deposits and through the ingenuity and perseverance of those engaged in exploring, developing, extracting and processing minerals. DNA Precious Metals Inc. will be at the forefront with the implementation of good practices and respect for the environment throughout all mining operations. Most importantly, the Company will encourage responsible exploration and operate in a safe and environmentally protective manner.
DNA management, directors and independent mining consultants bring a wealth of business, financial and mining experience to the Montauban precious metals tailings mine project.
You may continue your research at
http://www.dnapreciousmetals.com
and make sure DNAP gets your FULL ATTENTION ASAP!
Follow these rules and strategies and you will learn how to book consistent profits.
GETTING IN
Always use limit orders when getting into a stock. Pick an entry price and stick with it. Don't chase stocks. There will always be another trade right around the corner. Don't beat yourself up if you miss one. The last thing you want to do is over pay because you see a stock moving and think you are missing the boat. Never use market orders to enter into a trade. Using market orders allows the market maker to fill you at whatever price they like and leaves you vulnerable to getting poor fills.
IF A STOCK GAPS WAY UP DO NOT CHASE IT!
Most stocks that gap up will come down during the day. (usually starting between 9:45 EST and 10:15 EST) When a stock gaps up the market makers will usually push it lower starting at this time to try to get investors to panic and sell shares back to them so they can make a profit on any shares they are short from filling orders on the gap. If you like the stock and it gaps up you can usually pick up cheaper shares when the market settles back.
WATCH THE OPEN
Watching the open is very important. You can learn a lot about how a stock may act in the first 10-15 minutes after the market opens. The first thing I look for is lots of selling. If you are watching a stock that has an average daily volume of 50,000 shares and the stock trades 250,000 shares in the first ten minutes and it isn't moving this is not a good sign. This means there are lots of sellers and they are probably only going to get more aggressive as the day goes on. You want to see a stock tick up on a regular basis as you see buys come in. If you are in a stock and you see lots of buying and it's not moving GET OUT. Don't wait. KEEP YOUR LOSSES SMALL THE SAFEST WAY TO DO THIS IS TO SELL A STOCK IF IT GOES BELOW THE PRICE IN MY ALERT.
When you enter a trade you need to determine how much you are willing to risk. Have a firm number and get out if the trade goes against you. Every big loss started as a small loss where the investor lost control of their emotions and didn't close out the trade. When you're an investor you are going to have trades that go against you. It happens to everyone. Successful traders know how to limit losses while unsuccessful ones do not. They begin to hope and pray that the stock will turn around so they don't lose money and next thing they know a small 10% loss is now a 40% loss. At this point they begin to think the stock cannot go any lower and they hang on. Now it's a 90% loss and they finally sell. Do not let this be you. Put a line in the sand in every trade you do. When it gets over that line, get out.
BE CONSISTENT
Get used to booking profits no matter how small. It may help to learn to take small profits when you begin. There is nothing wrong with taking 10%, 15%, or 20% profits on trades. This gets you in a winning state of mind and makes taking profits much more of a habit. You do not need to buy at every low and sell at every high in order to make a lot of money in the market. You just need to be consistent. Everyone wants to hit home runs when they buy penny stocks but the fact is most investors will lose more money hanging on for the big winner instead of taking consistent profits.
DO NOT BE GREEDY!
This will be the death of your trading account.
A mistake that many traders make is allowing a profitable trade to turn into a break even or losing trade. Always book profits no matter how small. Put the money in the bank.
Follow these rules and you will become a much better trader!
AS ALWAYS DO YOUR RESEARCH AND WATCH FOR MORE STOCKS FROM THE FREE STOCK ALERTS NETWORK!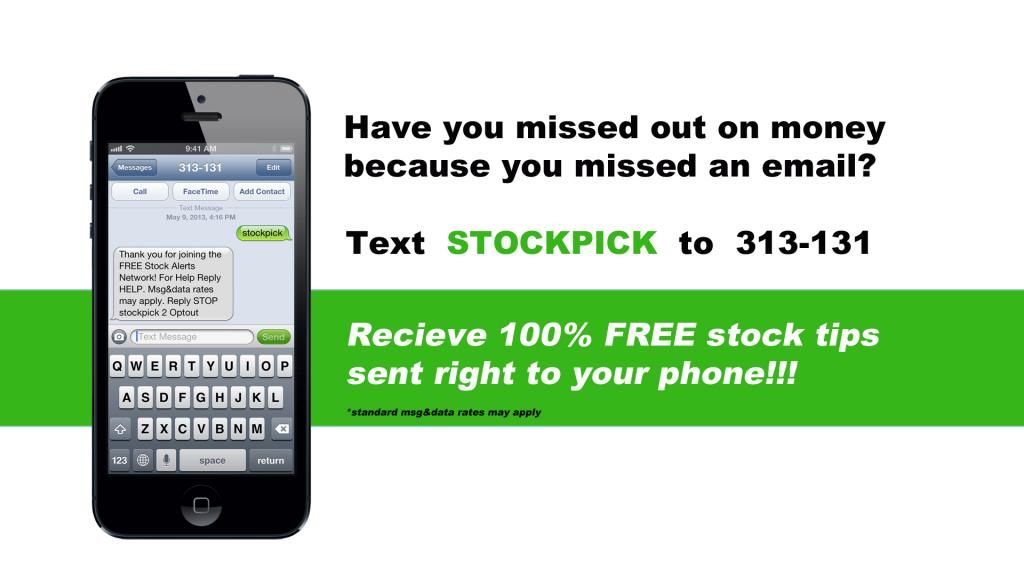 Liquid Pennies has a no tolerance spam policy, we will not sell or re distribute your email to any 3rd party. If applicable, please also unsubscribe from the newsletter using the link at the bottom of the email if you no longer wish to receive our emails. We only send our newsletters to opt-in members. Verify all claims and do your own due diligence. Liquid Pennies profiles are not a solicitation or recommendation to buy, sell or hold securities. Liquid Pennies is not offering securities for sale. An offer to buy or sell can be made only with accompanying disclosure documents and only in the states and provinces for which they are approved. All statements and expressions are the sole opinion of the editor and are subject to change without notice. Liquid Pennies is not liable for any investment decisions by its readers or subscribers. It is strongly recommended that any purchase or sale decision be discussed with a financial adviser, or a broker-dealer, or a member of any financial regulatory bodies. The information contained herein has been provided as an information service only. The accuracy or completeness of the information is not warranted and is only as reliable as the sources from which it was obtained. It should be understood there is no guarantee that past performance will be indicative of future results. Investors are cautioned that they may lose all or a portion of their investment in this or any other company. In order to be in full compliance with the Securities Act of 1933, Section 17(b), Liquid Pennies is owned and operated by Meridian Ventures LLC. Neither Meridian Ventures LLC. nor any of its affiliates, or employees shall be liable to you or anyone else for any loss or damages from use of this e-mail, caused in whole or part by its negligence or contingencies beyond its control in procuring, compiling, interpreting, reporting, or delivering this Web Site or e-mail and any contents. Since Liquid Pennies receives compensation and its employees or members of their families may hold stock in the profiled companies, there is an inherent conflict of interest in Liquid Pennies statements and opinions and such statements and opinions cannot be considered independent. Liquid Pennies and its management may benefit from any increase in the share prices of the profiled companies. Information contained herein contains forward looking statements within the meaning of Section 27A of the Securities Act of 1933 and Section 21E of the Securities and Exchange Act of 1934. Any statements that express or involve discussions with respect to predictions, expectations, beliefs, plans, projections, objectives, goals, assumptions or future events or performance are not statements of historical facts and may be forward looking statements. Forward looking statements are based on expectations, estimates and projections at the time the statements are made that involve a number of risks and uncertainties which could cause actual results or events to differ materially from those presently anticipated. This publication is a free service of Meridian Ventures LLC., a financial public relations firm that is sometimes compensated by companies it profiles. Meridian Ventures LLC. has been compensated up to two thousand usd for increased public awareness of DNA Precious Metals by a third party. It is to be assumed that one or more third parties as well as current shareholders may have shares and may choose to liquidate them at or about the same time these services are performed, which may negatively affect the stock price. This compensation constitutes a conflict of interest as to our ability to remain objective in our communication regarding the profiled companies. All direct and third party compensation received is and will be fully disclosed in any communication regarding a profiled company.
This message was sent to xxxxxx@gmail.com from:
Liquid Pennies, info@liquidpennies.com, Meridian Ventures LLC | 14 Wall Street, 20th Floor | New York, NY 10005