Newsletter
Stocks covered:
Compensation:
Avg $ Volume for Period:
XSNX

$2000

UNKNOWN

Max Profit:

6.06 %

Gain at close:

0.00 %

*We think that this promoter is a part of a group of promoters.
You are receiving this free stock alert email because you have signed up at StockHunter.us
If you no longer wish to receive winning stock picks from us, at the bottom of every email sent from our system, there is a Manage Subscription link where you may unsubscribe at any time.
Thank you for being a valued member and Happy Trading!
ATTENTION HUNTERS!
Put XSNX on your radar NOW!
Monday's PICK popped 100% from our alert price in early trading, closed even and jumped up another 50% from the open for Tuesday's session!
The biggest opportunity was for those who took part in the play at 9:30am
I stress in every newsletter, on every pick to "be ready at the open"
This coupled with my trading rules below in this and every email will help you maximize YOUR gains on every pick.
With that being said, let's jump into Wednesday's play and a previous winner!
XSNX closed Tuesday at .0091
This company has always had a nice history of bounces, and with a July high of .0133 -- even just a retrace would mean GAINS of 46%!
With a 52 week high of .029, the upside could be crazy if we see the stock break through the .013 area.
In addition, XSNX just released news as well and the buzz is just begining to spread!
BREAKING NEWS!
XsunX Continues to Build on Increasing Demand for Commercial Solar Systems
XsunX, Inc. (OTCQB: XSNX), a leading solar energy solutions provider, today announced that interest in its commercial roof-top solar systems has continued to build. Increasing demand for the company's systems is consistent with a recent U.S. federal study (http://www.seia.org/news/federal-government-forecasts-big-gains-solar-energy) forecasting substantial growth through 2040. The study concludes that nearly half of the projected 83GW of new renewable electricity production in the U.S. will come from solar.
"To put the U.S. federal government's anticipated solar PV growth in perspective, the installation of well over 5 million new solar modules per year would be required for the next 26 years," stated XsunX CEO, Tom Djokovich. "That's an enormous growth opportunity for companies like XsunX."
Up until now residential roof-top solar installations have experienced the fastest growth due in part to companies like Solar City that own and operate the installations as mini-power plants selling the power to homeowners at reduced rates. Solar City's business plan is to keep the lucrative tax and business investment benefits provided through solar systems it installs. Now, business owners nationwide have begun to realize the full scope of the investment benefits provided through commercial solar PV. XsunX expects sales to come from the surge in demand for commercial PV as owners select solar system providers willing to pass through all the benefits of system ownership.
Mr. Djokovich continued, "The exciting news for XsunX is that we believe that the real growth in commercial solar is just beginning. Making our job easier is the fact that we provide our commercial solar PV clients access to incredible tax benefits, energy savings, and property appreciation benefits, which represent strong motivating factor for customers."
While solar service companies such as First Solar, NRG Solar, SunEdision, and SunPower continue to focus on larger multi-megawatt projects, XsunX specializes in the design, installation, and service of commercial roof-top solar systems ranging from 20kW to 1MW. The company's management believes that this sector is underserved and represents the largest growth opportunity in the solar systems market.
Read the FULL Releases and past news:
http://finance.yahoo.com/q?s=xsnx&ql=1
About the Company:
Since 2004, XSNX, Inc. has focused on the development of next generation solar solutions.
XsunX provides solar energy solutions that provide the greatest bottom-line financial benefits to businesses.
XSNX has developed a highly skilled team of qualified engineering and specialty contractors with extensive commercial solar experience necessary to service the diverse conditions that can be encountered in commercial buildings.
The company couples this superior design and delivery capability with factory direct pricing and zero down financing options to provide exceptional opportunities for its clients.
XSNX's background and experience spans virtually all aspects of solar including technology assessment, design, and development.
XSNX has a deep passion for solar and have worked to pioneer new technologies and solar business solutions focused at making solar an affordable energy option.
For clients interested in reducing costs and taking control of their long-term power needs, XSNX offers solar power systems design and installation services for commercial, industrial, and power field projects.
XSNX is licensed in California, and their executive management provides nearly 30 years of extensive experience in all aspects of construction and project assembly to ensure the accuracy and quality of systems, the continued integrity of the improved building or site, and compliance with all building codes.
In addition to their solar systems design and installation services, XSNX has been working to develop and commercialize a hybrid manufacturing solution to produce high performance Copper Indium Gallium (di) Selenide (CIGS) thin film solar cells.
The market opportunities for solar products that incorporate the use of flexible and lightweight thin film technologies is developing, and with their CIGSolar® thin film solar cell manufacturing technology XSNX is focused on delivering a lower cost, entry point solution for solar product manufacturers looking to capitalize on these emerging markets.
You may continue your research at
http://www.xsunx.com
and make sure XSNX gets your FULL ATTENTION ASAP!
Follow these rules and strategies and you will learn how to book consistent profits.
GETTING IN
Always use limit orders when getting into a stock. Pick an entry price and stick with it. Don't chase stocks. There will always be another trade right around the corner. Don't beat yourself up if you miss one. The last thing you want to do is over pay because you see a stock moving and think you are missing the boat. Never use market orders to enter into a trade. Using market orders allows the market maker to fill you at whatever price they like and leaves you vulnerable to getting poor fills.
IF A STOCK GAPS WAY UP DO NOT CHASE IT!
Most stocks that gap up will come down during the day. (usually starting between 9:45 EST and 10:15 EST) When a stock gaps up the market makers will usually push it lower starting at this time to try to get investors to panic and sell shares back to them so they can make a profit on any shares they are short from filling orders on the gap. If you like the stock and it gaps up you can usually pick up cheaper shares when the market settles back.
WATCH THE OPEN
Watching the open is very important. You can learn a lot about how a stock may act in the first 10-15 minutes after the market opens. The first thing I look for is lots of selling. If you are watching a stock that has an average daily volume of 50,000 shares and the stock trades 250,000 shares in the first ten minutes and it isn't moving this is not a good sign. This means there are lots of sellers and they are probably only going to get more aggressive as the day goes on. You want to see a stock tick up on a regular basis as you see buys come in. If you are in a stock and you see lots of buying and it's not moving GET OUT. Don't wait. KEEP YOUR LOSSES SMALL THE SAFEST WAY TO DO THIS IS TO SELL A STOCK IF IT GOES BELOW THE PRICE IN MY ALERT.
When you enter a trade you need to determine how much you are willing to risk. Have a firm number and get out if the trade goes against you. Every big loss started as a small loss where the investor lost control of their emotions and didn't close out the trade. When you're an investor you are going to have trades that go against you. It happens to everyone. Successful traders know how to limit losses while unsuccessful ones do not. They begin to hope and pray that the stock will turn around so they don't lose money and next thing they know a small 10% loss is now a 40% loss. At this point they begin to think the stock cannot go any lower and they hang on. Now it's a 90% loss and they finally sell. Do not let this be you. Put a line in the sand in every trade you do. When it gets over that line, get out.
BE CONSISTENT
Get used to booking profits no matter how small. It may help to learn to take small profits when you begin. There is nothing wrong with taking 10%, 15%, or 20% profits on trades. This gets you in a winning state of mind and makes taking profits much more of a habit. You do not need to buy at every low and sell at every high in order to make a lot of money in the market. You just need to be consistent. Everyone wants to hit home runs when they buy penny stocks but the fact is most investors will lose more money hanging on for the big winner instead of taking consistent profits.
DO NOT BE GREEDY!
This will be the death of your trading account.
A mistake that many traders make is allowing a profitable trade to turn into a break even or losing trade. Always book profits no matter how small. Put the money in the bank.
Follow these rules and you will become a much better trader!
AS ALWAYS DO YOUR RESEARCH AND WATCH FOR MORE STOCKS FROM THE FREE STOCK ALERTS NETWORK!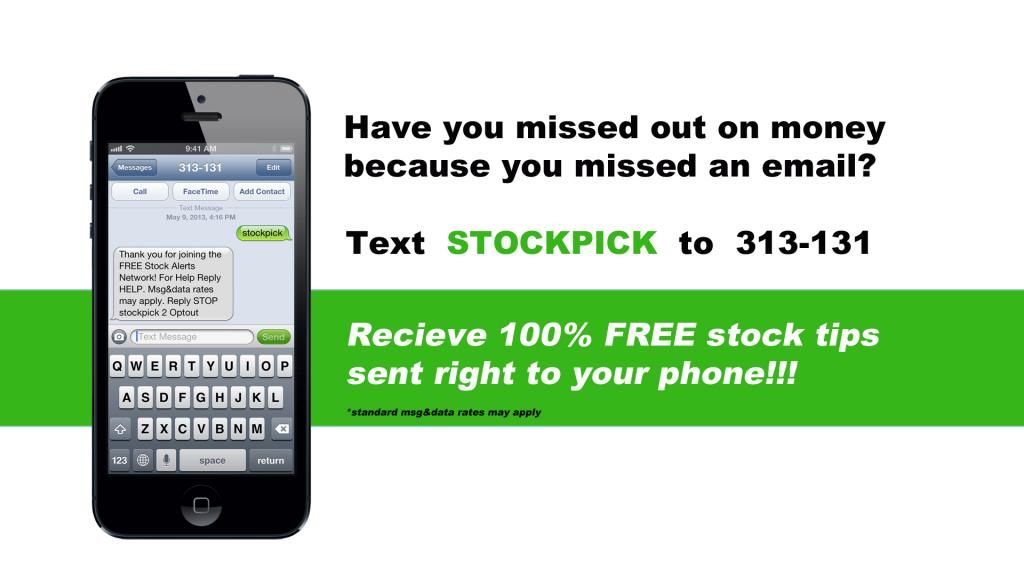 AS ALWAYS DO YOUR RESEARCH AND WATCH FOR MORE STOCKS FROM THE HUNTER!
Stock Hunter has a no tolerance spam policy, we will not sell or re distribute your email to any 3rd party. If applicable, please also unsubscribe from the newsletter using the link at the bottom of the email if you no longer wish to receive our emails. We only send our newsletters to opt-in members. Verify all claims and do your own due diligence. Stock Hunter profiles are not a solicitation or recommendation to buy, sell or hold securities. Stock Hunter is not offering securities for sale. An offer to buy or sell can be made only with accompanying disclosure documents and only in the states and provinces for which they are approved. All statements and expressions are the sole opinion of the editor and are subject to change without notice. Stock Hunter is not liable for any investment decisions by its readers or subscribers. It is strongly recommended that any purchase or sale decision be discussed with a financial adviser, or a broker-dealer, or a member of any financial regulatory bodies. The information contained herein has been provided as an information service only. The accuracy or completeness of the information is not warranted and is only as reliable as the sources from which it was obtained. It should be understood there is no guarantee that past performance will be indicative of future results. Investors are cautioned that they may lose all or a portion of their investment in this or any other company. In order to be in full compliance with the Securities Act of 1933, Section 17(b), Stock Hunter is owned and operated by Meridian Ventures LLC. Neither Meridian Ventures LLC. nor any of its affiliates, or employees shall be liable to you or anyone else for any loss or damages from use of this e-mail, caused in whole or part by its negligence or contingencies beyond its control in procuring, compiling, interpreting, reporting, or delivering this Web Site or e-mail and any contents. Since Stock Hunter receives compensation and its employees or members of their families may hold stock in the profiled companies, there is an inherent conflict of interest in Stock Hunter statements and opinions and such statements and opinions cannot be considered independent. Stock Hunter and its management may benefit from any increase in the share prices of the profiled companies. Information contained herein contains forward looking statements within the meaning of Section 27A of the Securities Act of 1933 and Section 21E of the Securities and Exchange Act of 1934. Any statements that express or involve discussions with respect to predictions, expectations, beliefs, plans, projections, objectives, goals, assumptions or future events or performance are not statements of historical facts and may be forward looking statements. Forward looking statements are based on expectations, estimates and projections at the time the statements are made that involve a number of risks and uncertainties which could cause actual results or events to differ materially from those presently anticipated. This publication is a free service of Meridian Ventures LLC., a financial public relations firm that is sometimes compensated by companies it profiles. Meridian Ventures LLC. has been compensated up to two thousand usd for increased public awareness of XSNX by a third party.. It is to be assumed that one or more third parties as well as current shareholders may have shares and may choose to liquidate them at or about the same time these services are performed, which may negatively affect the stock price. This compensation constitutes a conflict of interest as to our ability to remain objective in our communication regarding the profiled companies. All direct and third party compensation received is and will be fully disclosed in any communication regarding a profiled company.
This message was sent to xxxxxx@gmail.com from:
StockHunter.us, info@stockhunter.us, Meridian Ventures LLC | 14 Wall Street, 20th Floor | New York, NY 10005