Newsletter
Stocks covered:
Compensation:
Avg $ Volume for Period:
OMVS

$3500

UNKNOWN

Max Profit:

0.00 %

Gain at close:

0.00 %
By reading this email you acknowledge you have read our disclaimer provided as an image near the bottom of this email or the link included. This is a paid News Dissemination Advertisement. FN Media Group is not responsible or held liable for the information in the email or any included press releases issued by any public company contained herein. Please be sure to ALWAYS perform your OWN Due Diligence. To stop receiving our news alerts and immediately Remove yourself from the FNM online community, please scroll down to the bottom of this message and use the links provided.


Ovation Music & Studios, Inc. (OTC: OVMS) on High Alert Today
OVMS Begins Expansion of Operations
- October 13, 2015 -

FinancialNewsMedia.com (FNM)

is a leading provider of top tier Market Updates & News Alerts for evolving companies on the move.

FNM

Alerts

never contain hype, over promotion, predictions or personal opinions - just true Time Sensitive News Alerts that are 100% News Driven.
OVMS Breaking News: OVATION MUSIC & STUDIOS, INC. BEGINS EXPANSION WITH NASHVILLE AREA LOCATION


TBOCA RATON, FL., October 13, 2015 – Ovation Music & Studios, Inc. (OTC: OVMS) signed a lease in June and in September started construction to open a new location in Gallatin, Tennessee, just outside of Nashville.

Nashville is the "home of country music", and is a major music recording and production center. The music industries major recording and labels, including Universal Music Group, Capital Records, Sony Music Entertainment, Warner Music Group, EMI Group, as well as numerous independent labels, have recording studios and offices in Nashville.

The Company has begun the build out of the location, and has hired Elijah Ellis to manage the location. Elijah Ellis is a well known Nashville musician, formally a touring blues musician, and vintage instrument collector and trader.

The Company initially plans to build location territories around the South Florida and Nashville, Tennessee markets.

Keith De Tone, the Company's CEO & Chairman stated, "This is the first step in establishing the Ovation footprint in the Nashville market. We cannot be more excited about Ovation being part of the Nashville music scene and a music educator in this market."

...A comprehensive study of Nashville's music and entertainment industry shows it has a $10 billion annual economic impact on the Nashville region. Nashville area has more music industry jobs than any other U.S. city in relation to population and total employment, even more than New York or Los Angeles. The music industry helps create and sustain more than 56,000 jobs in the Nashville area, supporting more than $3.2 billion of labor income annually. ...

Continued...

Read the entire OVMS press release here:
http://www.fnmprofiles.com/profiles-ovms.html
---
Ovation Music & Studios, Inc. is a music education company that provides individual and group lessons, rehearsal studios, professional recording studios, and live performances with its Rock Shop™ and Jazz Jam™ ensembles. Ovation Music & Studios is developed for students of all ages. Their unique method provides professional musicians and teachers in one-to-one voice and instrument lessons. When the students have developed skill in the instrument as well as in music theory and ear training they are combined into rock bands and/or jazz ensembles which perform in public venues.
---
Keep a close eye on your inbox for a future alerts and please feel free to constantly check the FinancialNewsMedia.com website for new announcements posted daily.

You are currently receiving this message because you have visited, opted in or requested information from one of a many affiliated or associated financial sites. FN Media Group completely respects everyone's right to online privacy and wishes to only communicate to those who are interested in receiving premium news alerts for companies that issue real news with real developments. If you believe you have received this message in error or prefer to no longer receive our alerts, please use the unsubscribe link provided below to immediately remove yourself from our online investment community.
FinancialNewsMedia.com is a news dissemination and financial public relations company that delivers breaking news alerts and market commentary updates to the investment community. This complimentary news service is viewed by hundreds of thousands of retail investors from around the globe that frequent other popular online news & financial destinations such as TradeKing, Forbes, CBSMarketwatch, Morningstar, Bloomberg and so many more.

FinancialNewsMedia.com... When the market moves, don't get left behind

Follow Us Now On
FNM Disclosure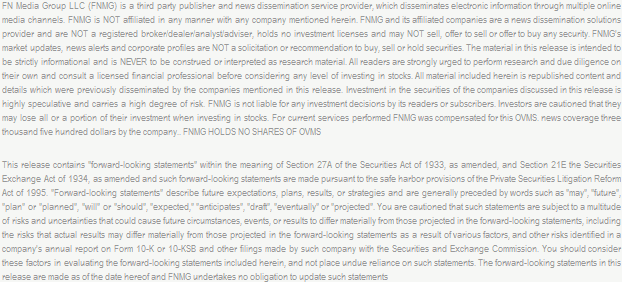 If you are unable to view this disclosure in the included image, please go here to read our entire disclosure online
Contact FN Media by mail:
FN Media
4613 N. University Drive #374
Coral Springs, FL 33067

[Change Subscription] [Cancel Subscription]