Newsletter
Stocks covered:
Compensation:
Avg $ Volume for Period:
OREO

$10000

UNKNOWN

Max Profit:

1.41 %

Gain at close:

-4.23 %

*We think that this promoter is a part of a group of promoters.
Hello Class and New Students,
The Professor is still very bullish on OREO, a oil and gas company that we recently profiled.
American Liberty Petroleum Corp. (OTCBB: OREO) is an exploration stage oil and gas
company that focuses on discovering untapped and undervalued energy resources in the US
and has prospects in the western Nevada region.
OREO rose 32% in just 2 weeks following our last alert and has seen very large volume over the
past 2 weeks, fueled by a string of recent and positive announcements by the company.

American Liberty Petroleum just announced that Foreland Refining Corporation ("Foreland") signed
an agreement to purchase all of the Company's crude oil production from the Gabbs Valley oil field
in Nye County, Nevada!
This is huge news for the company to already have a buyer for what could potentially be
a tremendous amount of oil! Read the Full News Release Here!
Other recent news released by the company highlights the release of an analyst report that sets a long-term price target of $3.85 for OREO provided the Company is able to raise capital and successfully execute its business plan.

$3.85 would represent nearly a 300% increase in OREO's stock price - You can see why this is
an opportunity you do not want to miss!
The report also estimates revenues of $5.75 million in 2014 ramping up to $63 million in 2017!
Read OREO's Full Positive Analyst Report Here!
Discovery of Rich Oil Reserves in Western America!



The petroleum business of the Western American region is gaining players as noteworthy discoveries have recently been made exhibiting the region's potential as the next oil and gas production destination.

Consider this - Occidental Petroleum discovered over 1 billion barrels of oil and natural gas equivalents in California!

The second one is that of estimated oil reserves of more than 4 billion barrels in the under-explored state of Nevada where OREO's holdings are situated!

Also, the Great Grant Canyon field is situated in Nevada.

As much as 21 million barrels of oil has been extracted which is far more than the initial estimated reserve of 13 million barrels - this just reinforces the oil potential of the region!
OREO's Gabbs Valley and Kibby Flat Prospects Sit on one of the Largest Oil Accumulations in the Western US!
The Gabbs Valley prospect of OREO covers 6,397 acres on the 26,000 Nevada-based oil rich Cobble Cuesta structure which has estimated reserves of over 4 billion barrels of oil based on reservoirs and production data from producing Nevada oil fields!

Even if a small part of the reserves are present in the Cobble Cuesta structure, it will account
for huge oil accumulation for OREO and subsequently large projected revenues!
OREO's Kibby Flat prospect, located in the southeastern part of Nevada's Monte Cristo Valley,
has an estimated ultimate recovery of 669 million barrels of oil!

That represents billions in revenues if that much oil were to be recovered and this is a ground floor opportunity to get involved with OREO!
Another report by Geologist Alfred H. Pekarek, in August 2008 estimates the Kibby Flat prospect
to characterize multiple reservoirs along with their projected reserves.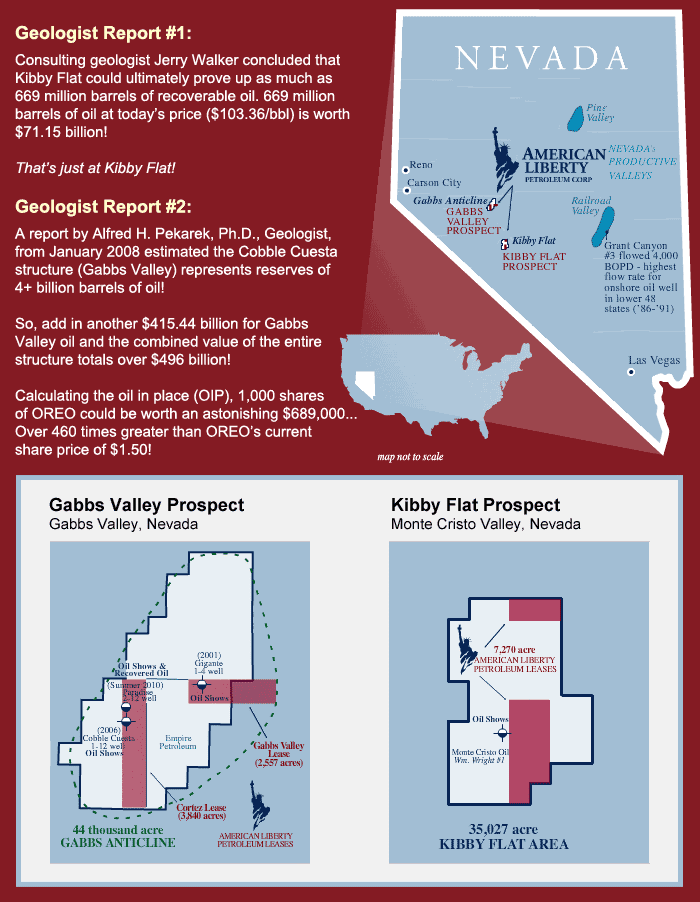 Energy companies around the globe are flooding American oil fields!
Why? Because they are looking for assets to buy in the world's most stable economy and the timing
could not be more urgent.
Defense Secretary Leon Panetta predicts war in the Gulf! World oil shipments face the worst crisis since WWII.
By summer, all hell could break loose in the Persian Gulf, crippling world oil shipments and sending oil prices skyrocketing. Recent news paints a dire scene:
Iran threatens to shut down the Strait of Hormuz, choking global oil supplies.
U.S. Secretary of Defense Leon Panetta predicts that the west may strike Iran as early
as this spring.
International legal experts call new European sanctions against Iran an "act of war."
Obama amps up anti-Iran rhetoric, dispatches Naval resources to the Mideast.
Insiders are preparing for $400 a barrel oil!
Even if this only comes true by half, the impact on world oil supplies will be catastrophic.
It makes no sense to me to be sitting on the sidelines when events are leading up to explosive oil
market repercussions.
With the prospects of world oil flow coming to a screeching halt, untapped reserves (think
American Liberty Petroleum, OREO) may become the most hotly sought-after oil-bearing
properties in the world!
For American Liberty Petroleum (OREO), the implications are staggering - the total value
of all the estimated oil reserves that American Liberty Petroleum (OREO) plans to drill could
potentially skyrocket to $1.87 Trillion!

Remember that American Liberty Petroleum (OREO) sits on over 13,000 acres of this oil!

Also, OREO sits on an oil deposit so massive and so easy to drill, a single well can produce
thousandsof barrels of oil per day for years on end!
Do not miss this chance to get involved with the oil and gas giant in the making - perform your
research now and be ready to act or you could miss the boat on OREO. The company's website is www.americanlibertypetro.com.
The Professor Has Spoken.

Sincerely,
Penny Stock Professor


This message was sent to xxxxxx@gmail.com from:

PennyStockProfessor.com | P.O. Box 416 | Penns Park, PA 18943

Email Marketing by