Newsletter
Stocks covered:
Compensation:
Avg $ Volume for Period:
OREO

$10000

UNKNOWN

Max Profit:

1.41 %

Gain at close:

-4.23 %

*We think that this promoter is a part of a group of promoters.
Hello Class and New Students,
American Liberty Petroleum (OTCBB:OREO) could start heading back up the
charts today, heading toward $1.00 and higher!
Trading at just 87 cents right now, OREO has seen a recent lull in its price
which is why we believe this could be a great bounce play right now!

Just one month ago, the stock was trading at $1.40 which means that if OREO
were to get back to this level, it would represent an increase of over 60%!

Remember that following our alert on OREO about a month ago was immediately
followed by a 32% price increase in just 2 days so we know that the stock is
capable of making large moves in a short period of time.

In our previous emails, we have covered OREO's Nevada holdings and their
combined estimated reserves of 4.6 billion barrels of oil in great detail.

For this reason, in this email we are going to highlight how:

The emergence of huge Western US oil reserves near OREO's properties
as well as the bullish forecast for oil and increased domestic production
could provide tremendous future growth for the stock!
OXY's Recent Oil Discovery in California Has Forbes saying
that the US may have More Oil than Ever Thought Possible!
Growing demand and the expectation of rising prices point to a timely market
opportunity for nimble, progressive companies – such as OREO – that are able
to respond as needed.
Occidental petroleum recently discovered of 1+ billion barrels of oil and natural gas
equivalents in Kern County, California in 2009.
The find is believed to be the largest in California in over 35 years and one that,
according to Forbes, shows the US may have more oil left than ever thought
possible!
Ever since the first commercial oil well was drilled in California in 1865, America has
looked to the production of abundant energy solutions from its western region.

Today, hundreds of thousands of barrels of oil are produced in the area every day
through the combined efforts of major western industry players such as:
Chevron (NYSE:CVX) Occidental Petroleum (NYSE:OXY) and Aera Energy
which is jointly owned by ExxonMobil (NYSE:XOM) and Royal Dutch Shell
(NYSE:RDS.A)!
As of 2009, California's average crude oil production was 568,000 barrels per day,
making it the third highest oil producing state behind Texas and Alaska!

Still, abundant oil and gas reserves remain yet untapped in the western US. In the
beginning of 2009, California represented:
· 2.7 billion barrels of proved crude oil reserves
· 2.4 trillion cubic feet of natural gas reserves
· 17 of America's 100 largest oil fields
· 18 giant oil fields (production >100 million barrels each)
· 4 super giant fields (production >1 billion barrels each)
And to the immediate east of this prolific region is the underexplored state of Nevada,
where, despite limited exploration since the Shell Oil Company first discovered oil in
1954, 51 million barrels of oil have been produced as of March 2010!
We believe there is enough data available to indicate that Nevada has high potential
for prolific production, not to mention a built-in mining and exploration-friendly business
environment.
In fact, Nevada is one of the few places where an oil and gas start-up can still
find its way to fortune and this is exactly where OREO's properties are located!
Rising Oil Prices and the US's Need to Significantly Increase
Domestic Oil Production give OREO an Amazing Market
Opportunity!
According to the article "The new geopolitics of oil" by FT in April of 2011, President
Obama's target to decrease US oil imports by a third by 2022 may well be doubled,
given the pace of US discoveries in the Gulf of Mexico and onshore.
While America faces an energy challenge of vital importance, challenges always
represent opportunities for those who rise to meet them.

OREO was founded to seize those opportunities, address domestic energy
needs and create unprecedented wealth in the process!
According to the IEA's forecast, by 2035 world primary energy demand will have
increased by 36% from its level in 2008, with fossil fuels remaining dominant
around the world.
Oil, in particular, will remain the leading fuel with demand growing steadily to reach
roughly 99 million barrels of oil per day by 2035, up by 15 million over 2009's level!
The lower oil prices of the last few years were not due to an increase in supply, but
rather to the global recession pushing down demand. In contrast, the Financial
Times refers to "the new geopolitics of oil" as a collection of emerging critical
dimensions in oil markets.

These oil-related factors are "likely to push prices on to a higher path in the years
ahead" than almost anyone would have forecasted before.

This means that if OREO strikes even a fraction of the oil reserves that are
estimated on its Nevada properties, the future looks very profitable for those
who own the stock at its current levels!
Over the past two months, we've highlighted the following reasons why we are
so bullish on OREO!
OREO's properties contain total estimated reserves of 4.6 billion
barrels of oil!
The unique geology beneath Nevada where OREO's properties
are located, gives its formations the potential for huge amounts
of oil deep underground!
OREO is a potential takeover target by oil and gas giants like
Occidental Petroleum!

The emergence of huge Western US oil reserves near OREO's


properties. What's most exciting is the fact that:

B

oth OREO's Gabbs Valley

and Kibby Flat prospects are located
in very close proximity to the Grant Canyon Field which has
produced 20+ million barrels of oil on just 300 acres!
The long term bullish forecast for oil prices and significantly increased
demand for domestic oil production.
Combine all of these factors with OREO's history of making large, quick gains,
and its current low price, and you have a potential breakout in the making!

Put OREO at the top of your radar today and be ready to seize any opportunity
to front-run a possible breakout!

Be sure to always use limit and stop-loss orders to minimize losses and secure
potential profits.
The Professor Has Spoken.
Sincerely,

Penny Stock Professor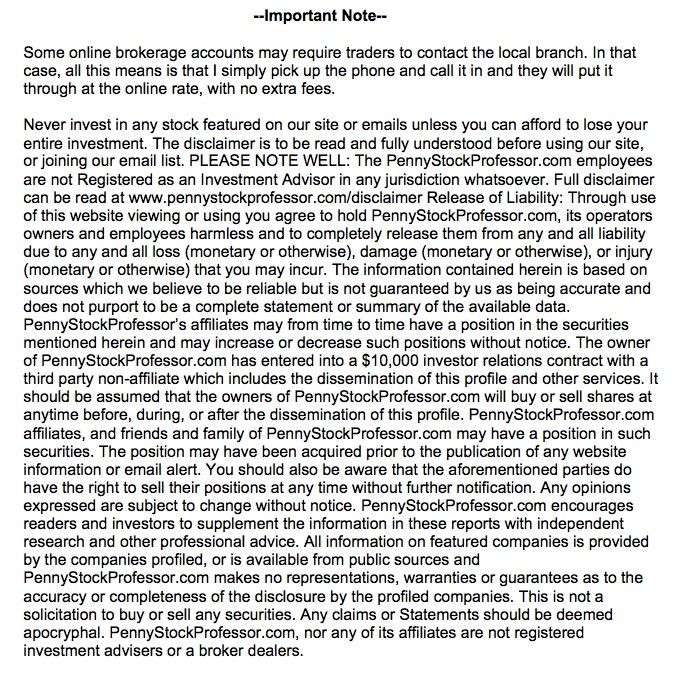 This message was sent to xxxxxx@gmail.com from:

PennyStockProfessor.com | P.O. Box 416 | Penns Park, PA 18943

Email Marketing by