Newsletter
Stocks covered:
Compensation:
Avg $ Volume for Period:
OREO

$10000

657221

Max Profit:

1.41 %

Gain at close:

-4.23 %

*We think that this promoter is a part of a group of promoters.
Hello Class and New Students,
Our next pick is an oil and gas company that we strongly believe has the potential to skyrocket in the
near future!
American Liberty Petroleum Corp. (OTCBB: OREO) focuses on the acquisition, drilling, and
production of oil and natural gas properties and prospects.
Based in California, the company is focused on reducing America's need for imported oil by
discovering major, new onshore U.S. energy resources and tapping overlooked and undervalued
onshore domestic resources through exploration and new development technologies.
We are so excited about this pick because OREO could be sitting on Billions of barrels of oil!
A few years ago, American Liberty Petroleum acquired nearly 10,000 acres in western Nevada oil
leases. While the company wasn't sure how much oil might be found, but the price was right and
American Liberty took a chance on it. And boy did that chance pay off!
Independent geologist reports estimated that American Liberty Petroleum had landed on two
"Nevada Style" oil formations with an estimated 4.67 billion barrels of recoverable oil!
With OREO still trading around $1.50, it's clear that Wall Street is clueless about the company's huge discovery!
But that can't last long. An oil find of this magnitude eventually lights up everyone's radar screen,
including petroleum giants that could be potentially eyeing OREO as a buyout target which would be
huge for the company's shareholders!
American Liberty Petroleum (OREO) is still off the radar, giving you a short window of
opportunity to bag enormous profits on a potentially spectacular stock buy!
The Western US is Becoming the Next Frontier for American Oil Exploration!
Recent significant discoveries, such as Occidental Petroleum's estimated 1+ billion barrels of
oil and natural gas equivalents in California, underscore the potential for developing new oil and
gas production solutions in western America.
Next door in the under-explored state of Nevada, American Liberty's 6,397-acre
Gabbs Valley Prospect is located on the 26,000-acre Cobble Cuesta structure, which
is estimated to represent oil reserves of 4+ billion barrels!
In fact, OREO recently provided a background on one a well acquisition on its Gabbs Valley Property.
Read the News Release Here!
Not only that but the company also owns a 7,270-acre Kibby Flat Prospect in the Monte Cristo basin
that has estimated ultimate recovery (EUR) of as high as 669 million barrels of oil according to a 2008 report.
Below is a breakdown of geological reports for OREO's Nevada properties that could produce tremendous amounts of oil and send the stock soaring!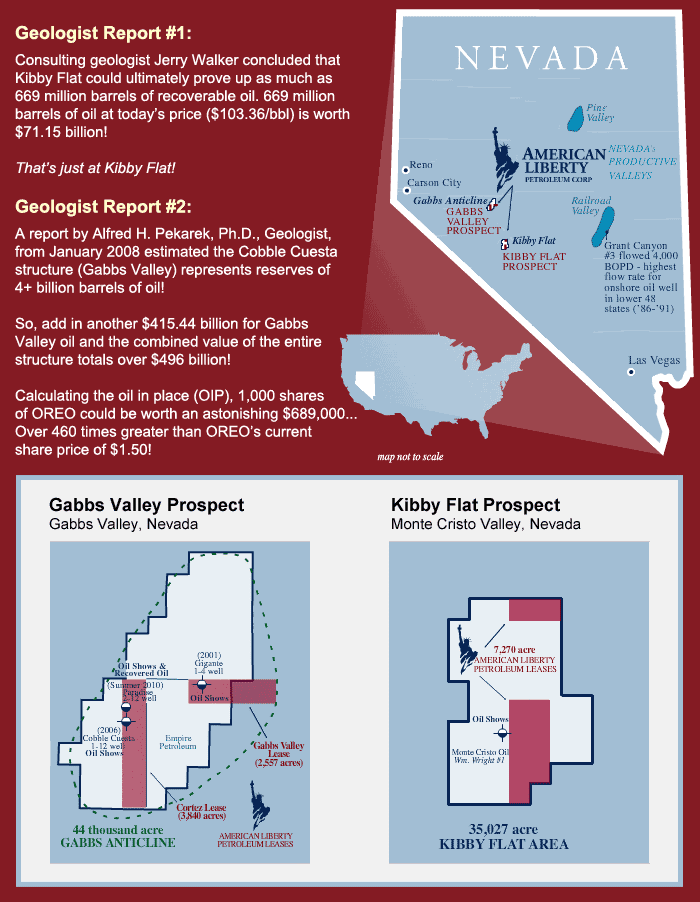 Nevada's Unique Geology gives its formations the Potential for Huge Amounts of Oil Deep Underground!

As we have already stated, OREO sits on an enormous anticline trap that could hold as much as 4.67 billion barrels of oil!
What makes this trap rare is its vertical depth. Because of Nevada's unique geology, these formations are typically isolated and deep, trapping enormous volumes of oil over a relatively
small area.

Newly released geologist reports describe this formation as being 2,000 feet thick with a surface area of just a few dozen square miles.

These deep anticlines are extremely hard to find, however when they are found, their oil production can be staggering!
To prove this point, a similar site east of American Liberty Petroleum produced an average of 4,105
barrels of oil per day for a full year and became the top producing well in the United States for four
years running.
American LIberty Petroleum believes that its Nevada properties also have the potential to
become leading US oil producing wells!
This is a growth opportunity unlike any we've seen in years. The newly discovered prospect
of billion-barrel-plus reserves could send OREO's stock soaring!
Perform your research right away on OREO as you do not want to miss this opportunity to get
involved with a potential oil and gas giant in the making! The company's website is www.americanlibertypetro.com.
The Professor Has Spoken.

Sincerely,
Penny Stock Professor


This message was sent to xxxxxx@gmail.com from:

PennyStockProfessor.com | P.O. Box 416 | Penns Park, PA 18943

Email Marketing by