Newsletter
Stocks covered:
Compensation:
Avg $ Volume for Period:
NXTD

$2900

UNKNOWN

Max Profit:

10.49 %

Gain at close:

8.10 %
By reading this email you acknowledge you have read our disclaimer provided as an image near the bottom of this email or the link included. This is a paid News Dissemination Advertisement. FN Media Group is not responsible or held liable for the information in the email or any included press releases issued by any public company contained herein. Please be sure to ALWAYS perform your OWN Due Diligence. To stop receiving our news alerts and immediately Remove yourself from the FNM online community, please scroll down to the bottom of this message and use the links provided.


NXT-ID, Inc. (NASDAQ:NXTD) on High Alert
NXTD - Featured on Fox News
Smart Wallet - Wocket - Shipping Begins
- March 20, 2015 -

FinancialNewsMedia.com (FNM)

is a leading provider of top tier Market Updates & News Alerts for evolving companies on the move.

FNM

Alerts

never contain hype, over promotion, predictions or personal opinions - just true Time Sensitive News Alerts that are 100% News Driven.
NXTD Breaking News: NXT-ID Featured on Fox News Segment, "The Next Great Thing" After Announcing First Shipment of Wocket Smart Wallets to Early Access Pre-Order Customers

OXFORD, Conn., /PRNewswire via COMTEX/ -- NXT-ID, Inc. (NASDAQ:NXTD) and NXTDW) ("NXT-ID" or the "Company"), a biometric authentication company focused on the growing mobile commerce market, announces its biometric payment technology, the Wocket smart wallet was featured in a news clip that aired this week on Washington DC's Fox 5 News (http://www.myfoxdc.com/).

In a segment "The Next Great Thing", host Laura Evans calls the Wocket smart wallet 'a new way to pay' and 'a really big breakthrough in mobile payment.'

Award-winning journalist Laura Evans has been part of the FOX 5 News Team since 1999.

She introduces the Wocket telling the audience that with over 13 million cases of identity theft annually and almost half of them due to a stolen or lost wallet, "Now there is a device that could take the pain and hassle out of that forever. "

She goes on to say, "The Wocket is a convenient and universal form of payment that secures your personal information and that's why we think the Wocket is the next great thing."

CEO, Gino Pereira discusses and demonstrates how the Wocket works as your own personal vault, storing all your personal information securely.

Laura also shares her enthusiasm on two other innovative tech products on the segment; VFit, a new way to measure fitness and the Bolt Smart Lightbulb.

Laura Evans notes in closing that both the Wocket and Bolt created a lot of buzz at the Consumer Electronics (CES) show held in January 2015 in Las Vegas.

The segment can be seen on the Fox 5 news website at http://www.myfoxdc.com/clip/11239806/the-next-great-thing-vfit-body-scanner.

This following an announcement it has begun shipping Wocket smart wallets this week. "We will be shipping a limited number of Wockets to early access pre-order customers over the next few weeks in preparation of fulfilling all pre-orders," said Gino Pereira, Chief Executive Officer of NXT-ID. "We will incorporate early access customer feedback from these shipments into Wockets we will ship to all pre-paid customers this spring to ensure a positive experience for all of our early adopters."

He went on to say, "We are extremely excited to see the Wocket evolving into the revolutionary payment and smart wallet technology we envisioned at inception. This shipment marks the introduction of a new era in a smart, privacy-centric products, and represents a major milestone in establishing Wocket as the smart wallet of the future."

Wocket is a smart wallet designed to protect your identity and replace all the cards in your wallet, with no smart phone or cloud required. Wocket works anywhere credit cards are accepted and only works with your biometric stamp of approval.

All your credit, debit, loyalty, gift, ID, membership, insurance, tickets, medical information, passwords, and virtually any other card can be protected on Wocket. . Continued...

Read the entire press release here: http://www.fnmprofiles.com/profiles-nxtd.html
---
NXT-ID, Inc.'s innovative MobileBio solution mitigates consumer risks associated with mobile computing, m-commerce and smart OS-enabled devices. The company is focused on the growing m-commerce market, launching its innovative MobileBio suite of biometric solutions that secure consumers' mobile platforms led by Wocket ; a next generation smart wallet designed to replace all the cards in your wallet, no smart phone required.

Wocket was recognized as one of the top technology products at CES 2015 by multiple media outlets including Wired.com. The Wocket works anywhere credit cards are accepted and only works with your biometric stamp of approval. http://www.wocketwallet.com/ .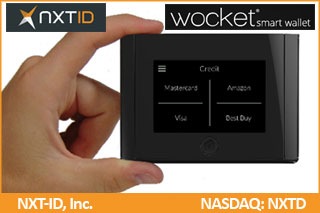 ---
Keep a close eye on your inbox for a future alerts and please feel free to constantly check the FinancialNewsMedia.com website for new announcements posted daily.

You are currently receiving this message because you have visited, opted in or requested information from one of a many affiliated or associated financial sites. FN Media Group completely respects everyone's right to online privacy and wishes to only communicate to those who are interested in receiving premium news alerts for companies that issue real news with real developments. If you believe you have received this message in error or prefer to no longer receive our alerts, please use the unsubscribe link provided below to immediately remove yourself from our online investment community.
FinancialNewsMedia.com is a news dissemination and financial public relations company that delivers breaking news alerts and market commentary updates to the investment community. This complimentary news service is viewed by hundreds of thousands of retail investors from around the globe that frequent other popular online news & financial destinations such as TradeKing, Forbes, CBSMarketwatch, Morningstar, Bloomberg and so many more.

FinancialNewsMedia.com... When the market moves, don't get left behind

Follow Us Now On
FNM Disclosure

If you are unable to view this disclosure in the included image, please go here to read our entire disclosure online
Contact FN Media by mail:
FN Media
4613 N. University Drive #374
Coral Springs, FL 33067