Newsletter
Stocks covered:
Compensation:
Avg $ Volume for Period:
BRZV

$3000

19355

Max Profit:

20.00 %

Gain at close:

1.18 %

*We think that this promoter is a part of a group of promoters.
Good Morning,
I was browsing yahoo! finance earlier and came across some huge news on BRZV that was just released moments ago. The news basically says that they are getting deeper into the ground and closer to pulling resources out of the earth as well as reconfirming just how plentiful their Jackson well could be.
Breezer Ventures Provides Update on Jackson Well 1 Exploration Drilling
FORT WORTH, TX, May 1, 2013 /PRNewswire/ - Breezer Ventures Inc. (BRZV) (OTCQB:BRZV.PK) ("Breezer" or the "Company") today announced that the Jackson Well 1 has reached a Total Vertical Depth of approximately 4,400 feet.
The well was drilled to its primary target: the Ellenberger reservoir. The Ellenberger zone is capable of producing 100 to 200 BOPD, based on historical production. Additionally, electronic logs, performed in the past, also confirm this production estimate. The Company is awaiting the arrival of further drilling equipment, expected this week, which will allow completion of the drilling and oil production from the high quality reservoir sands of the Ellenberger zone.
Well 1 is adjoined to Breezer's Well 2A, recently acquired interest by the Company and announced in a recent news release issued on March 15, 2013. Well 1 is approximately 660 feet away from Well 2A.
"These drilling results will increase our geotechnical understanding of the Ellenberger zone. We will use the information to further refine, evaluate and to open new potential drill targets in the Ellenberger zone," commented Tang Xu, CEO of Breezer Ventures, Inc.
>>> Read The Full Release Here <<<
If you missed my BRZV profile from last night or just want to get some last minute DD in before the open I have included my initial report below.
Chart Highlights
BRZV

Has Experienced A Massive Rally Since Our Initial Alert At .025 cents hitting a high of .0864 cents for gains of 236%

Since the rally

BRZV

has pulled back from its highs to its current price of .042, still up 100% from our March Alert

BRZV

is sitting on what looks like a strong support area at its current price

The RSI on

BRZV

has just crossed into oversold territory signaling a potentially undervaluation
Below is an image of BRZV's technical chart.
(Make sure your email client is displaying images)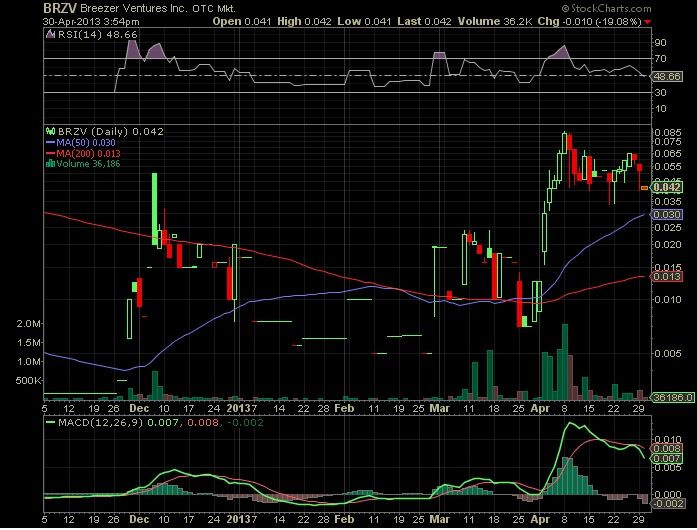 Trade Alert: Breezer Ventures, Inc. (OTCBB: BRZV)
Investor Highlights
BRZV has witnessed a significant surge in market value during the past month, of

more than 236%.

BRZV experienced a haircut in market value today and may be presently

extremely undervalued.

BRZV has an RSI at 48, presenting the

opportunity for possible upward potential.

BRZV has an up trending 50 DMA and 200 DMA indicating

consistent growth.

BRZV has experienced

growing volume levels

during the several past trading sessions.
BRZV is positioned in a global growth industry -

oil, natural gas, minerals.

BRZV has

only 35 million shares outstanding

which could create potential upward volatility.
About BRZV
BRZV is a publicly traded independent emerging natural resources company.
BRZV's focus is on the (1) acquisition, (2) exploration, (3) development and (4) production of:
oil

natural gas

minerals
BRZV believes that the world has entered a commodities super cycle caused by globalization and the industrialization of large emerging countries and regions such as India, China and the Middle East.
The company's objective is to find, acquire and develop natural resources at the lowest cost possible and recycle our cash flows into new projects yielding the highest returns with controlled risk.
Progress & Outlook
March 2012 - BRZV drilled on Well #6 into the Moran zone. BRZV achieved initial production and is currently studying how to increase the oil production.
April 2012 - BRZV signed a joint venture agreement with Tristar Energy Group Inc. and Firecreek Global Inc. to jointly invest $2,475,000 to develop fourteen oil and gas wells on the Jackson property.
July 2012 - BRZV and the joint venture partners drilled on Well #11 into the Moran zone. A very large fracture stimulation was also performed. There are indications that oil is starting flow with promising shows on the flow tests.
December 2012 - BRZV and the joint venture partners drilled on Well #C-1 to the Tannehill formation. We are achieving some oil production from that zone and are testing completion techniques to improve the initial production potential.
Building upon a successful 2012, BRZV is poised to commence a busy 2013 year with more drilling and expectations of steady oil production. The Company is also looking at other acquisitions to bolster its inventory of drillable prospects.
BRZV Jackson Lease Texas
Jackson Lease Summary Points
The Jackson Lease which currently contains 870 acres is situated on the western side of the Bend Arch of the Fort Worth Basin. The lease is situated 5 miles north of Baird, Texas
There are currently 10 existing and plugged wells on the Jackson lease that are available for rehabilitation and reactivation
Oil Industry Outlook
The EIA has raised its 2013 growth forecasts by 110,000 barrels per day (bpd) to 1.05 million bpd in 2013. Global oil demand is now expected to total 90.2 million bpd this year.
The increase follows a report from OPEC earlier in the week projecting oil demand to increase by 840,000 bpd, 80,000 bpd higher than its previous estimate. Prices for Brent Crude have gained approximately 10 percent year-to-date hitting a 10-month high of over $118 a barrel.
"Market fundamentals and expectations strengthened in January 2013 because of earlier than-expected cutbacks in Saudi Arabian oil production and greater optimism about economic growth, particularly in China," the EIA said in its report.
Natural Gas Industry Outlook
EIA expects that natural gas consumption will average 70.3 billion cubic feet per day (Bcf/d) in 2013 and 70.0 Bcf/d in 2014. This month's prediction is a significant upward revision from last month's expectation of 69.7 Bcf/d and 69.4 Bcf/d in 2013 and 2014, respectively. The upward revision is mostly the result of changes to historical industrial sector consumption data, which were revised upwards in the recent release of the EIA Natural Gas Annual.
Forecasts for closer-to-average winter temperatures in 2013 and 2014 (compared with the record-warm temperatures in 2012) lead to increases in natural gas used for residential and commercial space heating. Despite Punxsutawney Phil's recent forecast of an early spring this year, a 15-percent increase in U.S. population-weighted heating degree days from 2012 to 2013 is still projected.
The projected increase in natural gas prices contributes to a decline in natural gas used for electric power generation from 25.0 Bcf/d in 2012 to 23.1 Bcf/d in 2013 and 22.6 Bcf/d in 2014. Consumption over the forecast period is less than the record-high 2012 levels, but remains high by historical standards and reflects an ongoing structural shift toward using more natural gas for power generation.
Natural gas spot prices averaged $3.33 per MMBtu at the Henry Hub in January 2013, relatively unchanged from December, despite colder weather in January. EIA expects the Henry Hub price will average $3.53 per MMBtu in 2013 (compared with $2.75 per MMBtu in 2012) and $3.84 per MMBtu in 2014. Natural gas futures prices for May 2013 delivery (for the five-day period ending February 7, 2013) averaged $3.46 per MMBtu.
Breaking Developments
Breezer Ventures (BRZV) Prepares for Fracture Stimulation at Jackson Well
FORT WORTH, TX, April 25, 2013 /PRNewswire/ - Breezer Ventures Inc. (BRZV) (OTCPK) ("Breezer" or the "Company") is pleased to announce that fracture stimulation is expected to commence shortly at the Jackson Well 27.
The fracture stimulation is intended to break apart the reserves allowing for a significant increase in the flow of oil. The process has proven to be highly effective in dramatically increasing production from the Tannehill and Moran formation in the area.
The status of five other wells was outlined in a previous operational update showing that three had been drilled and were undergoing completion. One was waiting to spud and one was in the drilling phase.
With six wells currently undergoing drilling, completing or fracture stimulation operations, the Company anticipates a further increase in revenues and reserves as these wells are brought into production. Combined with additional multiple proposals on other wells, the Company remains on course to build a significant oil and gas company focused on USA onshore formations, and in the process generate substantial value for shareholders.
For more information on BRZV, please visit: http://www.breezerventures.com/index.html
Kind Regards,
Edmund Kaminski | HotStockProfits.com
*Gains are calculated based on the difference between company's high of day price and open price, the trading day immediately following the evening trade alert.
This report/release/advertisement is a commercial advertisement and is for general information purposes only. We are engaged in the business of marketing and advertising companies for monetary compensation. Never invest in any stock featured on our site or emails unless you can afford to lose your entire investment. The disclaimer is to be read and fully understood before using our site, or joining our email list.
PLEASE NOTE WELL: HotStockProfits.com and its employees are not a Registered Investment Advisor, Broker Dealer or a member of any association for other research providers in any jurisdiction whatsoever. Full disclaimer can be read at www.HotStockProfits.com/disclaimer.
Release of Liability: Through use of this website viewing or using you agree to hold HotStockProfits.com, its operators owners and employees harmless and to completely release them from any and all liability due to any and all loss (monetary or otherwise), damage (monetary or otherwise), or injury (monetary or otherwise) that you may incur.
HotStockProfits.com was compensated two thousand dollars ($2,000) via bankwire for the further distribution of publicly available information, our opinions & ongoing investor awareness services for

BRZV
by a third party on March 11th, 2013 - this contract has expired. HotStockProfits.com was additionally compensated three thousand dollars ($3,000) via bankwire for the further distribution of publicly available information, our opinions & ongoing investor awareness services for

BRZV
by a third party on April 30th, 2013.
The third party may have shares, and my liquidate them, which may negatively affect the stock price. The compensation constitutes a conflict of interest as to our ability to remain objective in our communication regarding the profiled company. The information contained herein is based on sources which we believe to be reliable but is not guaranteed by us as being accurate and does not purport to be a complete statement or summary of the available data. HotStockProfits.com encourages readers and investors to supplement the information in these reports with independent research and other professional advice. All information on featured companies is provided by the companies profiled, or is available from public sources and HotStockProfits.com makes no representations, warranties or guarantees as to the accuracy or completeness of the disclosure by the profiled companies. None of the materials or advertisements herein constitute offers or solicitat ions to purchase or sell securities of the companies profiled herein and any decision to invest in any such company or other financial decisions should not be made based upon the information provide herein. Instead HotStockProfits.com strongly urges you conduct a complete and independent investigation of the respective companies and consideration of all pertinent risks. Readers are advised to review SEC periodic reports: Forms 10-Q, 10K, Form 8-K, insider reports, Forms 3, 4, 5 Schedule 13D. HotStockProfits.com is compliant with the Can Spam Act of 2003. HotStockProfits.com does not offer such advice or analysis, and HotStockProfits.com further urges you to consult your own independent tax, business, financial and investment advisors. Investing in micro-cap and growth securities is highly speculative and carries and extremely high degree of risk. It is possible that an investor's investment may be lost or impaired due to the speculative nature of the companies profiled.
The Private Securities Litigation Reform Act of 1995 provides investors a 'safe harbor' in regard to forward-looking statements. Any statements that express or involve discussions with respect to predictions, expectations, beliefs, plans, projections, objectives, goals, assumptions or future events or performance are not statements of historical fact may be "forward looking statements". Forward looking statements are based on expectations, estimates, and projections at the time the statements are made that involve a number of risks an uncertainties which could cause actual results or events to differ materially from those presently anticipated. Forward looking statements in this action may be identified through use of words such as "projects", "foresee", "expects", "will", "anticipates", "estimates", "believes", "understands", or that by statements indicati ng certain actions "may", "could", or "might" occur. Understand there is no guarantee past performance will be indicative of future results.
In preparing this publication, HotStockProfits.com has relied upon information supplied by its customers, publicly available information and press releases which it believes to be reliable; however, such reliability cannot be guaranteed. Investors should not rely on the information contained in this website. Rather, investors should use the information contained in this website as a starting point for doing additional independent research on the featured companies. The advertisements in this website are believed to be reliable, however, HotStockProfits.com and its owners, affiliates, subsidiaries, officers, directors, representatives and agents disclaim any liability as to the completeness or accuracy of the information contained in any advertisement and for any omissions of materials facts from such advertisement. HotStockProfits.com is not responsible for any claims made by the companies advertised herein, nor is HotStockProfits.com responsibl e for any other promotional firm, its program or its structure.
Copyright © 2013
HotStockProfits
. All right reserved.