Newsletter
Stocks covered:
Compensation:
Avg $ Volume for Period:
SSMLF

$3500

UNKNOWN

Max Profit:

5.97 %

Gain at close:

0.00 %
By reading this email you acknowledge you have read our disclaimer provided as an image near the bottom of this email or the link included. This is a paid News Dissemination Advertisement. FN Media Group is not responsible or held liable for the information in the email or any included press releases issued by any public company contained herein. Please be sure to ALWAYS perform your OWN Due Diligence. To stop receiving our news alerts and immediately Remove yourself from the FNM online community, please scroll down to the bottom of this message and use the links provided.


Nevada Energy Metals (SSMLF / BFF.V) on High Alert AGAIN

Nevada Energy Metals Expands
Lithium Project Operations

- April 21, 2016 -

FinancialNewsMedia.com (FNM)

is a leading provider of top tier Market Updates & News Alerts for evolving companies on the move.

FNM

Alerts

never contain hype, over promotion, predictions or personal opinions - just true Time Sensitive News Alerts that are 100% News Driven.
GREAT NEWS: For those that closely follow FinancialNewsMedia.com News Alerts, the last few News Coverage Programs have resulted in a tremendous amount of awareness for our Client Companies, SSMLF (BFF.V) & NEWC.

NEWC traded over 10.8Mil Shares on Wednesday (4/2016) reaching over 150% increase on an Intraday High for Wednesday's Trading Session trading over $230-Thousand Dollars in value.

SSMLF (BFF.V) since our initial Coverage last week on Wednesday (4/13/16), Nevada Energy Metals has risen over 50% and has traded over a combined amount for the OTC & TSX exchanges of more than 15.7Mil Shares traded since the initial alert with a total combined Value over an astonishing $2.97-Million Dollars of Volume. And more Coverage beyond today is still expected, so keep you eye on your inbox and/or our website for more news alerts.
SSMLF Breaking News: Nevada Energy Metals Expands BFF-1 Clayton Valley Lithium Project


Wednesday, April 21, 2016 - Vancouver, BC- Nevada Energy Metals Inc. (OTC: SSMLF) (TSX-V: BFF) is pleased to announce that the Company has expanded its Clayton Valley holdings by acquiring an additional 27 claims to its lithium brine exploration project at Silver Peak, Esmeralda County, Nevada. The BFF-1 project now comprises 87 claims with an area encompassing 1,740 acres /704 hectares and directly abutting the region of brine production of Rockwood Lithium, a subsidiary of Albermare Resources (NYSE: ALB) in the northern portion of Clayton Valley.

The claims cover an area of playa, including the Goat Island graben (inferred from gravity inversion; Quantec, 2008; Petrick, 2008), that encompasses a portion of a deep-circulation geothermal system beneath basin-fill sediments locally blanketed with travertine in north-western Clayton Valley. The Goat Island graben segments Clayton Valley into a northerly-trending, 1-2 km-wide sub-basin with a distinct escarpment on each side. Geological modeling and assessment of historical drilling results by J.B. Hulen, PG, (July 31, 2008 report) concluded that both shallow thermal-gradient and lithium-exploration drilling demonstrates that the northern portion of Clayton Valley contains the valley's highest subsurface temperatures and that these temperatures may be localized in the Goat Island graben and its structural projections to the northeast and south.

Significantly, within the graben and within the boundary of the claim block, a drill hole by Western Geothermal Partners 2007 logged as WGP#2 reported as follows:' From 280 - to 305 ft., fine grained green sand and silt logged as volcanic ash was encountered. This unit may be correlative to the Main Ash Aquifer, which is a marker bed in other areas of the Clayton Valley Basin." J.B. Hulen, PG, (July 31, 2008.)

Nevada Energy Metals is planning a detailed summer/fall exploration program on the BFF-1 project. The property was acquired for cost of staking with no overriding royalties. Continued...
Read the entire SSMLF press release:
http://www.fnmprofiles.com/profiles-ssmlf.html
---
Nevada Energy Metals Inc. is a well funded Canadian based exploration company who's primary listing is on the TSX Venture Exchange as well as on the OTC Exchange. The Company's main exploration focus is directed at lithium brine targets located in the mining friendly state of Nevada. The Company has 100% ownership in 60 claims in Clayton Valley, only 250m from Rockwood Lithium, the only brine based lithium producer in North America. Nevada Energy Metals has also acquired, 100 claims (Teels Marsh West) covering 2000 acres (809 hectares) at Teels Marsh, Mineral County, Nevada, a highly prospective lithium exploration project, 100% owned without any royalties, located on the western part of a large evaporation lake where a phase one, 20 hole shallow auger exploration program is in progress. Recently, on March 23, 2016 the Company announced the addition of the San Emidio Desert lithium project in Washoe County, Nevada. The Company's first lithium project, Alkali Lake, in Esmeralda county is a 60% earn in option agreement from Dajin Resources Corp. where near surface lithium has been confirmed.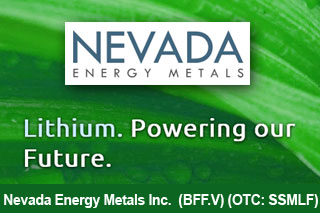 ---
Keep a close eye on your inbox for a future alerts and please feel free to constantly check the FinancialNewsMedia.com website for new announcements posted daily.

You are currently receiving this message because you have visited, opted in or requested information from one of a many affiliated or associated financial sites. FN Media Group completely respects everyone's right to online privacy and wishes to only communicate to those who are interested in receiving premium news alerts for companies that issue real news with real developments. If you believe you have received this message in error or prefer to no longer receive our alerts, please use the unsubscribe link provided below to immediately remove yourself from our online investment community.
FinancialNewsMedia.com is a news dissemination and financial public relations company that delivers breaking news alerts and market commentary updates to the investment community. This complimentary news service is viewed by hundreds of thousands of retail investors from around the globe that frequent other popular online news & financial destinations such as TradeKing, Forbes, CBSMarketwatch, Morningstar, Bloomberg and so many more.

FinancialNewsMedia.com... When the market moves, don't get left behind

Follow Us Now On
FNM Disclosure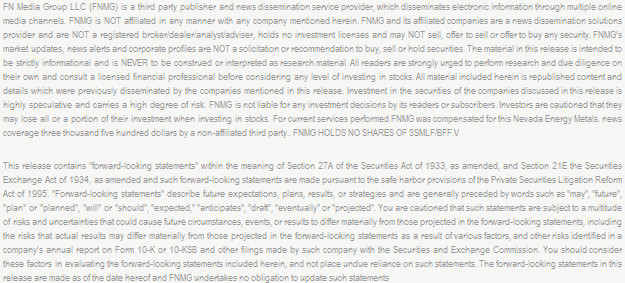 If you are unable to view this disclosure in the included image, please go here to read our entire disclosure online
Contact FN Media by mail:
FN Media
4613 N. University Drive #374
Coral Springs, FL 33067

[Change Subscription] [Cancel Subscription]