Newsletter
Stocks covered:
Compensation:
Avg $ Volume for Period:
SSMLF

$3500

UNKNOWN

Max Profit:

5.97 %

Gain at close:

0.00 %
By reading this email you acknowledge you have read our disclaimer provided as an image near the bottom of this email or the link included. This is a paid News Dissemination Advertisement. FN Media Group is not responsible or held liable for the information in the email or any included press releases issued by any public company contained herein. Please be sure to ALWAYS perform your OWN Due Diligence. To stop receiving our news alerts and immediately Remove yourself from the FNM online community, please scroll down to the bottom of this message and use the links provided.


Nevada Energy Metals (SSMLF / BFF.V) Action Alert

Nevada Energy Metals Releases
Huge Acquisition News

- April 13, 2016 -

FinancialNewsMedia.com (FNM)

is a leading provider of top tier Market Updates & News Alerts for evolving companies on the move.

FNM

Alerts

never contain hype, over promotion, predictions or personal opinions - just true Time Sensitive News Alerts that are 100% News Driven.
SSMLF Breaking News: Nevada Energy Metals Acquires 100% Ownership in Clayton Valley BFF-1 Lithium Project


Wednesday, April 13, 2016 - Vancouver, BC- Nevada Energy Metals Inc. (OTC: SSMLF) (TSX-V: BFF) ("the Company") (Frankfurt: A2AFBV) is pleased to announce the acquisition of 60 claims (approximately 1200 acres/484 hectares) in Clayton Valley, Esmeralda County, Nevada.

The Clayton Valley BFF-1 Lithium Project southern boundary lies 250 meters from Albemarle Corporation's Silver Peak lithium mine and brine processing operations. The mine has been in operation since 1967 and remains the only brine based lithium producer in North America. It is also the location of Pure Energy Minerals' 816,000 metric tonnes Lithium Carbonate Equivalent (LCE) Inferred Resource NI 43-101 announced in July 2015. Clayton Valley's centralized location between Nevada and Reno and its highways, access to power, water and labor provide excellent infrastructure for mineral exploration and development. The Clayton Valley BFF-1 Lithium Project is approximately 3.5 hours away from Tesla's Gigafactory, which has a planned annual lithium-ion battery production capacity of 35 gigawatt-hours per year by 2020.

Information on the project can be found here: http://www.nevadaenergymetals.com/clayton-valley-project/

Clayton Valley is one of the few locations globally known to contain commercial-grade lithium-enriched brine. The Valley is an internally drained closed-basin and is surrounded by mountains, hills and ridges on all sides. It contains an underground unconsolidated water bearing system (or aquifer system) which is host to lithium-enriched brines and is contained by the surrounding rock.

The decision to acquire the project was based on descriptions of geological modeling and historical drilling results (Western Geothermal Ltd) in a report authored by J.B. Hulen, PG, (July 31,2008). Mr Hulen concluded that shallow thermal-gradient drilling and lithium-exploration drilling by previous operators demonstrated that the area underlying this portion of Clayton Valley contained the valley's highest subsurface temperatures. Continued...
Read the entire SSMLF press release:
http://www.fnmprofiles.com/profiles-ssmlf.html
---
Nevada Energy Metals Inc. is a well funded Canadian based exploration company who's primary listing is on the TSX Venture Exchange as well as on the OTC Exchange. The Company's main exploration focus is directed at lithium brine targets located in the mining friendly state of Nevada. The Company has 100% ownership in 60 claims in Clayton Valley, only 250m from Rockwood Lithium, the only brine based lithium producer in North America. Nevada Energy Metals has also acquired, 100 claims (Teels Marsh West) covering 2000 acres (809 hectares) at Teels Marsh, Mineral County, Nevada, a highly prospective lithium exploration project, 100% owned without any royalties, located on the western part of a large evaporation lake where a phase one, 20 hole shallow auger exploration program is in progress. Recently, on March 23, 2016 the Company announced the addition of the San Emidio Desert lithium project in Washoe County, Nevada. The Company's first lithium project, Alkali Lake, in Esmeralda county is a 60% earn in option agreement from Dajin Resources Corp. where near surface lithium has been confirmed.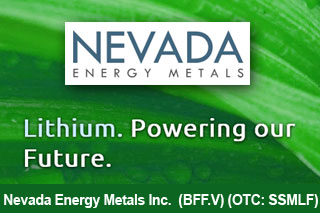 ---
Keep a close eye on your inbox for a future alerts and please feel free to constantly check the FinancialNewsMedia.com website for new announcements posted daily.

You are currently receiving this message because you have visited, opted in or requested information from one of a many affiliated or associated financial sites. FN Media Group completely respects everyone's right to online privacy and wishes to only communicate to those who are interested in receiving premium news alerts for companies that issue real news with real developments. If you believe you have received this message in error or prefer to no longer receive our alerts, please use the unsubscribe link provided below to immediately remove yourself from our online investment community.
FinancialNewsMedia.com is a news dissemination and financial public relations company that delivers breaking news alerts and market commentary updates to the investment community. This complimentary news service is viewed by hundreds of thousands of retail investors from around the globe that frequent other popular online news & financial destinations such as TradeKing, Forbes, CBSMarketwatch, Morningstar, Bloomberg and so many more.

FinancialNewsMedia.com... When the market moves, don't get left behind

Follow Us Now On
FNM Disclosure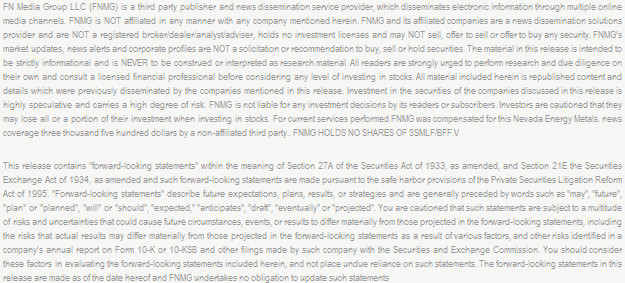 If you are unable to view this disclosure in the included image, please go here to read our entire disclosure online
Contact FN Media by mail:
FN Media
4613 N. University Drive #374
Coral Springs, FL 33067

[Change Subscription] [Cancel Subscription]