Newsletter
Stocks covered:
Compensation:
Avg $ Volume for Period:
ORYN

$10000

622613

Max Profit:

19.88 %

Gain at close:

8.43 %

*We think that this promoter is a part of a group of promoters.
Hello Class and New Students,
In last night's email, we highlighted how our latest pick, ORYN's ELastoLite® technology
is set to take the $110 Billion Sports Apparel and Merchandising industry by storm and
has made it a huge takeover target.
Today we will cover how Oryon Technologies, Inc. (OTCBB: ORYN)'s patented and
trademarked ELastoLite® has opened up several other huge new market opportunies
that could send the stock soaring!
That's right, we believe that the best is yet to come for ORYN, which has seen a large
amount of accumulation in the low 80 cent range and looks ready to take off from here.
Stockta.com shows ORYN as displaying Bullish Technicals across the board!
ORYN Has a Massive Market Opportunity in the Safety Gear and
Apparel Industry!

How massive? The safety-gear business by itself is worth $3.5 billion a year!
But what's even more exciting is the fact that:
ORYN's technology is so ground-breaking that OSHA is reviewing ELastolite® with
the intention of making it a required addition to all night-time safety gear!

Can you imagine how much revenue ORYN could potentially bring in if it were to capture
a fraction of this market, let alone the entire thing?

Everything from jackets to safety vests to ID's for police, firefighters, EMT's,
first responders, construction crews and more could be safer and more effective
by using ORYN's ELastolite®!
We encourage you to read the "Applications" section of Oryon Technologies' website
and learn what makes ORYN's product superior in the safety industry and several others!
Consider that this is just one industry niche that could provide huge revenues for Oryon
Technologies! Here are some others..
We urge you to Act on ORYN Now, BEFORE Consumers Start
Lining Up to Buy its ELastolite® Products!
We believe that the consumer public will explode with excitement as major apparel
manufacturers debut incredible new designs featuring sheik logos and stylish patterns
that actually light up on their own! In fact,
Oryon Technologies is already lighting up the keypads of 125 million cell phones
that have already generated $5.5 million in revenue for the company!
Not only that but ELastoLite® has also been successfully used and seen in the 2010
Hollywood blockbuster "Tron: Legacy".
Countless applications that aren't as obvious to the consumer mean huge profits for ORYN,
lighting up the logo on any number of electronics from calculators to personal computers!
Even illuminating keyboards and control panels in everything from cell phones to airliners
with a flexible, durable light system - the sky is literally the limit for ORYN!
ORYN's ELastolite® can Provide the World's Leading Brands
with a Huge Competitive Advantage!
Because ORYN's ELastoLite® is a thin, flexible, crushable, water resistant lighting system
that can be bent, folded, twisted, washed and dried, it can be applied to almost any durable
surface.

ORYN owns over 50 patents for a wafer-thin light technology that meets the most
rigorous demands of major manufacturers, like Motorola (NYSE: MSI), Nike
(NYSE: NKE), Lands' End and Marmot Mountain!
But we believe you'll soon be seeing this lighting technology in just about anything imaginable
as it is about to ignite a consumer buying frenzy!
Considering how limitless the applications that ELastolite® offers, how much do you think
a company like 3M would pay to own the technology as we discussed in yesterday's email?
Aside from a huge company like 3M, ask yourself how many exciting, got-to-have-it
products could Motorola or Sony develop by incorporating ORYN's thin, flexible and
self-sustaining lighting?
Motorola is in an all-out war with Apple over the smartphone market. In India and China
where there are an estimated 2 billion smartphone users, DROIDS are outselling iPhones
by 5 to 1!
Think what it would be worth to Motorola to keep Apple from using the technology!
The bottom line is that there are hundreds of millions of dollars in new sales that we
believe companies like 3M, Nike and Motorola must be drooling over already!
The opportunity to get involved in a company with patented technology that is game-changing
in so many huge global markets comes around VERY rarely!

The time to act on ORYN is now before this high-tech gem's products and technology
are being sold by the world's most massive retailers!
We urge our subscribers to seize this amazing ground-floor opportunity to potentially profit
in a huge way from ORYN's next generation LED technology.
Perform your research now and remember to always use limit and stop-loss orders to
maximize profits and minimize losses.
The Professor Has Spoken.

Sincerely,

Penny Stock Professor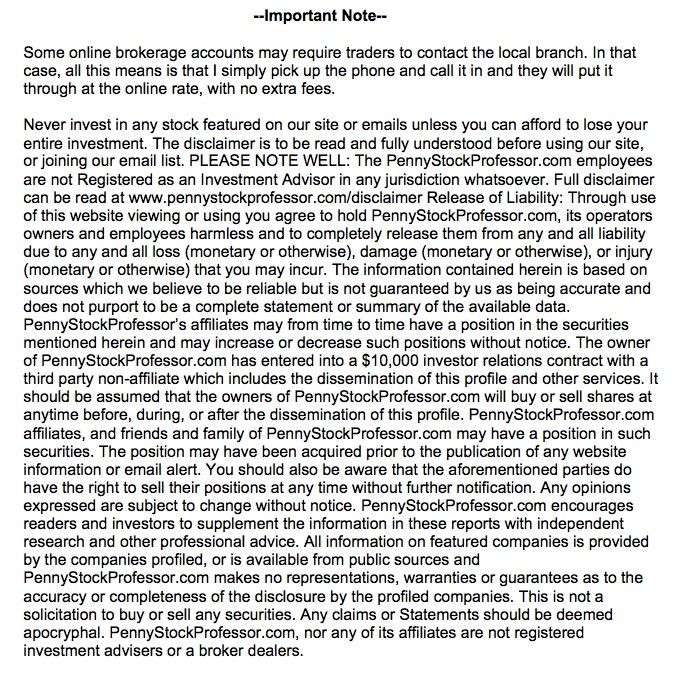 | | |
| --- | --- |
| PennyStockProfessor.com | P.O. Box 416 | Penns Park, PA 18943 | Email Marketing by |