Newsletter
Stocks covered:
Compensation:
Avg $ Volume for Period:
LOGL

$10000

2971739

Max Profit:

18.64 %

Gain at close:

18.64 %

*We think that this promoter is a part of a group of promoters.
Hello Class and New Students,
The Professor is extremely excited about our next pick, a junior oil and gas company that is positioned for tremendous growth!
Legend Oil and Gas, Ltd. (OTCBB: LOGL) is an oil and gas exploration, production and exploration company focused on the dual strategy of developing its existing oil producing assets, while actively seeking projects with significant "Blue Sky" potential in the oil-prone shale plays in North America.
The company currently has land leases in Canada, Kansas and North Dakota.
We believe that LOGL could be on the verge of seeing a short squeeze which could send its shares skyrocketing up the charts!
LOGL's stock appears to have seen a recent short which has driven its price from between $2.30 and $2.50 to just above 80 cents!
We believe the company's recent operational updates show growth that could send short investors scrambling to buy back shares, pushing LOGL's price up fast!
But before we highlight the company's positive recent developments, here is why we think LOGL has explosive potential right now.
Growth and Financing
Buoyed by skyrocketing production figures and millions of dollars in new financing, LOGL has all the benchmarks of a company on its way to greatness!

After a series of aggressive acquisitions, Legend now has property in three proven oil and gas regions.
With production underway in the US and Canada, LOGL's total oil and gas output could soar more than 20-fold in the near term!
Properties in The Bakken Formation
One of the most exciting facts about LOGL so far is its acquisition of producing properties in the Bakken Formation in North Dakota's Divide County over the last year.
The Bakken Formation is potentially the largest domestic oil discovery since Alaska's Prudhoe Bay with over 500 billion barrels of oil!
Read about the Bakken Shale Oil Field and all the Major Oil Companies Drilling There!
LOGL has properties that lie in the heart of the Williston Basin Bakken.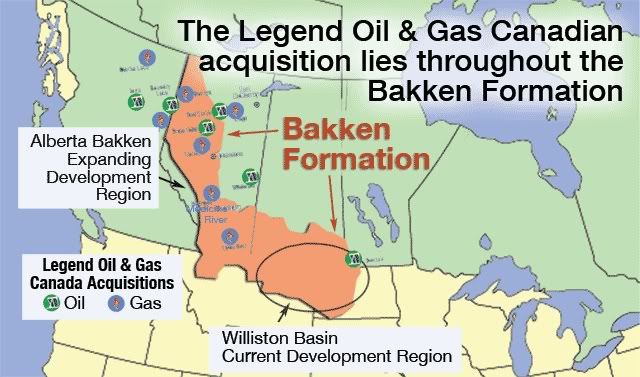 Three years ago, the U.S. geological Survey released a report increasing official Williston Basin Bakken reserve estimates 25-fold, triggering an oil boom unlike any seen in decades!
They called it 'The largest continuous oilfield ever evaluated by the U.S. Geological Survey."
This Williston Basin play alone could ultimately be valued in billions of dollars!
Divide County is reported to host 169 billion barrels of oil in place!
At least one neighboring well produces $94,500 a day in oil!
North Dakota is challenging Texas to be the #1 oil producing state in America!
Oil is one of the surest plays you can make in today's market and the Bakken is the place to be!
In fact, at least 10 companies have doubled or even tripled since they started producing oil out of the Bakken!
The Alberta Bakken
In addition to being established in the Wiliston Basin Bakken, LOGL acquired properties in the Alberta Bakken located just north last year when it acquired substantially all of the land and production interests of International Sovereign Energy Corp. in Alberta, Canada.
The Alberta Bakken is a formation similar to the Bakken formation in North Dakota but instead of residing in the Williston Basin, it lies in the Alberta Basin. The characteristics are similar – hence the similar name.
In the Alberta Basin Bakken, companies are scrambling to secure as much land as possible right now!
Millions of dollars are being spent on land sales and leases here with Joint Venture agreements being announced and the major players are following it closely.
Alberta oil and gas production is soaring, but much of the action has been in Canadian exchanges. Legend breaks that pattern by putting Alberta assets into LOGL and the OTCBB.
Big league investors know these Bakken profit records… which is why we believe that they're pouring millions into Legend Oil & Gas following its Alberta Bakken acquisition!
We believe that Legend Oil & Gas can expect enormous profit potential as the Alberta Bakken hits its stride over the coming years!
Recent Positive Developments
Now back to what we believe could trigger a short squeeze on LOGL - the company's positive recent operational updates about both its Kansas and Canadian properties.
Read the Company's Update News Releases Here!
Here are the highlights that we believe position LOGL to make a run in the near future.
Legend Oil & Gas in Kansas
Production more than tripled on the Orth-Gillespie lease due to the drilling of three new locations in June and July of last year.
John Ellis [lease] production increased two-fold wit the recompletion of an existing well.
Two wells will be drilled on the John Ellis lease with an additional location drilled on the Orth- Gillespie lease.
Legend Oil & Gas announced permits for three new locations on its Woodson County, Kansas properties.
Legend Oil & Gas in Canada
Legend Oil & Gas' Canadian acquisition brings its production to 300 barrels (BOE) a day.
The company's announcements point to a significant inventory of drilling opportunities and a large amount of undeveloped acreage.
A farm-out agreement has been reached in Swan Hills for two light oil test wells where Legend will retain up to a 25% interest in forecast production of 100 to 200 barrels per day.
Legend is also conducting operations at its Joffre property
LOGL is "looking to move forward on a lease acquisition at Medicine River to bring an existing horizontal well to production.
With all of these positive developments potentially causing a short squeeze in the near future and its properties in the hottest oil fields in North America, we believe that LOGL is ripe for a big run!
We urge our subscribers to perform their research as soon as possible and be ready to act on LOGL.
Stay tuned for more information on this potentially explosive oil and gas play tomorrow morning!
The Professor Has Spoken.
Sincerely,
Penny Stock Professor