Newsletter
Stocks covered:
Compensation:
Avg $ Volume for Period:
OREO

$10000

UNKNOWN

Max Profit:

1.41 %

Gain at close:

-4.23 %

*We think that this promoter is a part of a group of promoters.
Hello Class and New Students,
American Liberty Petroleum (OTCBB: OREO) could start to climb up the charts today!

We've been excited about this red hot oil and gas play for a couple of months and the stock
has recently made large gains in very short periods showing that this stock is liquid and an
ongoing momentum play!
Why are we so excited about OREO?
Because the company could be sitting on potentially billions of barrels of oil on its
Nevada Properties and we believe there is a great chance it could be the target of a
buyout in the near future!
Either way, we believe shareholders of OREO stand to see tremendous gains on the stock
if they act now!
OREO's Nevada Properties Sit on One of the Largest Oil Accumulations
in the Western US!
Few people know this, but Nevada has been home to some of the best producing oil wells in
North America. Pay zones here can be enormous and when they're found, the production can
set records!

In fact, one well alone in Nye County, Nevada produced a staggering 1.5 million barrels of oil in
its first year of operation! It became the top producing U.S. onshore well for the next four years…
and it's still producing today!
With the prospects of a single well producing millions of barrels of oil… many exploration
companies have been studying activity around Nevada's Nye for early signs of the next big
discovery.
Well it looks like our next pick, OREO has found it!
Just west of Nye county, American Liberty Petroleum has 13,667 acres on an anticline
oil trap that geologists describe as being one of "the largest oil accumulations in the
western United States!"
How much oil? Recoverable reserves are estimated as high as 4.67 billion barrels of oil!
To put this amount of oil in perspective, 4.67 billion barrels of oil is 22 times more oil than flowed
through the Alaska pipeline all last year!
That's an astonishing amount of oil! For American Liberty Petroleum (OREO), which sits
on 13,667 acres of this oil, the production potential is enormous!
Nevada's Unique Geology Gives its Formations the Potential for Huge
Amounts of Oil Deep Underground!
What makes OREO's enormous anticline trap rare is its vertical depth. Because of Nevada's
unique geology, these formations are typically isolated and deep, trapping enormous volumes
of oil over a relatively small area.

Newly released geologist reports describe this formation as being 2,000 feet thick with a surface
area of just a few dozen square miles.

These deep anticlines are extremely hard to find, however when they are found, their oil
production can be staggering!
To prove this point, a similar site east of American Liberty Petroleum produced an average of
4,105 barrels of oil per day for a full year and became the top producing well in the United States
for four years running.
American Liberty Petroleum believes that its Nevada properties also have the potential
to become leading US oil producing wells!
The newly discovered prospect of billion-barrel-plus reserves could send OREO's stock
soaring!
From the surface, the formation covers only a few dozen square miles, which is why these
unique Nevada formations are so hard to find.
Underground, the oil occupies a pay zone estimated to be 2,000 feet thick...yielding ten to
twenty times more oil per acre than many of the top producing plays in Texas, Oklahoma,
or North Dakota!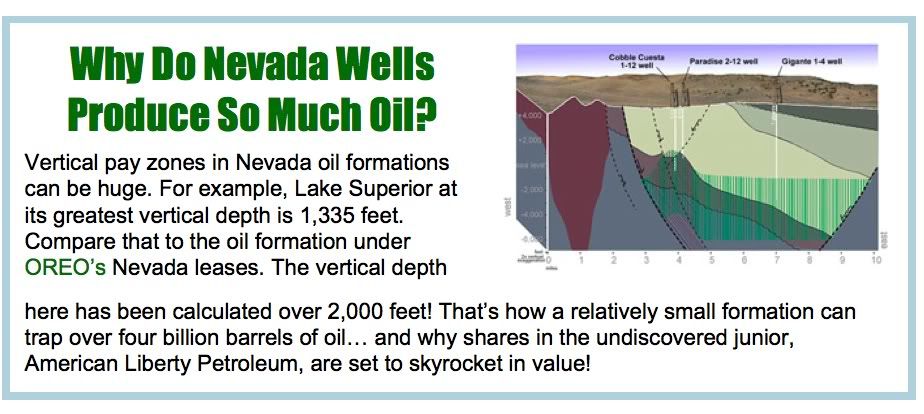 OREO Appears to Be a Prime Buyout Target for Oil Giants Like
Occidental Petroleum!

With a reserve potential measured in billions of barrels, our prediction is that an acquisition
hungry giant could quickly buy OREO shareholders out.

And guess who's shopping the region right now? Occidental Petroleum (NYSE: OXY)…
hungry for acquisitions and spending billions on U.S. oil reserves.

In our opinion, it's not a matter of "if" but "when" a major oil producer moves in on these Nevada
oil discoveries.

With oil giant Occidental Petroleum sitting right next door in southern California,
American Liberty Petroleum (OREO) could be a key acquisition target!

Even before American Liberty Petroleum makes any further progress on its Nevada holdings,
a buyout could take place at an enormous premium to the price you can buy OREO today!

If you have not yet performed research on OREO, we urge you to do so and be ready to
move on OREO.

The Professor Has Spoken.
Sincerely,

Penny Stock Professor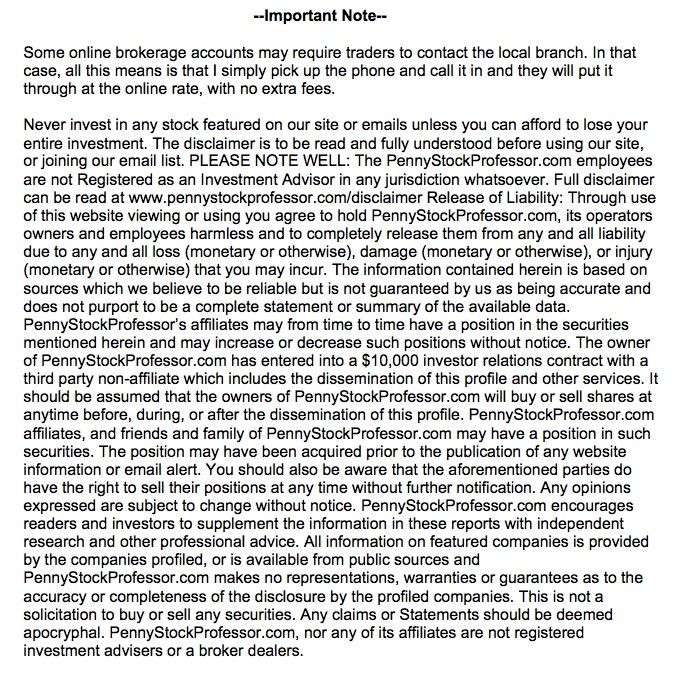 This message was sent to xxxxxx@gmail.com from:

PennyStockProfessor.com | P.O. Box 416 | Penns Park, PA 18943

Email Marketing by