Newsletter
Stocks covered:
Compensation:
Avg $ Volume for Period:
AAGC

$6500

414837

Max Profit:

3.45 %

Gain at close:

1.15 %

September 7, 2011
Penny Stock Profile ....



All American Gold Corp.

(OTCBB: AAGC)

For complete profile, CLICK HERE.

"Nevada is far and away the leading gold production region in the United States, producing more than 75 percent of all gold in the country. All American Gold Corp. holds three valuable properties in their portfolio with massive potential for reserves to be uncovered."

Company Profile | Quote & News



AAGC Profile
Taking a look at the richest land, those places loaded with precious and other minerals, across our planet, there are countless debates as to which spots rank where in the grand scheme of the richest of the rich. In reality, the argument for one region or another is basically a moot point as there are so many different conditions that can change the definition or foundation of the discussion (i.e., which mineral is the point of focus?, Past production or future potential?, Political stability?, etc.) Some facts are not really open to much debate, however. Chile is clearly the king of copper, South Africa's spectacular Witwatersrand Basin has produced roughly 40 percent of all gold ever produced in the world and you can't mention gold production in North American without speaking of Nevada in the United States. On a global level today, Nevada is the world's third largest gold producer after South Africa and Australia.

In a sense, Nevada is the Witwatersrand Basin of North America as Nevada mines produce approximately 75 to 80 percent (roughly 5.64 million ounces in 2009) of all the gold produced in America. Areas, such as the Carlin Trend, are fraught with miners big and small tearing through the ground as quickly as possible and reaping the rewards of the prolific gold trend. But, the Carlin Trend is not all that Nevada has to offer. While it is indeed the most explored and mined at this point, exploration crews continue to spread throughout the state and even further south through Arizona and down into the Sonora region of Mexico, another hub of mining activity producing significant amounts of minerals. It's hard to shirk-off the massive Carlin trend, but Nevada is also home to the formidable Eureka and Cortez trends as well as the north-south Rabbit Creek Trend and many other lesser known gold-bearing regions.

The geology of Nevada is not only why it bears so much gold today, but a major source of inspiration for continuing to dig and explore as the possibilities certainly exist that other regions can contain as much – or possibly even more - gold, silver and other revenue-generating minerals. Modestly put, Nevada is a geologist's paradise. Parts of the state are nearing the landscape of the moon with no plant life to obstruct views and cuts through the land and upper plates giving peeks at what could lie below. Keeping things on a layman's basis, the same crustal stresses that created the prolific gold trends, also buried the deposits. This leaves a lot to the imagination as to what else can be underground, but the key is to find the lower plate rocks and perhaps the next great gold discovery in North America or even the world.

So who's exploring in Nevada? That answer reads like a "Who's Who in the Mining Industry" and includes majors such as Barrick Gold Corporation and Newmont Mining and as well as countless juniors looking to replicate the successes of their bigger peers.

One of those juniors who holds strong promise is All American Gold Corp. (OTCBB:AAGC), an Indianapolis, Indiana-based company focused on the acquisition and ongoing exploration of mineral property holdings in the United States with a focus on the gold-rich state of Nevada. All American has several holdings now in the state and intends to seek out new opportunities by leveraging the strength of its highly-experience management and geological team.

The Company has a wide-net type of strategies where it is covering the whole gamut of locations in Nevada by keeping in close proximity to successful discoveries in classic areas with operating mines and also tapping into the potential of the future of Nevada gold by conducting operations in areas of more recent development. These strategies greatly reduce costs related to infrastructure requirements at the exploration stage while bolstering the likelihood of success.

The Company's principle assets are the Goldfield West, Belleville and Iowa Canyon properties which are spread out from north-central to south-central Nevada. The Goldfield West Property, for which All American Gold holds a 35 percent interest with rights to acquire an additional 10 percent, is an advanced exploration property with specified targets including a defined resource comprised of 105 unpatented mining claims covering a total of 850 hectares, or 2100 acres. The property is located approximately 200 miles northwest of Las Vegas and approximately 3 miles west of the town of Goldfield. Importantly – and in keeping stride with the All American "if you're hunting elephants, go to where big elephants have already been found" mentality – the project is adjacent to International Minerals Goldfield properties, which contain a reported 1.2 million ounces of gold resources. Moreover, this region is not the open pit type of "invisible gold" that has made miners millions in the Carlin Trend as the Goldfield district is famous for multi-ounce, bonanza gold ores and has recorded historic production in excess of 4 million ounces of gold at an average grade of greater than 17 g/t gold!

Goldfield West has been drilled and explored by five different outfits that has resulted in 138 drill holes and a plethora of data compilation through geological mapping, geochemical sampling and geophysical surveys showing three distinct targets over a strike length of an impressive 3.5 miles. Bonaventure Enterprises, the most recent explorer on the property, defined at least 220,000 ounces of gold, or in excess of $300 million in reserves. Goldfield West has been permitted for a total of 21 holes and drilling will continue in order to further define the overall potential of the property.

A bit further to the Northwest lies All American's Bellville property, a project in which the Company holds a 70 percent interest. Bellville is located in between recently producing mines, the Candelaria Silver Mine (10 miles east) which produced over $30 million in mineral resources and the Marietta Mine (6 miles west) which is now a focus of Ireland-based Great Western Mining Corp. PLC. Shears in the land demonstrate all-important quartz veins, stockworks and varying amounts of iron and copper minerals. Results as high as 53 parts per million gold have been recorded through chip samples from the property. A 43-101 technical report has been completed for the Bellville property with three potential drilling targets now identified, one of which is the set of gold bearing shear zones.

The third property, Iowa Canyon, is further north and represents a very significant opportunity for All American Gold being that it is located just southeast of the famous Cortez Hills deposit and near the Cove-McCoy mine and Pipelin-Cortez Hills mineral haven. Recent exploration shows precious metals mineralization across the whole project contained in a variety of rock types from silicified Tertiary volcanic sediments to quartz veins to carbon-rich Paleozoic sediments and back again. As mentioned earlier, the upper and lower plates play a key role in potential monumental gold and silver finds and those plates have been shown on the property to contain both precious metals.

Hemlo Gold, Rio Algom and Brancote have both drilled on the property with the results identifying not only gold in both upper and lower plates, but also gold and molybdenum-rich porphyry dikes. Assay results have shown 5.6 g/t gold, 600 g/t silver and 800 parts per million molybdenum. The Iowa Canyon property is a prime target for the Carlin style mineralization that has produced the largest open pit mine in the world on the eastern side of Nevada as discerned from the outcrops and drilling in several locations delineating the project. Presently, All American Gold Corp. holds a right of first refusal over the Iowa Canyon property for a period of 12 1/2 months ending September 8, 2011 as the company evaluates its level of participation.

A company is only as good as its management, and All American weighs in like a champion. Brent Welke, B.F., J.D., M.Div, heads up the Company as President, CEO, Director and brings with him a tremendous legal and financial skill set in addition to working 9 years as a land man for North American Coal Corporation. His highly-relevant experience in financial markets mesh well with technical advisor Richard Kern, a man with more than 35 years' experience in precious metal exploration, to locate the right properties, negotiate the deal and move from exploration to production. Operating both internationally and domestically, Kern has had field, executive, and management level positions in companies such as North Mining, Homestake Mining Company, Superior Oil, and with the U.S. Geological Survey. Gaspar Gonzalez, PhD, B.B. rounds out the executive team as CFO and Director with his leadership and strategic affairs consulting experience spanning more than 25 years in project management, operations, business development, specialized product sales, finance.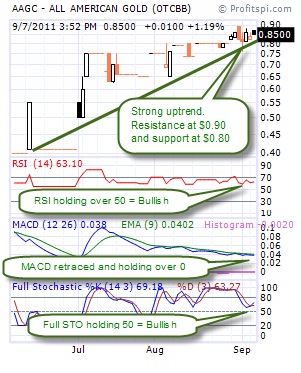 Technically speaking, the AAGC chart has been in a strong uptrend for several months, more than doubling the share value since late in June by rising from 40 cents to a closing price of 85 cents on Wednesday. While the stock trades on thin volume, only averaging approximately 16,000 shares a day over the last three months, volume is picking up recently with the 10-day averaging climbing nearly four-fold to 62,000 shares changing hands each day. The volume is clearly not selling as the price is holding near 89 cents, the 52-week high for AAGC.

A strong uptrend is one thing, but support levels will lend a hand as well with static support firmly intact at both $0.80 and $0.75. Resistance sits at the old high of $0.89 which was hit only a week ago on August 31st. Some of the most-used indicators are still holding bullish positions for each of their respective scales. The Relative Strength Index (14) is registering a 63.10, well into bull territory - 50 is generally regarded as a neutral position – and curling upward, something that momentum traders want to see. A break of 70 is often termed "breaking into the power zone" where upward momentum has a firm grip on the share price.

The Moving Average Convergence/Divergence (MACD) has pulled back from its highs and is slowing its fluctuations as it approaches the zero mark. Technical traders will look for a curl and bullish cross of the 12 through the 26 EMA while holding over zero which typically indicates a shift in trend is in the mix and could signal another push towards resistance and old highs. Much like the RSI, the Full Stochastics is taking on a similar look with a retrace from highs in "overbought" territory and a bullish cross now happening while holding a reading near 70, a bullish sign of momentum. As always, this is only AllPennyStocks.com's assessment of the AAGC technical chart and we strongly encourage all investors to perform their own due diligence and consult with a financial advisor prior to making any trades.

A seasoned team with a wide breadth of knowledge and experience has already brought a valuable portfolio to the All American Gold team. With documented exploration efforts showing valuable minerals in the ground and shaving down some of the legwork and costs involved with moving towards production, the Company is uniquely positioned for growth in the mid-term. The share structure is intact with only 95 million shares outstanding with insiders showing their commitment to the organization by holding 50 million shares, leaving only 42 million in the float. With gold continuing upwards on a frantic pace, more and more investors are looking to the long-term with undervalued junior miners such as All American. It is for these reasons that we at AllPennyStocks.com have decided to turn our next American spotlight on All American Gold Corp. (OTCBB:AAGC) and encourage our members to begin their due diligence and add the Company to their watchlists.

As always, more information on the Company can be found on AllPennyStocks.com, or by clicking here.
INVESTMENT HIGHLIGHTS
The Strongest Of Industries. Gold prices certainly aren't going lower by any substantial margin. The escalation in prices over the past years has allotted mineral explorers to reap higher rewards regarding profit margins and leaves junior miners in the catbird's seat for future growth at exponential rates.
Diversified Holdings. Gold trends in Nevada are both old and new. The Carlin and Cortez trends are clearly the most famous with less explored area showing the possibilities of rivaling their popular cousins. All American Gold has spread their properties out across Nevada tapping state-wide potential while succinctly choosing their properties next to producing mines or proven large mineral zones.
Developed Properties. Saving valuable time and cash, All American Gold's properties have had exploration recently performed by others. The Goldfield West property has more than 130 holes drilled which have shown reserves up to $300 million in minerals. Assay results from the Iowa Canyon property have shown 5.6 g/t gold, 600 g/t silver and 800 parts per million molybdenum.
Seasoned Management. All American Gold Corp. is led by a team of experienced individuals with highly-relevant resumes totaling nearly a century of work in all aspects of public companies and exploration firms giving them a leg-up and competitors as shown through the strategically chosen properties.
Rock Solid Share Structure. Insiders have shown their belief in the value of the Company. Only 95 million shares are issued and outstanding with insiders holding approximately 50 million of those shares, keeping a tight float of only 42 million shares.
OVERVIEW
All American Gold Corp. is a publicly traded company focused on the acquisition and ongoing exploration of mineral property holdings in the United States. All American has various existing holdings in the gold-rich state of Nevada and intends to seek out new opportunities through its experienced and proven geological team.

Corporate Information

Exchange: OTCBB
Market Cap: 80.7 Million
Outstanding Shares: 94.9 Million
Price: $0.85
52 Week Low / High: $0.095 / $0.89
Information As Of September 7, 2011




Useful Profile Links

Corporate Write-Up

Recent News & Press Releases

Management Team

Contact Information




Forward Looking Statements

This report includes forward-looking statements that reflect All American Gold Corp. current expectations about its future results, performance, prospects and opportunities. All American Gold Corp. has tried to identify these forward-looking statements by using words and phrases such as "may," "will," "expects," "anticipates," "believes," "intends," "estimates," "plan," "should," "typical," "preliminary," "we are confident" or similar expressions. These forward-looking statements are based on information currently available and are subject to a number of risks, uncertainties and other factors that could cause All American Gold Corp.'s actual results, performance, prospects or opportunities to differ materially from those expressed in, or implied by, these forward-looking statements. These risks, uncertainties and other factors include, without limitation, the Company's growth expectations and ongoing funding requirements, and specifically, the Company's growth prospects with scalable customers, and those outlined above. Other risks include the Company's limited operating history, the Company's history of operating losses, consumers' acceptance, the Company's use of licensed technologies, risk of increased competition, the potential need for additional financing, the terms and conditions of any financing that is consummated, the limited trading market for the Company's securities, the possible volatility of the Company's stock price, the concentration of ownership, and the potential fluctuation in the Company's operating results.

Disclaimer

AllPennyStocks.com feature stock reports are intended to be stock ideas, NOT recommendations. Please do your own research before investing. It is crucial that you at least look at current SEC filings and read the latest press releases. Information contained in this report was extracted from current documents filed with the SEC, the company web site and other publicly available sources deemed reliable. For more information see our disclaimer section, a link of which can be found on our web site. This document contains forward-looking statements, particularly as related to the business plans of the Company, within the meaning of Section 27A of the Securities Act of 1933 and Sections 21E of the Securities Exchange Act of 1934, and are subject to the safe harbor created by these sections. Actual results may differ materially from the Company's expectations and estimates. This is an advertisement for All American Gold Corp. The purpose of this advertisement, like any advertising, is to provide coverage and awareness for the company. The information provided in this advertisement is not intended for distribution to, or use by, any person or entity in any jurisdiction or country where such distribution or use would be contrary to law or regulation or which would subject us to any registration requirement within such jurisdiction or country.

© 1999-2011 AllPennyStocks.com. All rights reserved. AllPennyStocks.com is not a Registered Broker/Dealer or Financial Advisor, nor do we hold ourselves out to be. All materials presented on our web site and individual reports released to the public through this web site, e-mail or any other means of transmission are not to be regarded as investment advice and are only for informative purposes. Before making a purchase or sale of any securities featured on our web site or mentioned in our reports, we strongly encourage and recommend consultation with a registered securities representative. This is not to be construed as a solicitation or recommendation to buy or sell securities. As with any stock, companies we select to profile involve a degree of investment risk and volatility. Particularly Small-Caps and OTC-BB stocks. All investors are cautioned that they may lose all or a portion of their investment if they decide to make a purchase in any of our profiled companies. Past performance of our profiled stocks is not indicative of future results. The accuracy or completeness of the information on our web site or within our reports is only as reliable as the sources they were obtained from. The profile and opinions expressed herein are expressed as of the date the profile is posted on site and are subject to change without notice. No investor should assume that reliance on the views, opinions or recommendations contained herein will produce profitable results. AllPennyStocks.com may hold positions in securities mentioned herein, and may make purchases or sales in such securities featured on our web site or within our reports. In order to be in full compliance with the Securities Act of 1933, Section 17(b), AllPennyStocks.com will disclose in it's disclaimer, what, if any compensation was received for our efforts in researching, presenting and disseminating this information to our subscriber database and featuring the report on the AllPennyStocks.com web site. AllPennyStocks.com has been compensated six thousand five hundred dollars by a non-affiliated third-party, A New Day Media, LLC. for its efforts in presenting the AAGC profile on its web site and distributing it to its database of subscribers as well as other services. AllPennyStocks.com may decide to purchase or sell shares on a voluntary basis in the open market before, during or after the profiling period of this report. As of the profile date, no shares have been sold. Information presented on our web site and within our reports contain "forward looking statements" within the meaning of Section 27A of the Securities Act of 1933 and Section 21E of the Securities Exchange Act of 1934. Any statements that express or involve discussions with respect to predictions, expectations, beliefs, plans, projections, objectives, goals, assumptions or future events or performance are not statements of historical fact and may be "forward looking statements." Forward looking statements are based on expectations, estimates and projections at the time the statements are made that involve a number of risks and uncertainties which could cause actual results or events to differ materially from those presently anticipated. Forward looking statements in this action may be identified through the use of words such as "expects'", "will," "anticipates," "estimates, "believes," or that by statements indicating certain actions "may," "could," or "might" occur.

THE READER SHOULD VERIFY ALL CLAIMS AND DO THEIR OWN DUE DILIGENCE BEFORE INVESTING IN ANY SECURITIES MENTIONED. INVESTING IN SMALL CAP SECURITIES IS SPECULATIVE AND CARRIES A HIGH DEGREE OF RISK.

We encourage our readers to invest carefully and read the investor information available at the web sites of the Securities and Exchange Commission (SEC) at: http://www.sec.gov and/or the National Association of Securities Dealers (NASD) at: http://www.nasd.com. Readers can review all public filings by companies at the SEC's EDGAR page. The NASD has published information on how to invest carefully at its web site.