Newsletter
Stocks covered:
Compensation:
Avg $ Volume for Period:
OREO

$10000

UNKNOWN

Max Profit:

1.41 %

Gain at close:

-4.23 %

*We think that this promoter is a part of a group of promoters.
Hello Class and New Students,
The Professor is very excited about

OREO we believe is an oil and gas giant in the making
with huge upside potential right now!

American Liberty Petroleum (OTCBB: OREO) is a company focused on reducing America's
need for imported oil through discovering major, new onshore US energy resources and by
tapping overlooked or undervalued onshore domestic resources through exploration and
development technologies not previously available.

Here's what's happening now and why you should be moving on
OREO right away!

1. OREO is forging ahead on what could be the largest accumulation of oil in the western
United States, 4.76 billion barrels!

2. Production may be announced in the not-too-distant future and it already has a buyer!

3. Wall Street has taken notice. Volume has been soaring and OREO shares sit on a
hair-trigger in value!

4. The opportunity to get in early is still on the table, but that can't last long!
Every drop of oil American Liberty Petroleum (OREO) produces is
under contract!
American Liberty Petroleum recently announced that Foreland Refining
Corporation ("Foreland") signed an agreement to purchase all of the Company's
crude oil production from the Gabbs Valley oil field in Nye County, Nevada!
This is huge news for the company to already have a buyer for what could potentially
be a tremendous amount of oil! Read the Full News Release Here!
OREO has Enormous Recently Discovered Reserve Potential!
The reserves have already been estimated in geologists' reports... and the number is
breathtaking!
Two separate reports peg the reserve potential at 4.67 billion barrels, making it "the largest
oil accumulation in the western United States".
Trading at around just $1.00 right now, OREO shares sit at a fraction of what could
be in store for ground floor investors in our opinion!
With production and revenue on the horizon, OREO could quickly soar up the charts and
provide great profits for those who get involved now!
A Neighboring Location in Western Nevada already has a Proven
Oil dGusher and OREO could be Next!
Western Nevada is already known for hosting enormous volumes of oil in highly
concentrated pockets.
One of America's top producing onshore oil wells lies east of American Liberty. That
neighboring well came in as a gusher... setting domestic oil production records over four
consecutive years.
With the existing history and geological evidence, many believe that American Liberty
Petroleum can bring in the next record-setting Nevada gusher!
OREO's Gabbs Valley Prospect sits on the Cobble Cuesta Structure
which has estimated reserves of over 4 Billion Barrels of Oil!
Recent significant discoveries, such as Occidental Petroleum's estimated 1+ billion barrels
of oil and natural gas equivalents in California, underscore the potential for developing new
oil and gas production solutions in western America.
Next door in the under-explored state of Nevada, OREO's 2,557-acre Gabbs Valley Prospect
is located on the 26,000-acre Cobble Cuesta structure.
Based on a report by Alfred H. Pekarek, Ph.D., Geologist, the Nevada-based Cobble Cuesta
structure's 12 mile by 5 mile faulted anticline appears to be positioned to receive oil migrated
from deeper areas in the eastern part of the valley.
Pekarek estimated the Cobble Cuesta structure represents reserves of 4+ billion barrels
of oil based on reservoir and production data from producing Nevada oil fields!
Occidental is now trading at over $103.00 a share which gives you an idea of how much
potential OREO has!
Pekarek's report concludes that if only a fraction of the estimated reserves are found to be
in the Cobble Cuesta structure, it will still rank among the largest oil accumulations in the
western United States!

The following diagram shows the Geologist Reports on both OREO's Gabbs Valley and
Kibby Flat Prospects which shows the astronomical potential value of these properties!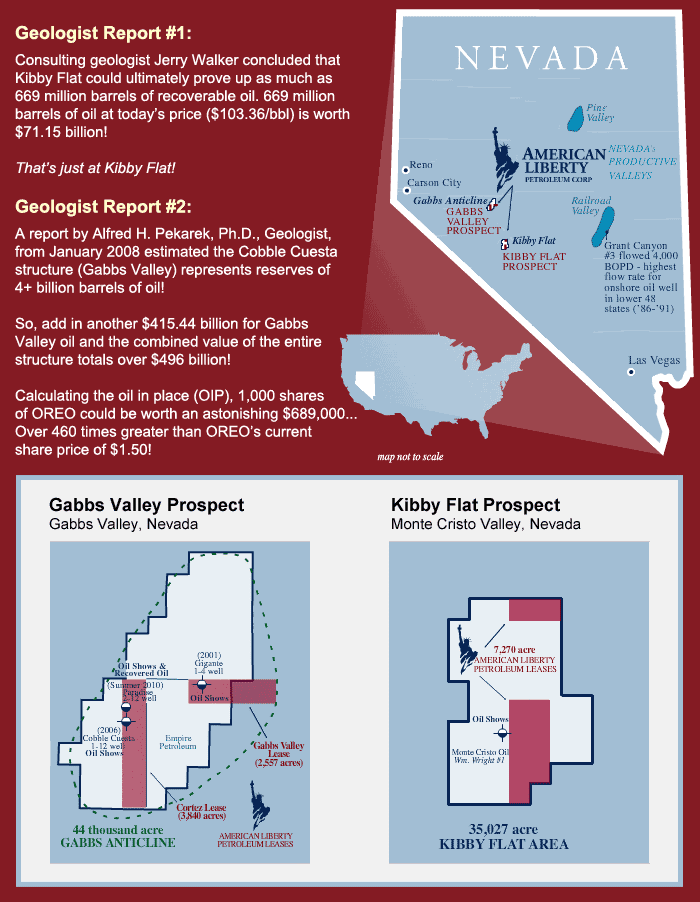 OREO's 7,270-acre Kibby Flat Prospect in the Monte Cristo basin represents estimated
ultimate recovery (EUR) of as high as 669 million barrels of oil according to a 2008 report!

Learn more about OREO's Projects Here!

Don't be Caught on the Sidelines with OREO - the Time to Act is Now!
Make sure to check your inbox before the open tomorrow as we will be sending
more information about one of this year's best oil and gas play, OREO!
To cash in on the tremendous potential we see for OREO shares this year, begin your due
diligence immediately and be ready to contact your broker.
We urge you to follow up on this immediately - OREO is on the move!
The Professor Has Spoken.

Sincerely,

Penny Stock Professor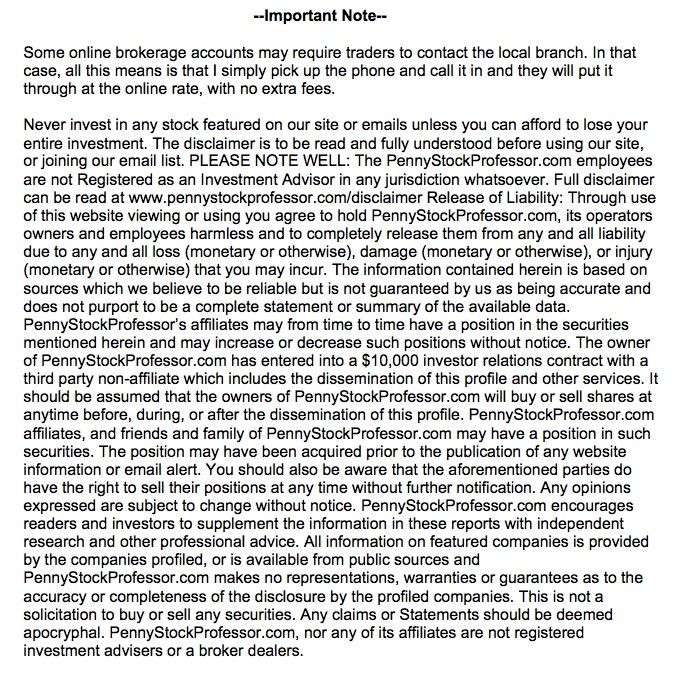 This message was sent to xxxxxx@gmail.com from:

PennyStockProfessor.com | P.O. Box 416 | Penns Park, PA 18943

Email Marketing by