Newsletter
Stocks covered:
Compensation:
Avg $ Volume for Period:
IMUN

$10000

UNKNOWN

Max Profit:

4.08 %

Gain at close:

0.00 %

*We think that this promoter is a part of a group of promoters.
Hello Class and New Students,
The Professor is extremely excited about our new pick, IMUN - a Red Hot Biotech
that is primed to soar up the charts!

Immunovative, Inc. (OTC:

IMUN

) specializes in the development of novel immunotherapy
drug products that incorporate living immune cells as the active ingredients for treatment
of cancer and infectious disease.
IMUN is the commercial arm of Immunovative Therapies, LTD. (ITL), an Israeli biotech
that has been successfully developing targeted cancer therapies for highly aggressive
and drug-resistant cancers since 2004.
We strongly believe that this is the ideal time for our subscribers to get involved because
IMUN's Bullish Technicals make the stock a Screaming Buy Right Now!



See IMUN's Chart Showing Bullish Technicals at StockTA.com!

You should pay extra attention to bullish technicals for this stock. Why?

Because IMUN has a track record of exploding shown when the stock saw more
than a 300% increase in just June and July of this year!

Besides its positive technical outlook and proven potential to make huge moves in a
short time period, we believe that Immunovative is also an amazing long-term play!

Here's Why!
IMUN Has Exclusive Worldwide Rights to Commercialize New
Drug Therapies that Could Revolutionize Cancer Treatment!
IMUN is the commercial arm of Immunovative Therapies, LTD. (ITL), an Israeli biotech
that was founded in May 2004 with financial support from the Israel Office of the Chief
Scientist.



ITL has been successfully developing targeted cancer therapies

for highly aggressive
and drug-resistant cancers since 2004.

IMUN holds the exclusive world-wide rights for all ITL's current and future
intellectual property and is responsible for bringing the technology to market!
ITL has two experimental immunotherapy products for the treatment of cancer already in
clinical development, along with indications that the technology could be used to treat other
deadly forms of cancer:

AlloStim™

and

AlloVax™

.

IMUN's products are protected by 11 patents with an additional 17 patents pending in the
U.S. and 29 internationally.
These products are based upon IMUN's patent-pending "Mirror Effect™" technology,
which is designed to provide the same anti-tumor effect that has been proven to be
curative in allogeneic bone marrow transplant (BMT) procedures without the lethal toxicity.

Put simply, IMUN's therapy does not require a match donor and produces the same
anti-tumor effect as a highly successful bone marrow/stem cell transplant procedure
without the transplant process' extreme adverse effects.
This could revolutionize the worldwide treatment of many late-stage cancers,
which would mean untold revenues for IMUN!

See Product Animations of IMUN's Revolutionary Cancer Therapies!
IMUN's AlloStim™ is Poised to be Fast-Tracked by the FDA
because of its Life - Saving Potential and Successful
Phase I - II Trials!
AlloStim™ has already successfully completed Phase I/II clinical trials and given the
unmet need of breast cancer treament and how well the drug treated the disease,
we believe that:
AlloStim™ is
poised to be fast-tracked by the
FDA to enter into Phase II/III trials!
You must realize that the FDA only gives this
status to drugs that show promise in
treating serious, life-threatening medical conditions for which no other drug either
exists or works as well!
The Phase AlloStim™ I/II trial was conducted on 42 patients with a variety of cancers.

A majority of the patients had metastatic breast cancer, however the study included 11
different cancer indications including colorectal, gall bladder, ovarian and pancreatic.
Metastatic cancers (spreading tumors) are the most difficult cancers to treat and even
the best of today's current therapies are not very successful.
All patients in the trial had very advanced cancers that were heavily pre-treated with
surgery, chemotherapy and radiation. They simply didn't have any options left.
The results were extremely successful as 31% of the metastatic breast cancer patients
were stable and surviving after one year, prompting IMUN to target the treatment for
metabolic breast cancer in their upcoming Phase II/II trial.

Not only that but the trial showed a lack of adverse side-effects from existing therapies
such as surgery, chemotherapy and radiation which take a huge toll on patients!

As you can see, AlloStim™ clearly looks ready to become the new method of treatment
for many metastatic and other cancers where other treatments have failed!

IMUN's recent clinical trial success is just starting to get out, but the company is still
flying under Wall Street's radar, which is why we think IMUN has huge profit potential
for those who act now - IMUN could be the ground-floor opportunity of a lifetime!
We urge you to perform research on IMUN right away and check your inbox before
tomorrow's open for more on the company, including its tremendous buyout potential!
The Professor Has Spoken.

Sincerely,

Penny Stock Professor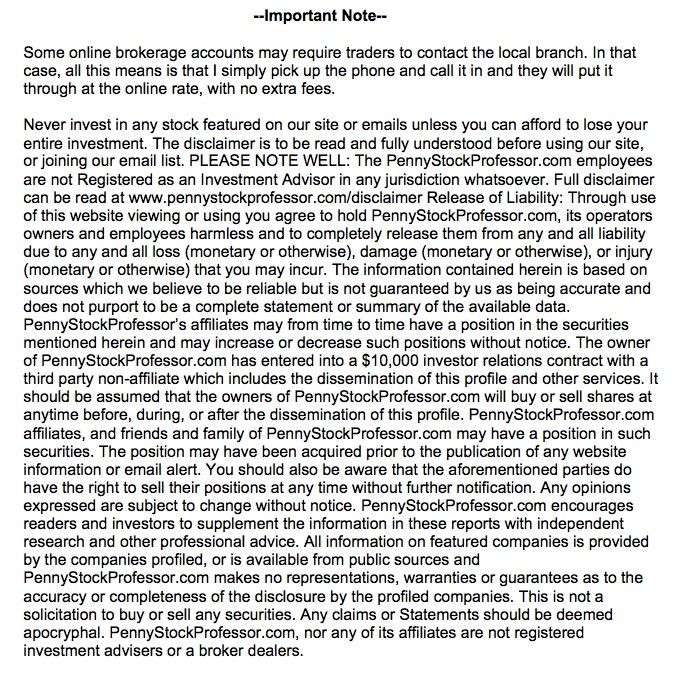 | | |
| --- | --- |
| PennyStockProfessor.com | P.O. Box 416 | Penns Park, PA 18943 | Email Marketing by |