Newsletter
Stocks covered:
Compensation:
Avg $ Volume for Period:
ATTH

$8000

UNKNOWN

Max Profit:

20.00 %

Gain at close:

0.00 %

October 12, 2011
Penny Stock Profile ....



Atlas Therapeutics Corp.

(OTCBB: ATTH)

For complete profile, CLICK HERE.

"Showcasing the Company's commitment to marketing and the prowess of their new sales campaigns, Atlas has signed hockey superstar Wayne Gretzky as their spokesman."

Company Profile | Quote & News



ATTH Profile
Millions upon millions of people every day spend countless hours on their health and appearance. This covers a broad spectrum of reasons; albeit for muscle development (physical fitness), bone fide health concerns (disease perhaps) or even as an anti-aging measure. Because of the wide breadth of the domain encompassed by the term "health," the industry is amazingly large with billions of dollars changing hands daily as people flock to stores to purchase their product of choice. For example, the health, beauty and anti-aging industry alone is estimated to represent over $500 billion worldwide annually. The nutraceutical industry in the United States alone is estimated to be approximately $75 billion presently.

When it comes to general health, maintaining muscle is critical. Whether it is a twenty year old looking to build mass or an eighty year old fighting to retain muscle strength and elasticity, the muscles in our body play a huge roll in everyday life. Pretty simple. Scientifically, inside of each of us there is a beta protein called Myostatin (also sometimes called "growth differentiation factor 8" or "GDF8") that is secreted and inhibits muscle differentiation and growth. Encoded by the MSTN gene and primarily produced in skeletal muscles, myostatin circulates in the blood and acts on muscle tissue binding a cell-bound receptor called activin type II receptor. That's the "white coat" explanation. In its easiest terms, myostatin keeps muscles from growing too large. If you've ever seen Liam Hoekstra, the boy born in 2005 that is often referenced as the "world's strongest toddler," you've witnessed the effects of a myostatin-related change in a person (Hoekstra's particular condition is called "myostatinhypertrophy.")

That is, of course, a simplified explanation of myostatin and what it does within the body. Research on myostatin and the myostatin gene is believed to have possibilities for therapies for muscular dystrophy. Other research has shown that myostatin may provide a clinical benefit for diseases such as Type II diabetes and obesity to name a couple. Biotech companies have been researching and developing myostatin-related compounds because of its many potential uses, but as of yet, none have been successful. Wyeth (which was acquired by Pfizer) moved into clinical trials with MYO-029, but stopped research after one initial clinical trial in 2009.

The market demand for a successful mystatin product ranges into the billions annually and one company that is looking to tap into this market now is Atlas Therapeutics Corporation (OTCBB:ATTH). The California-based firm has acquired MYO-T12® which is the world's only clinically validated Myostatin modulator. Atlas' MYO-T12® is manufactured to optimize biological activity and could be set to revolutionize the existing standards of physical enhancement. It has been clinically validated to reduce the average serum myostatin levels in the body by up to 46 percent within 12 to 18 hours after one serving. MYO-T12® already has a brand identity of which Atlas intends to not only preserve, but exponentially grow through the refinement of its technical profile and implementation of sales and marketing campaigns.

Atlas is outstripping any of its distant competition through a unique approach with MYO-T12®. While efforts of other research firms have recognized myostatin as a muscle inhibitor, they have worked towards eliminating the myostatin gene, which results in undesirable side effects. MYO-T12® has simplified the process by merely blocking the myostatin gene – rather than eliminating it – producing the desired muscle growth effect. Even more importantly, MYO-T12® has been shown to have no negative side effects.

MYO-T12 also outperforms most muscle enhancers because of a comparison of method to results. Generally, muscle enhancers build muscle mass through supplements (creatine is a very popular one) that breakdown protein to be absorbed into the body. This means that the body must be worked hard to achieve results. Various side effects can also be produced. MYO-T12 does not require the serious work-out to perform effectively and, as just mentioned, produce no adverse effects.

Atlas has pulled together a team of diversified, industry-respected individuals to maximize their efforts to launch MYO-T12® into the existing health and fitness community as well as explore other possible therapeutic potential. J.B. Bernstein, PhD, who serves many positions at Atlas including CEO and President, has an extensive resume in sports marketing that include working with Hall of Famers such as Emmitt Smith and Barry Sanders as well as executive marketing experience with the Upper Deck Company. Carlon M. Colker, M.D. sits as Chief Medical Officer and Executive VP. Dr. Colker is an attending physician at Beth Israel Medical Center in New York City and at Greenwich Hospital in Greenwich, Connecticut as well as heading Peak Wellness, Inc., an integrative medical healthcare provider focused on private, personal medical and healthcare coupled with nutrition, diet, and weight loss counseling, sports rehabilitation, physical therapy, and exercise physiology. Additionally, Atlas has recently added Dr. Louis Aronne, a leading authority in the field of obesity research and treatment, as a member of its board of directors. Dr. Robert Hariri, the Commissioner of Cancer Research in New Jersey and CEO of Celgene Cellular Therapeutics, a division of Celgene (NASDAQ: CELG), is an investor in Atlas and also an advisor to the Atlas' Board. The team is reflective of the broad spectrum that Atlas intends to cover with its MYO-T12 product.

Drawing upon the experience and connections of its executive team, Atlas intends to take a multi-prong approach to send MYO-T12 mainstream. The massive "work-out" category is a prime initial target for which Bernstein's marketing background will help shepherd through widespread distribution. As a nutraceutical, no FDA approval is required which makes the roll-out much more expeditious. The aging global population will also be another first tier demographic for Atlas. In the U.S. alone, more than 80 million people will be over the age of 55 next year and 35.9 million will be over the age 65. Given the fact that between 35% and 45% of these people will be diagnosed as having sarcopenia (weakening of skeletal muscles which fuels osteoporosis), this provides another large mark for Atlas to sell their products. As mentioned above, because of its weight loss and muscle building capacities, obesity patients – and perhaps even diabetics – are also part of the Atlas business strategies.

There is no contesting that marketing is king for any product and a significant hurdle for many smaller firms. Atlas has catapulted this hurdle already by signing the biggest name ever in the game of hockey – and one of the greatest sports figures of all time – Wayne Gretzky as spokesman for MYO-T12's primary national promotion and marketing team.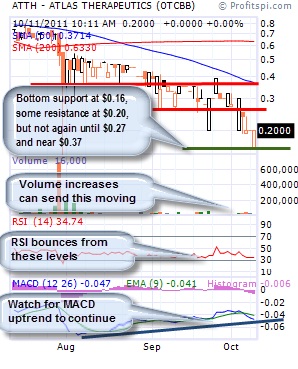 Technically speaking, the ATTH chart is near its 52 week low presently, which can be a sign for traders to take notice. A brief dip in yesterday's trading took the stock below a support level at 20 cents, but the share value pulled back to the $0.20 mark to close the day right where it closed yesterday. 20 cents will serve as a miner area of resistance, but the upside beyond that is significant with resistance not entering again for more than 30 percent, in the area of 27 cents. The 50 day moving average, coupled with some static resistance comes at $0.37.

Volume has been on the decline since August as the price has slid mildly lower. Volume slowing is typically a good indication that any sellers are out of shares and now the play just is lying in wait of a catalyst to spark a volume spike and buying pressure. Traders know that low volume plays can move quickly, so those alerted to the new low at $0.16 (the new bottom support level) will be watching for volume to enter the play to potentially drive the stock towards resistance levels.

Commonly used indicators such as the Relative Strength Index (RSI) and the Moving Average Convergence/Divergence (MACD) are also giving hints of potential upward movement. The RSI has bounce off the area of 30 on numerous occasions, a sign of buying activity before a stock can reach oversold levels. The MACD has been trending upward for two months as the price per share has been sliding. This "positive divergence" is an indication that the trend of the stock could be ready to shift direction.

Trying to catch the absolute bottom of any stock chart can get tricky, but can also be very rewarding. The key is to wait for opportune occasions and pounce on them when they show up. But that being said, investors need to always be prepared for the possibility that the stock is not done falling, so stop losses in those cases are crucial. In the particular case of ATTH, stop losses just below the bottom support level of $0.16 may prove wise, just in case the stock does not go in the desired direction. As always, this is only AllPennyStocks.com's assessment of the ATTH technical chart and we strongly encourage all investors to perform their own due diligence and consult with a financial advisor prior to making any trades.
Potential investors are not looking at a developmental company that is years away from substantial revenue. Atlas already has MYO-T12 on the market and has kicked-off a large scale national marketing campaign. Moreover, capitalizing on the trend shift to purchase products online, MYO-T12 is now listed for sale on Amazon.com. With the team in place that parallels a big board company, a world-class spokesman and a product that literally has no competition as it's a first-to-market product, Atlas appears to be well-positioned for significant growth in the future. Because of their multiple-prong approach for growth which begins in a multi-billion dollar industry and the reasons mentioned above, we at AllPennyStocks.com have decided to turn our next U.S. corporate spotlight on Atlas Therapeutics Corporation (OTCBB:ATTH) and encourage our members to begin their due diligence on the Company and add it to their watchlist.

As always, more information on the Company can be found on AllPennyStocks.com, or by clicking here.
INVESTMENT HIGHLIGHTS
Massive Industry. The nutraceutical industry is estimated to be $75 billion in the United States alone. The health, beauty and anti-aging industry is estimated to represent over $500 billion worldwide.
Control The Key Protein. As an inhibitor of muscle growth, myostatin regulation has been widely-heralded as holding a key to many different functions of health, but has been elusive to researchers since its discovery. Atlas's MYO-T12® has solved the puzzle.
Multiple Markets. MYO-T12 is not only limited to the exercise and fitness industry. Because of the importance of myostatin to the body, multiple markets are viable targets including usage for the age-related health issues, obesity and diabetes; opening wide the doors for revenue possibilities.
Top Notch Team. The Atlas executives are highly experienced and widely diversified. The CEO/President has worked on marketing with Hall of Famers such as Emmitt Smith and Barry Sanders, while other members of the team have extensive experience in the medical industry.
Immediate Revenue. MYO-T12 already has brand identity in the industry and is available for purchase. Recently, the product has begun listing on Amazon.com as the national push is underway to exponentially increase sales.
OVERVIEW
Atlas Therapeutics Corporation owns the rights to MYO-T12, the world's only clinically validated myostatin inhibitor. Myostatin is a natural regulatory protein, which inhibits muscle growth and recovery. MYO-T12 is manufactured to optimize biological activity and has the potential to redefine existing standards of physical enhancement. Atlas is focused on preserving and growing the existing brand identity of MYO-T12 by refining its technical profile, and designing and implementing a marketing and sales strategy to increase penetration of the product into the existing health and fitness community.

Corporate Information

Exchange: OTCBB
Market Cap: 12.9 Million
Outstanding Shares: 64.6 Million
Price: $0.20
52 Week Low / High: $0.15 / $2.00
Information As Of October 12, 2011




Useful Profile Links

Corporate Write-Up

Recent News & Press Releases

Management Team

Contact Information




Forward Looking Statements

This report includes forward-looking statements that reflect Atlas Therapeutics Corp. current expectations about its future results, performance, prospects and opportunities. Atlas Therapeutics Corp. has tried to identify these forward-looking statements by using words and phrases such as "may," "will," "expects," "anticipates," "believes," "intends," "estimates," "plan," "should," "typical," "preliminary," "we are confident" or similar expressions. These forward-looking statements are based on information currently available and are subject to a number of risks, uncertainties and other factors that could cause Atlas Therapeutics Corp.'s actual results, performance, prospects or opportunities to differ materially from those expressed in, or implied by, these forward-looking statements. These risks, uncertainties and other factors include, without limitation, the Company's growth expectations and ongoing funding requirements, and specifically, the Company's growth prospects with scalable customers, and those outlined above. Other risks include the Company's limited operating history, the Company's history of operating losses, consumers' acceptance, the Company's use of licensed technologies, risk of increased competition, the potential need for additional financing, the terms and conditions of any financing that is consummated, the limited trading market for the Company's securities, the possible volatility of the Company's stock price, the concentration of ownership, and the potential fluctuation in the Company's operating results.

Disclaimer

AllPennyStocks.com feature stock reports are intended to be stock ideas, NOT recommendations. Please do your own research before investing. It is crucial that you at least look at current SEC filings and read the latest press releases. Information contained in this report was extracted from current documents filed with the SEC, the company web site and other publicly available sources deemed reliable. For more information see our disclaimer section, a link of which can be found on our web site. This document contains forward-looking statements, particularly as related to the business plans of the Company, within the meaning of Section 27A of the Securities Act of 1933 and Sections 21E of the Securities Exchange Act of 1934, and are subject to the safe harbor created by these sections. Actual results may differ materially from the Company's expectations and estimates. This is an advertisement for Atlas Therapeutics Corp. The purpose of this advertisement, like any advertising, is to provide coverage and awareness for the company. The information provided in this advertisement is not intended for distribution to, or use by, any person or entity in any jurisdiction or country where such distribution or use would be contrary to law or regulation or which would subject us to any registration requirement within such jurisdiction or country.

© 1999-2011 AllPennyStocks.com. All rights reserved. AllPennyStocks.com is not a Registered Broker/Dealer or Financial Advisor, nor do we hold ourselves out to be. All materials presented on our web site and individual reports released to the public through this web site, e-mail or any other means of transmission are not to be regarded as investment advice and are only for informative purposes. Before making a purchase or sale of any securities featured on our web site or mentioned in our reports, we strongly encourage and recommend consultation with a registered securities representative. This is not to be construed as a solicitation or recommendation to buy or sell securities. As with any stock, companies we select to profile involve a degree of investment risk and volatility. Particularly Small-Caps and OTC-BB stocks. All investors are cautioned that they may lose all or a portion of their investment if they decide to make a purchase in any of our profiled companies. Past performance of our profiled stocks is not indicative of future results. The accuracy or completeness of the information on our web site or within our reports is only as reliable as the sources they were obtained from. The profile and opinions expressed herein are expressed as of the date the profile is posted on site and are subject to change without notice. No investor should assume that reliance on the views, opinions or recommendations contained herein will produce profitable results. AllPennyStocks.com may hold positions in securities mentioned herein, and may make purchases or sales in such securities featured on our web site or within our reports. In order to be in full compliance with the Securities Act of 1933, Section 17(b), AllPennyStocks.com will disclose in it's disclaimer, what, if any compensation was received for our efforts in researching, presenting and disseminating this information to our subscriber database and featuring the report on the AllPennyStocks.com web site. AllPennyStocks.com has been compensated eight thousand dollars by a non-affiliated third-party, Summit Trading Inc. for its efforts in presenting the ATTH profile on its web site and distributing it to its database of subscribers as well as other services. AllPennyStocks.com may decide to purchase or sell shares on a voluntary basis in the open market before, during or after the profiling period of this report. As of the profile date, no shares have been sold. Information presented on our web site and within our reports contain "forward looking statements" within the meaning of Section 27A of the Securities Act of 1933 and Section 21E of the Securities Exchange Act of 1934. Any statements that express or involve discussions with respect to predictions, expectations, beliefs, plans, projections, objectives, goals, assumptions or future events or performance are not statements of historical fact and may be "forward looking statements." Forward looking statements are based on expectations, estimates and projections at the time the statements are made that involve a number of risks and uncertainties which could cause actual results or events to differ materially from those presently anticipated. Forward looking statements in this action may be identified through the use of words such as "expects'", "will," "anticipates," "estimates, "believes," or that by statements indicating certain actions "may," "could," or "might" occur.

THE READER SHOULD VERIFY ALL CLAIMS AND DO THEIR OWN DUE DILIGENCE BEFORE INVESTING IN ANY SECURITIES MENTIONED. INVESTING IN SMALL CAP SECURITIES IS SPECULATIVE AND CARRIES A HIGH DEGREE OF RISK.

We encourage our readers to invest carefully and read the investor information available at the web sites of the Securities and Exchange Commission (SEC) at: http://www.sec.gov and/or the National Association of Securities Dealers (NASD) at: http://www.nasd.com. Readers can review all public filings by companies at the SEC's EDGAR page. The NASD has published information on how to invest carefully at its web site.
---