Newsletter
Stocks covered:
Compensation:
Avg $ Volume for Period:
OREO

$10000

UNKNOWN

Max Profit:

1.41 %

Gain at close:

-4.23 %

*We think that this promoter is a part of a group of promoters.
Business Wire 4/24/12 - OREO signs contract with Foreland Refining for the purchase of all crude oil production from their Gabbs Valley Oil Field!

SOLD!

Every drop of oil American Liberty Petroleum (OREO) produces is under contract! Here's what's happening now and why you should be moving on OREO right away!

OREO is forging ahead on what could be the largest accumulation of oil in the western United States, 4.67 billion barrels!
Production may be announced in the not-too-distant future and it already has a buyer!
Wall Street has taken notice. Volume has been soaring and OREO shares sit on a hair-trigger in value!
Your opportunity to get in early is still on the table, but that can't last long!

To My Fellow Investor,

For weeks I've been urging you to move quickly on American Liberty Petroleum (OTCBB: OREO). The company holds an enormous position on a potential 4.67 billion barrel oil formation in western Nevada and they're making ready to produce and prove it!

My recommendation is simple:

Selling at around $1.50 today, OREO could be the most undervalued junior in the market.

You could make a fortune by jumping on OREO shares, especially at the price you can buy them today!

Enormous recently discovered reserve potential!

The reserves have already been estimated in geologists' reports... and the number is breathtaking.

Two separate reports peg the reserve potential at 4.67 billion barrels, making it "the largest oil accumulation in the western United States".

At around $1.50 today, OREO shares sit at a fraction of what could be in store for ground floor investors.

With production and revenue on the horizon, OREO could quickly soar to $15.00 this year... about ten-times what you can get in for now!

An opportunity already proven in a neighboring location!

Western Nevada is already known for hosting enormous volumes of oil in highly concentrated pockets.

One of America's top producing onshore oil wells lies east of American Liberty. That neighboring well came in as a gusher... setting domestic oil production records over four consecutive years.

With the existing history and geological evidence, many believe that American Liberty Petroleum can bring in the next record-setting Nevada gusher!

Don't be caught on the sidelines!

To get in on the ten-fold potential I see for OREO shares this year, begin your due diligence immediately and be ready to contact your broker.

I urge you to follow up on this immediately - OREO is on the move!

Yours for Successful Investing,

James Rapholz

Follow this link for immediate access to OREO's exciting new press release.

Follow this link for Grass Roots Research's independent analysis of OREO.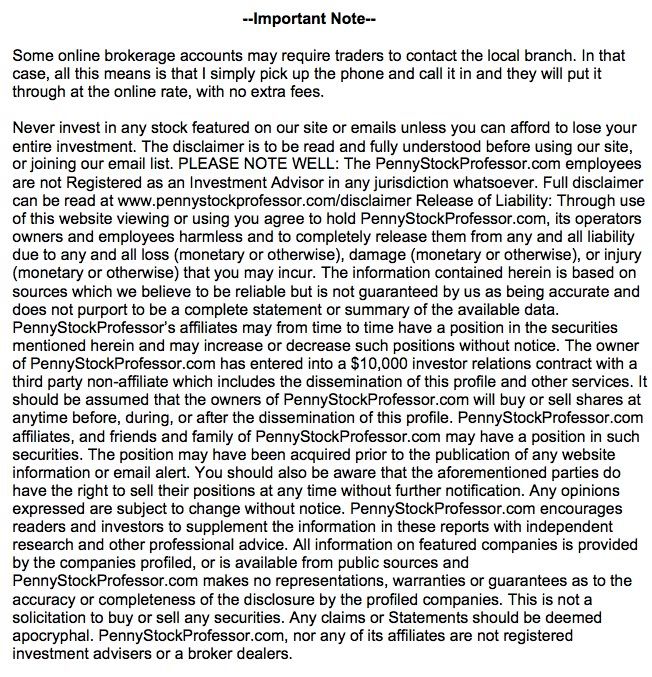 This message was sent to xxxxxx@gmail.com from:

PennyStockProfessor.com | P.O. Box 416 | Penns Park, PA 18943

Email Marketing by