Newsletter
Stocks covered:
Compensation:
Avg $ Volume for Period:
GWBU

$7500

1041199

Max Profit:

16.47 %

Gain at close:

5.88 %

*We think that this promoter is a part of a group of promoters.
Hello Class and New Students,
Our latest pick, GWBU has the potential to become one of the most explosive
bounce play opportunities of the year!
Great Wall Builders, Ltd. (OTCBB: GWBU), a clean-tech company that is
focused on reducing emissions and improving fuel efficiency, has technology
that could have a tremendous positive impact on the transportation industry!
We are expecting GWBU to heat up tomorrow morning and we want our
subscribers to be prepared for the action!

Why do we think GWBU has such explosive potential right now?
Because the stock has seen gains of over 800% earlier this year!
Yes, that's right - 800%!

Consider the fact that if GWBU returned to its 52 week high of $1.95 from where
it closed today at under 10 cents, that would represent a gain of over 1,800%!
There is no doubt that Great Wall Builders has some amazing profit potential for
those who are savvy enough to seize the opportunity!
We believe that GWBU is in just as good if not an even better position to
create massive gains NOW as it did earlier this year when it climbed 800%!
GWBU's "Start" Technology Greatly Reduces Fuel Costs
as well as the Pollutants in Vehicle Emissions!
Great Wall Builders Ltd. owns the manufacturing and distribution rights to its
patent-pending "Start" fuel efficiency and emission device, an aftermarket device
that enhances the combustibility of gasoline or diesel fuels in internal combustion
engines.
The result is lower emissions and increased fuel mileage which is of great
benefit to the entire transportation industry!
GWBU has developed a product that not only saves a tremendous amount of
money on fuel, but drastically reduces the pollutants in emissions as well!
GWBU's "Start" technology has been proven to lower fuel consumption as
much as 15% and reduce emissions by more than 70% and is easy to install
so it can be used on nearly any combustible engine!
This makes the market for the company's device almost limitless and they are
marketing their product towards consumers, corporations, governments, and
the military.
With an estimated 250 million registered passenger vehicles in just the U.S.,
the worldwide sales potential of GWBU's "Start" technology is truly great!

With more and more vehicles failing to smog requirements each year, consumers
have been searching for a product that will keep older vehicles on the road for an
extended period of time.

The Professor believes GWBU's "Start" device could be the answer!
GWBU Adapts Technology for Marine Industry!
GWBU has taken their incredible device a step further by recently announcing
that the company has adapted the technology specifically for the Marine Industry.
This paves the way for GWBU to generate a whole new revenue stream!

If you're wondering how large potential revenues could be for the GWBU in this
sector, consider this:

The World Shipping Council estimates that at current prices, the liner shipping
industry alone is probably spending roughly $50 billion a year on fuel for vessels
serving U.S. international trade!
Great Wall Builders plans to begin testing of these marine FEED units with select
customers in the near future and may report on further developments in this sector.
Read the Full News Release Here!

Remember this, GWBU's "Start" is a fully functioning product that has already been
tested and proven to have potentially huge positive effects on the transportation
industry worldwide!
These types of groundbreaking products are what could possibly turn a relatively
unknown micro-cap into a big board over night!
We urge our readers to not miss out on an opportunity of this magnitude.
Once the investment community catches on to the true potential of GWBU,
the stock could skyrocket!
Put GWBU on the top of your watchlist and begin your research right away!
Great Wall Builder's website is www.starttechnologiescorp.com.
The Professor Has Spoken.

Sincerely,

Penny Stock Professor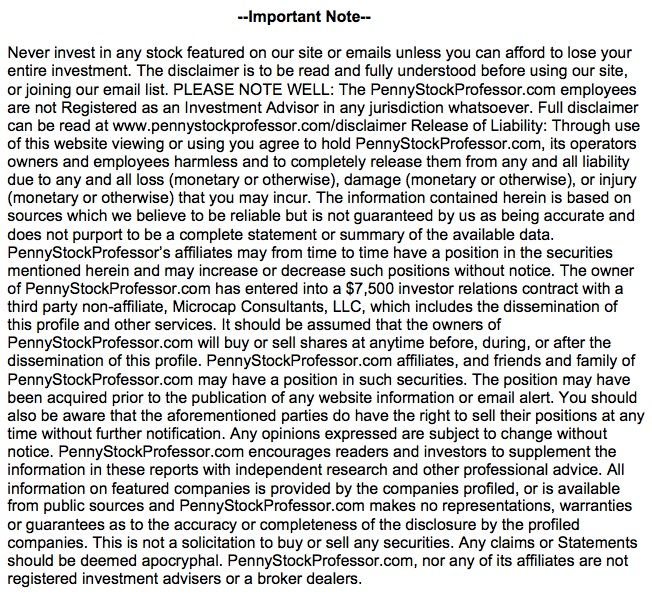 PennyStockProfessor.com | P.O. Box 416 | Penns Park, PA 18943