Newsletter
Stocks covered:
Compensation:
Avg $ Volume for Period:
GRPH

$3000

UNKNOWN

Max Profit:

1.18 %

Gain at close:

0.00 %

*We think that this promoter is a part of a group of promoters.
Dear Subscribers,
GRPH is on high alert this morning and we urge you to be ready to capitalize
on what could become the greatest commodity play this decade!

For those of you who read last night's profile, you're aware that GRPH is set to usher
in a new chapter in America's resource mining sector - Graphite.

Let's highlight global supply and demand scenario for graphite that makes Graphite
Corp. such an amazing opportunity right now.

GRPH Appears Ready to Lead a New Age of American Graphite
Production!

If graphite is so important to American industry, why is there no domestic
production?

You see, years ago China began pouring their graphite into world markets, shutting
down nearly all industrial world graphite mining. Subsequently, the Chinese rose to
become the world's leading graphite supplier, locking in an enormous 80% of the
world graphite market.

But now, they're slapping huge tariffs and fees on graphite exports while at the
same time shutting down mines! Not only that but additional tightening on graphite
supply is expected and this could push prices to record-setting highs.

That's why the U.S. State Department ran up the red flag this year: we have to
start producing American graphite immediately!

Our economy is critically dependent on the availability of graphite, yet we have no
current production. That has obviously got to change.

Graphite Corp. has already staked a large claim on America's largest graphite
deposit in Alabama and is positioning themselves to provide this change and
usher in a new age of American graphite production!

Huge Gains are being made by Early Investors in Graphite
Stocks Worldwide!

Impressive graphite profits are already being racked up in other parts of the world.

The Australian graphite boom, which is about a year ahead of American markets,
showed the world how much can be made in ground-floor graphite stocks.

The results, shown below, display the stunning growth already in the books!



Now, the opportunity comes to America with GRPH which is moving aggressively
to become the first American graphite producer in over two decades!

If you want to get in on a graphite stock when the profit potential is greatest, our
latest pick is the place to start.

As you can see by the Australian average gains on graphite companies,
GRPH is an opportunity you do not want to miss right now!

A Wind and Solar-Powered Electrical Grid Demands Graphite
too... and that Market is Just Getting Started!

In yesterday's profile, we explained how graphite is a huge component in
producing lithium-ion batteries which are used to power the next generation of
technology ranging from smartphones and tablets to electric vehicles.

As if the demand for those products isn't giant enough, lithium-ion batteries are
now being used to stabilize the intermittent performance of wind generated
electricity.

The Department of Energy estimates that for every gigawatt of wind capacity,
17 megawatts of battery storage must be built. in less than four years!

Take a look at the Current Natural Graphite Consumption by Category below.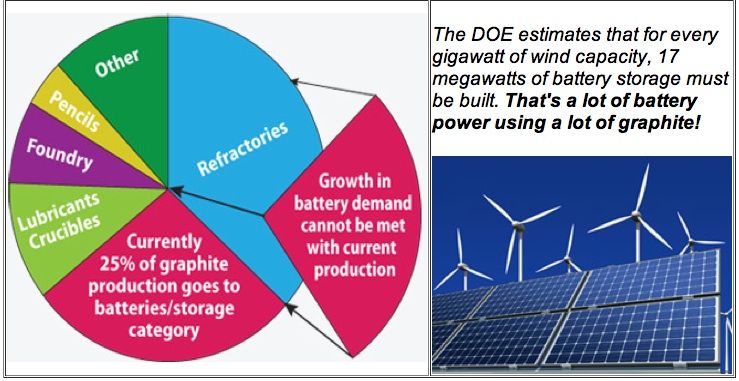 With no decline projected in other uses for graphite, demand pressure on supplies
should drive graphite prices to record highs... making GRPH one of the best
commodity plays of the decade!

For those of you who have not performed research on Graphite Corp., we urge you to
as soon as possible and be ready to seize this rare ground-floor opportunity to cash in
on America's next commodity boom with GRPH.

As always, be sure to use stop-loss orders in order to minimize losses and maximize
potential profits.
Sincerely,
Mining Stock Alerts
www.miningstockalerts.com