Newsletter
Stocks covered:
Compensation:
Avg $ Volume for Period:
GRPH

$3000

UNKNOWN

Max Profit:

1.18 %

Gain at close:

0.00 %

*We think that this promoter is a part of a group of promoters.


Dear Subscribers,


Mining Stock Alerts' next pick is, GRPH, a stock that appears positioned for big
gains as it moves toward production on the most significant known graphite
deposit in the US!

Graphite Corp. (OTCQB: GRPH) is an exploration stage company focused on the
evaluation and development of graphite based deposits within the United States.

GRPH is positioned to emerge as a leading pure-play exploration company by
developing its current strategic land positions in Alabama and Montana, straddling
the heartland of the nation's most significant graphite resources.

GRPH is starting to trade heavier volume than Usual and
Appears to be on the verge of a Technical Breakout!

According to StockTA.com, GRPH is showing Bullish Intermediate Technicals
with a Very Bullish MACD Indicator across the Board!

Based on the way this stock is trading the past few days, it looks like something
big is about to happen with GRPH, which appears to have huge short term potential.

Why? Because as you'll read in our Special Report tomorrow morning....

GRPH has Access to up to 7 Million Tons of Graphite with an Average Grade
of 2%, Potentially worth over $300 Million!

The fact that graphite is so valuable may surprise many investors but the truth is that
while it's nowhere near as well-known as gold or silver, the truth is..

The graphite market sits on a hair trigger right now and we urge all of you to
act on GRPH right away and position yourselves to profit from the impending
American Graphite Boom!

That's right, Billions of dollars in the American economy depend on the availability
of graphite. In fact, the driving force behind the soaring value in graphite, as you we'll
cover shortly, can be found in skyrocketing world demand for lithium-ion batteries.

Graphite is one of the Most Essential Raw Materials in Modern
Industry!

Graphite is so essential that without it, many of America's most important industries
would grind to a halt. Graphite's unique properties for heat resistance, conductivity,
lubrication, strength and light weight simply have no substitute.

In many ways, graphite can be as important to industry as oil or steel! Despite that,
the United States hasn't been a serious graphite producer since WWII.

As a result, we are 100% dependent on imported graphite supplies (half of which
originate in China). Further, we have no strategic graphite stockpiles, like we do with
oil, to protect our interests.

However, we do have significant graphite resources ready to be recovered now,
right here in America!

Alabama is Home to America's Largest Graphite Deposit and
GRPH is Moving in Fast!

Graphite Corp. has recently locked in an enormous position on the largest
known graphite deposit in the United States!

The company acquired mineral exploration rights to its first two properties in Clay
County, Alabama comprising a total of approximately 3,760 acres.

Alabama and notably, Clay County, and its neighboring counties were home to
significant graphite production from the 1900's until the early 1950's.

In fact, the U.S. Bureau of Mines has previously calculated reserve figures for the
Alabama graphite deposit in Clay County showing that 25 Million tons of graphitic
material can be recovered...and that was using mining technology from 1940!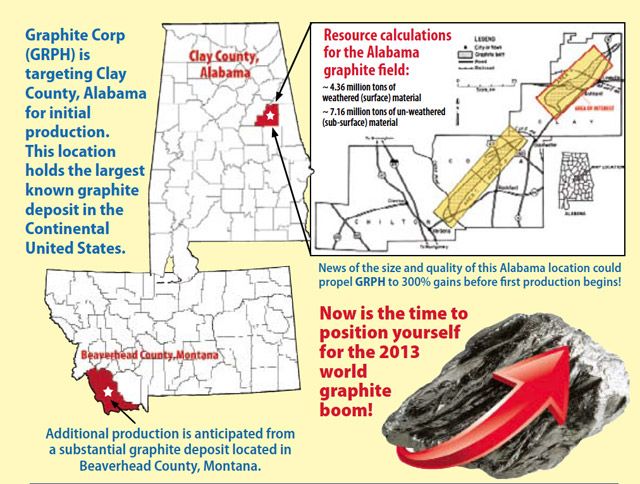 Graphite Corp.'s Alabama play is not only the America's most significant graphite
deposit…it could very well be the easiest to mine!
That's because over a third of the graphite (around 4.6 million tons) lies on the surface
and as GRPH moves in, they could start production almost immediately!
Not only that, GRPH has also entered into a Minerals Lease Agreement giving the
Company the right to conduct mineral exploration activities on a property located in
Beaverhead County, Montana.
Because of this acquisition and agreement, we believe that over the long haul, GRPH
could become the most important supplier of high-quality flake graphite in America!
So with potentially tens of millions of tons of graphite in Clay County, Alabama, plus
more to be found in Montana...
The value of GRPH's potential graphite reserves could be staggering!
Why? Because....
Graphite has been Classified as a 'Critical Raw Material' by
the Major Countries of the World and Prices are Soaring!
That's right - China, the United States and the United Kingdom have declared
graphite a 'Critical Material' and the European Commission included graphite
among the 14 materials it considers high in economic importance and supply risk!
Members, today is the day to capitalize on what is shaping up to be the biggest
commodity boom of 2013! Large flake graphite currently commands up to
$2,500 per ton, twice the price from 2010 and nearly triple from 2008!
And best of all, it is the large flake graphite that GRPH is pursuing at its Alabama and
Montana locations and because of its ease of mining as we stated earlier, the
company has already seen very promising results!
In a recent press release, GRPH stated that the bulk of the disseminated graphite
flakes contained in this promising location would offer a very simple extraction and
material processing scenario with the material comprising moderate to large flakes!


Read GRPH's News Release Validating its Initial Alabama Property Sampling!

Now let's get back to the virtually unknown but tremendous driving factor behind the
soaring demand for graphite...


Graphite is Literally a "Must-Have" Commodity for Next-Generation
Technology that is being Powered by Lithium-Ion Batteries!
What is powered by lithium-ion batteries? How about electric vehicles as well as the
lightweight designs of Apple iPhone®, Samsung Galaxy® and many more hand-held
devices for starters!

A lithium-ion battery stores abundant power in a small battery design which allows
manufacturers to design thinner, lighter devices that can run for hours, even days on
a single battery charge.

A little known, but amazing fact is that a lithium-ion battery uses as much as
30-times more graphite than lithium!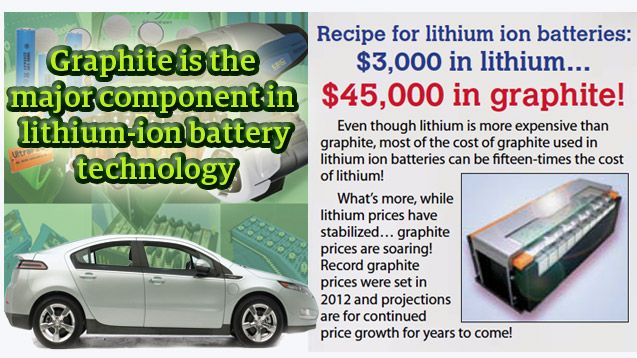 Graphite is hands down the most expensive component in a lithium-ion battery and it's
highly unlikely that the cost difference between lithium and graphite will shrink any time
soon! Why?
Because the world has more than enough lithium to meet current and future demand.
However, that's not the case with graphite as insiders forecast that graphite prices will
continue to soar.
Over the last few years, price and demand for graphite has roughly tripled -
GRPH is ready to cash in on this surging demand in a huge way ....and so
should you!
Also, Forrester Research projects that over the next four years, the tablet PC
market alone will grow 46% per year, reaching 760 million units in use worldwide.
In that same time period, smartphone demand is expected to soar to well over 2
billion units - Virtually all of these will be powered by graphite dependent lithium-ion
batteries!
That's a major concern to electronics companies needing graphite for their product
battery packs such as...
Samsung expects the lithium-ion battery market will grow to $32 Billion
by 2015.
Sanyo predicts market growth to $44 Billion, which is year-over-year
growth of up to 32%!
Impressive figures, but the future growth of lithium-ion batteries in electrically powered
vehicles is even greater.
From now through 2015, the growth of the lithium-ion market for the transport
sector is projected to soar by more than a factor of 10!

And this pales in comparison to the U.S. government, which is calling for a 20-fold
increase in lithium-ion powered vehicles through 2015.
GRPH is shaping up to be a massive opportunity for early shareholders so we
urge all of you to research this company now so you can act right away and
maximize your potential profits!

We will be sending a follow-up email on Graphite Corp. tomorrow morning before
the open so please make sure to check your inbox.

Sincerely,

Mining Stock Alerts
www.MiningStockAlerts.com