Newsletter
Stocks covered:
Compensation:
Avg $ Volume for Period:
GCLL

$10000

14570

Max Profit:

0.00 %

Gain at close:

-7.69 %

September 20, 2011
Penny Stock Profile ....



GreenCell Inc.

(OTCBB: GCLL)

For complete profile, CLICK HERE.

"SenCer and GreenCell have received funding throughout the development of their technology from the New York State Energy Research and Development Agency (NYSERDA) for their research as supported by green and alternative energy initiatives."

Company Profile | Quote & News



GCLL Profile
There are countless companies in both the public and private sectors looking to "reinvent the wheel" or "build a better mousetrap." Few will bring their products to market for a myriad of reasons including arcane designs or even thinking too large which can too frequently lead to big problems and an extravagant number of years and finances in research and development. It is often times the smaller, more well-thought-out technologies that can provide incredible success for an up-and-coming company. Moreover, if the technology has more than one application, the company can be afforded the luxury of generating revenue with one while the others continue development. After all, growth, diversification and revenue are what business is all about, but getting there can be a rough road and it takes calculated moves and strategic alignment to make it happen in an efficient manner.

No experienced investor cares for a comparisons of a microcap stock to Google as it is just absurd to even attempt to tie virtually any company (big or small) to the stock behemoth, but using the formula above is what Google did to achieve success, and that type of correlation is relevant to any upstart. The search engine beast grew and grew its firm and expanded like a spider web across the globe by recognizing opportunity and continuously branching into different areas; looking to strike a market dominance in each while staying on the hunt for the next social and business trend. But…it started with basically one concept first, revolutionizing the way pages are indexed and searched and the rest is history at this point.

While it may seem like a stretch to make comparisons to Google, the basic premise is the same for many organizations. Albeit a miner starting with one project, a biotech with only one drug in a pipeline or a upstart tech firm with a product that can change the standards of countless products for years to come. This is the plan for GreenCell, Inc. (OTCBB:GCLL), a Penn Yan, N.Y.-based technology firm that just recently broke into the publicly-traded arena in July. GreenCell may be just starting off in the public realm, but it is anything but a novice with its technologies. GreenCell is engaged in a joint venture with SenCer Inc. and is focused on developing and commercializing SenCer's UltraTemp™, a ceramic composite material based upon ceramic fiber/ceramic matrix combinations, for home and transportation applications. UltraTemp™ has the ability to bond any ceramic or metal conductor, for which GreenCell has identified multiple industries with significant commercial applications with potential revolutionary results, including uses regarding Solid Oxide Fuel Cells (SOFC), igniters, braking, oxygen sensors, and ceramic heaters.

This is where the concept of a foundation technology blossoming into much more comes into effect as aforementioned as GreenCell has the potential for exponential growth and appears to have a plan of action already in motion. Teaming with SenCer puts GreenCell way ahead of the curve of most junior outfits because SenCer already has nine years of development in the core UltraTemp™ technology including years of research in ceramic heaters, oxygen sensors and fuel cells. An initial development program with New York State has already resulted in completion of the proof of concept and device fabrication utilizing the new technology has proven successful. Consequently, prototype development and testing will only take 6-24 months.

First, GreenCell will be protecting its Intellectual Property through the patenting process and then it can begin to move more productively towards monetization of its assets. Once all the proper patents are intact, licensing of the UltraTemp™ technology can begin. Ceramic heaters/igniters as well as oxygen sensors can reap rewards for GreenCell in the near to mid-term as SenCer has taken the technology in those areas of focus to advanced stages already. Research on the UltraTemp™ igniter has proven a significant increase in materials' strength and durability that is superior to existing Silicon Carbide (SiC) based igniters and at a lower price point compared to today's igniters including newer-offered technologies such as silicon nitride (Si3N4). These facts give GreenCell a competitive edge in a $600 million global igniter market.

The gas-fired furnace market alone represents a significant opportunity because of its cost savings not only to the manufacturer, but to the consumer, as a reduction in home fuel energy reduction could be as high as 30%. Accordingly, SenCer has been approached by both original equipment manufacturers (OEMs) as well as the market leader of the technology to take advantage of its UltraTemp™ material properties to fabricate a low-cost igniter that can resolve all of the flaws of the current technologies. Moreover, OEMs and homeowner insurance companies are interested in the development of a low-cost flue sensor based upon the same technology with a corresponding low cost control circuit. The market is clearly available with GreenCell and SenCer already having an industry name and contacts due to their next-generation technologies.

Further bolstering potential, GreenCell announced two weeks ago that it has developed a clean firing solution for silica sensitive products in conjunction with SenCer with funding coming in part from the New York State Energy Research and Development Agency (NYSERDA). This new technology meets the needs of new high temperature furnaces and allows for a green, low cost manufacturing of the UltraTemp-C products of GreenCell. These High Temperature Systems will be available themselves for commercial sales.

Oxygen sensors are also particularly appealing due to the sheer magnitude of use and no comparable products to GreenCell's. Every new car manufactured today –virtually every car produced in the last thirty years, actually – has an oxygen sensor. As a key component of a vehicles emissions control system, the oxygen sensor is a device that goes in the exhaust pipe and measures for the presence of oxygen. At the most basic explanation level, there is an optimal ratio of air and fuel in every fuel-powered engine to keep emissions at a minimum and vehicle performance at a maximum. The oxygen sensor takes readings from the exhaust and then "communicates" with the engine's computer so that the fuel level can be adjusted accordingly.

GreenCell's proposed oxygen sensor is comprised of a thick film sensor containing the heater and ion conductor layer as a leaded insert that would be placed into a precut flange which would then subsequently be glass bonded using a seal glass technology. The benefit of this is that it works seamlessly with current housings of oxygen sensors so, from a manufacturing standpoint, the change from current counterparts creates no obstacles. Furthermore, GreenCell and SenCer have bridged another gap in dealing with the high costs associated with platinum usage in oxygen sensors through a proprietary electrode technology (platinum is trading around $1,800 per ounce presently) which will decrease manufacturing costs. Offering a full service solution, GreenCell will also have the ability to manufacture the sensor package and deliver to market through existing sales channels.

Annual production of vehicles is in excess of 70 million units with each vehicle requiring a minimum of two oxygen sensors. Add in the number of vehicles that emission regulations mandate the oxygen sensor be replaced and the market is in excess of $8 billion and growing steadily; representing another incredible opportunity for a superior product at a reduced price point.

Ceramic heaters/igniters and oxygen sensors represent opportunities of immediate need and should be near term products and revenue generators for GreenCell while they hone their fuel cell technologies. Still in early stages, their proposed Fuel Cell Design stack design utilizes the same basic technology as proposed for the oxygen sensor. Proof of concept has been completed through a program funded by the New York State Energy Research and Development Agency (NYSERDA). The vast part of the base concept work was done during the feasibility study which produced encouraging results of developing a notably better product than existing technologies. While further research needs to be conducted, fuel cells (which were invented over a century ago and used in practically every NASA mission for 50 years, but limited in practical applications because of costs) have been purported as holding tremendous potential as alternative energy. Solid Oxide Fuel Cells, in particular, are heralded as holding the greatest potential because of their extremely high efficiency and relatively low costs, but have been a source of challenges because of operating at extremely high temperatures. Just as the name implies, the UltraTemp™ technology of GreenCell is looking to overcome these hurdles where others have failed. With dependence upon oil and other natural resources in focus and government mandates for greener technologies starting to hit their stride, fuel cell technologies are anticipated to move towards mainstream uses in the mid-term; a fact that bodes well for GreenCell.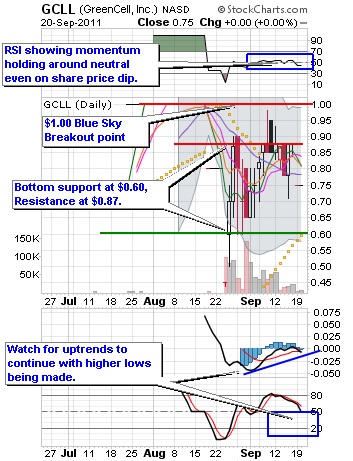 Technically speaking, the GCLL stock chart is a bit thin because of the shortness of the stock's trading history. The 200 and 50 day moving averages are not yet defined, but support and resistance levels have been set. A bottom support has been established at 60 cents with additional secondary support coming in at a variety of levels, including 65 and 70 cents. On any sort of pullback, savvy technical traders will be watching these areas to define a more clear-cut support level based on buying pressure demonstrated at those spots. Resistance has come in recently at the 87 to 90 cent area as the candles have had a difficult time closing above those levels in the last month. A top-end resistance is set at $1.00, which represents not only a nearly 50 percent rise in share value, but a break of $1.00 will signify a "blue sky breakout" point where no other resistance is in sight.

Not a lot can be gathered at this point from the Moving Average Convergence/Divergence, but it is still important to watch in the coming days and months for new higher lows to be established. Technical traders look for channels to be formed as they are a sign of great strength. For the MACD, an upward channel reflects an upward trend. The Full Stochastics operates in much the same manner, except it shows strength of momentum, so higher lows are again important to gauge potential price movements. The Relative Strength Index also shows momentum, but is calculated differently. In the case of GLCC, the RSI is holding right around the 50 mark - a sign of neutrality – which bodes well for potential upward movement given that the price per share has slipped some recently.

As was previously mentioned, even though the chart is fairly new, support and resistance levels are showing up already. With a significant support level around $0.60, stop losses just below that level should be considered in case the stock goes in a direction that no one wants. As always, this is only AllPennyStocks.com's assessment of the GCLL technical chart and we strongly encourage all investors to perform their own due diligence and consult with a financial advisor prior to making any trades.

Being new as a public entity by no means should imply that GreenCell is an early developmental company as so many others trading on the Bulletin Boards are. The Company is poised and ready for near-term revenues and partnered with an established firm to bring their products to market. With only 32 million shares issued and outstanding, the capital structure is intact. Relationships are in place to assist in research and development funding through government agencies which GreenCell has used to keep a balanced budget. Not only are GreenCell products hitting the streets, but the potential for the UltraTemp™ could yield a copious sales stream for years to come. It is for these reasons as well as those mentioned that we at AllPennyStocks.com have decided to turn our next U.S. corporate spotlight on GreenCell, Inc. (OTCBB:GCLL) and encourage our members to begin their due diligence and add it to their watchlists.

As always, more information on the Company can be found on AllPennyStocks.com, or by clicking here.
INVESTMENT HIGHLIGHTS
Revolutionary Technology. UltraTemp™, a ceramic composite material based upon ceramic fiber/ ceramic matrix combinations, bridges a gap left by many of today's products. It has virtually endless uses, but is being targeted initially by GreenCell for igniters, oxygen sensors and fuel cells.
Solid Business Model. GreenCell is systematically developing UltraTemp™ products by focusing on taking the products to late stages to generate near-term revenue through igniters and oxygen sensors as development for fuel cells is now underway. The cyclic progressions allow for cash flow to support the company now as well as R&D efforts for the future.
Joint Venture. GreenCell has strategically partnered in a Joint Venture with SenCer, Inc., a New York-based technology firm with nearly a decade in developing the UltraTemp™ technology.
Massive Market Potential. The oxygen sensor market alone represents an $8 billion opportunity for GreenCell and it's growing every day as initiatives towards controlling vehicle emissions become more and more stringent. The igniter industry, where GreenCell once again has a competitive edge with a superior, less-costly product, is estimated at roughly $600 million.
New Public Entity, Tight Capital Structure. GLCC has only been trading for approximately two months which has kept it from the eyes of the trading community. With only 32 million shares outstanding and strong market capture potential, the stock remains "under the radar" with large upside potential.
OVERVIEW
GreenCell is engaged in a joint venture with SenCer Inc. to develop, commercialize and market SenCer's UltraTempTM ceramic composite materials for Home and Transportation applications. GreenCell has identified multiple industries with significant commercial applications with potential revolutionary results. Some of the many applications for this technology are SOFC Fuel Cells, Igniters, Braking, Oxygen Sensors, and Ceramic Heaters.

Corporate Information

Exchange: OTCBB
Market Cap: 23.8 Million
Outstanding Shares: 31.8 Million
Price: $0.75
52 Week Low / High: $0.44 / $1.00
Information As Of September 20, 2011




Useful Profile Links

Corporate Write-Up

Recent News & Press Releases

Management Team

Contact Information




Forward Looking Statements

This report includes forward-looking statements that reflect GreenCell Inc. current expectations about its future results, performance, prospects and opportunities. GreenCell Inc. has tried to identify these forward-looking statements by using words and phrases such as "may," "will," "expects," "anticipates," "believes," "intends," "estimates," "plan," "should," "typical," "preliminary," "we are confident" or similar expressions. These forward-looking statements are based on information currently available and are subject to a number of risks, uncertainties and other factors that could cause GreenCell Inc.'s actual results, performance, prospects or opportunities to differ materially from those expressed in, or implied by, these forward-looking statements. These risks, uncertainties and other factors include, without limitation, the Company's growth expectations and ongoing funding requirements, and specifically, the Company's growth prospects with scalable customers, and those outlined above. Other risks include the Company's limited operating history, the Company's history of operating losses, consumers' acceptance, the Company's use of licensed technologies, risk of increased competition, the potential need for additional financing, the terms and conditions of any financing that is consummated, the limited trading market for the Company's securities, the possible volatility of the Company's stock price, the concentration of ownership, and the potential fluctuation in the Company's operating results.

Disclaimer

AllPennyStocks.com feature stock reports are intended to be stock ideas, NOT recommendations. Please do your own research before investing. It is crucial that you at least look at current SEC filings and read the latest press releases. Information contained in this report was extracted from current documents filed with the SEC, the company web site and other publicly available sources deemed reliable. For more information see our disclaimer section, a link of which can be found on our web site. This document contains forward-looking statements, particularly as related to the business plans of the Company, within the meaning of Section 27A of the Securities Act of 1933 and Sections 21E of the Securities Exchange Act of 1934, and are subject to the safe harbor created by these sections. Actual results may differ materially from the Company's expectations and estimates. This is an advertisement for GreenCell Inc. The purpose of this advertisement, like any advertising, is to provide coverage and awareness for the company. The information provided in this advertisement is not intended for distribution to, or use by, any person or entity in any jurisdiction or country where such distribution or use would be contrary to law or regulation or which would subject us to any registration requirement within such jurisdiction or country.

© 1999-2011 AllPennyStocks.com. All rights reserved. AllPennyStocks.com is not a Registered Broker/Dealer or Financial Advisor, nor do we hold ourselves out to be. All materials presented on our web site and individual reports released to the public through this web site, e-mail or any other means of transmission are not to be regarded as investment advice and are only for informative purposes. Before making a purchase or sale of any securities featured on our web site or mentioned in our reports, we strongly encourage and recommend consultation with a registered securities representative. This is not to be construed as a solicitation or recommendation to buy or sell securities. As with any stock, companies we select to profile involve a degree of investment risk and volatility. Particularly Small-Caps and OTC-BB stocks. All investors are cautioned that they may lose all or a portion of their investment if they decide to make a purchase in any of our profiled companies. Past performance of our profiled stocks is not indicative of future results. The accuracy or completeness of the information on our web site or within our reports is only as reliable as the sources they were obtained from. The profile and opinions expressed herein are expressed as of the date the profile is posted on site and are subject to change without notice. No investor should assume that reliance on the views, opinions or recommendations contained herein will produce profitable results. AllPennyStocks.com may hold positions in securities mentioned herein, and may make purchases or sales in such securities featured on our web site or within our reports. In order to be in full compliance with the Securities Act of 1933, Section 17(b), AllPennyStocks.com will disclose in it's disclaimer, what, if any compensation was received for our efforts in researching, presenting and disseminating this information to our subscriber database and featuring the report on the AllPennyStocks.com web site. AllPennyStocks.com has been compensated ten thousand dollars by a non-affiliated third-party, Emerging Markets Consulting LLC. for its efforts in presenting the GCLL profile on its web site and distributing it to its database of subscribers as well as other services. AllPennyStocks.com may decide to purchase or sell shares on a voluntary basis in the open market before, during or after the profiling period of this report. As of the profile date, no shares have been sold. Information presented on our web site and within our reports contain "forward looking statements" within the meaning of Section 27A of the Securities Act of 1933 and Section 21E of the Securities Exchange Act of 1934. Any statements that express or involve discussions with respect to predictions, expectations, beliefs, plans, projections, objectives, goals, assumptions or future events or performance are not statements of historical fact and may be "forward looking statements." Forward looking statements are based on expectations, estimates and projections at the time the statements are made that involve a number of risks and uncertainties which could cause actual results or events to differ materially from those presently anticipated. Forward looking statements in this action may be identified through the use of words such as "expects'", "will," "anticipates," "estimates, "believes," or that by statements indicating certain actions "may," "could," or "might" occur.

THE READER SHOULD VERIFY ALL CLAIMS AND DO THEIR OWN DUE DILIGENCE BEFORE INVESTING IN ANY SECURITIES MENTIONED. INVESTING IN SMALL CAP SECURITIES IS SPECULATIVE AND CARRIES A HIGH DEGREE OF RISK.

We encourage our readers to invest carefully and read the investor information available at the web sites of the Securities and Exchange Commission (SEC) at: http://www.sec.gov and/or the National Association of Securities Dealers (NASD) at: http://www.nasd.com. Readers can review all public filings by companies at the SEC's EDGAR page. The NASD has published information on how to invest carefully at its web site.