Newsletter
Stocks covered:
Compensation:
Avg $ Volume for Period:
EMPO

$10000

89960

Max Profit:

0.92 %

Gain at close:

0.00 %

*We think that this promoter is a part of a group of promoters.
Hello Class and New Students,
We hope you are ready for EMPO this morning because we believe it could be
headedfor a breakout!
For those of you that haven't read last night's alert, we urge you to do so but will recap
why our latest pick is well on its way to becoming the next great retail stock with huge
potential.
Empowered Products, Inc. (OTCBB: EMPO) engages in the manufacture, sale, and
distribution of personal care products worldwide, with a focus on women's and men's
health.
The Company currently offers 17 sexual wellness products led by its Pink® and
Gun Oil® lines of personal lubricants and health supplements designed to enhance
a person's sexual and sensual well-being
EMPO's products are currently available in over 3,000 retail locations in more than 30
countries, spanning four continents, including wholesalers, pharmacies, chain and
online retailers.
Remember also that we pointed out in last night's email that EMPO is showing
Bullish Signs right now according to Stockta.com and Barchart.com lists the stock
as a "Buy"!
Now is the Time to Act on EMPO Following the Recent Launch of
its Pink® and Gun Oil® Brands at Walgreens, CVS and Target.com!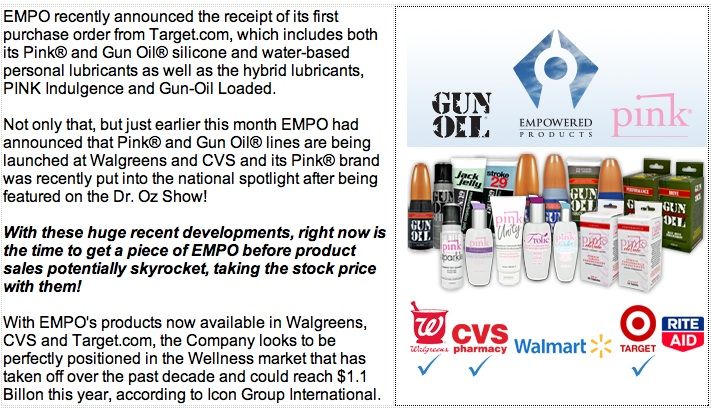 As if product launches with the biggest retail names in America weren't enough to get behind
EMPO right now, here are a few more highlights that show how exciting this company is:
In 2011, EMPO generated $2.99 million in revenues with a gross profit of
$1.22 Million and the Company is already well on their way to topping last
year's numbers with its recent product launches through massive retailers!
EMPO recently launched a sample-request program to its branding site in order to
directly connect with female customers and the site has already received a
whopping 113,120 sign-ups to request samples and this could be just the beginning
of consumer demand for its products!
EMPO has won prestigious awards such as the XBIZ Sexual Supplement
Company of the Year!
Empowered Products is clearly not your average bulletin board company as you can see,
they are the real deal and may be in for something big! But don't just take our word for it:
Standard and Poor's is Covering EMPO's Progress and Recently
Issued a Research Report on the Company!
A Bulletin Board company followed by S&P? We don't see that every day but as we
have said, Empowered Products has the makings of a retail giant!
Read S&P's Research Report on EMPO Here!
As we mentioned in last night's email, Proctor & Gamble and Johnson & Johnson
are currently at the top of the Wellness product market.
Because EMPO's brand name products are taking off so fast that the Company may
soon be a potential acquisition target of either one of thes industry leaders.

Buyout or not, with the way things are going for EMPO right now, the sky is
the limit!
We urge members to research EMPO immediately if you haven't already and be ready
to seize this ground-floor opportunity that could potentially lead to tremendous returns.
As always, be sure to use stop-loss orders in order to minimize losses and maximize
potential profits.

The Professor Has Spoken.

Sincerely,

Penny Stock Professor