Newsletter
Stocks covered:
Compensation:
Avg $ Volume for Period:
SRBCF

$7000

37333

Max Profit:

52.65 %

Gain at close:

16.33 %

February 23, 2012
Penny Stock Profile ....



Sirona Biochem Corp.

(TSX-Venture: SBM) (Pink Sheets: SRBCF)

For complete profile, CLICK HERE.

"Sirona's most advanced program, a sodium glucose co-transporter (SGLT) for diabetes, has already achieved positive preclinical results and outperformed Dapagliflozin (Bristol Myers Squibb & AstraZeneca) in a comparative study. Expert estimates are that 10 percent of the global population will have diabetes by 2030."

Company Profile | Quote & News



V.SBM PROFILE
Analyzing a biotechnology company, even a big board play, is a challenge for most investors as many biotechs do not have any revenue stream and the future of the company can hinge on a pipeline of promising products. Most of the true blue chippers are somewhat easier to analyze because their drugs have made it to commercialization and by comparing what other companies have in their pipelines as potential competition can be evaluated to determine what may happen to future revenue. Many other companies that are in advanced stages of clinical trials and looking to garner Food and Drug Administration drug approval have already seen a big swing in share price as the investment community "baked-in" price increases throughout the different phases of research and development.

The fact is that while there are many big pharmas in the multi-multi-billion dollar biotechnology industry, the vast majority of biotechs are still developmental in nature. Sifting through the hundreds of investment possibilities can be intimidating, but extremely rewarding if an investor can identify truly undervalued companies with a large upside.

Diversification is the key to small biotechs. Companies need to have multiple applications for their technologies or drugs that can be used for several indications to hedge against one product not making it to commercialization. Additionally, the target population (i.e. size of potential market) is also crucial in evaluation of a small biotech. A junior biotech with a promising cancer drug carries far greater potential to hit a jackpot for its investors than one focused on an orphan drug with a miniscule number of patients with an obscure disease that could benefit.

By breaking things down into these types of basic guidelines, it makes it easier to identify biotechnology firms that could provide a larger return on investment. Drilling down on the more than 1,000 biotechnology companies operating in North America quickly brings to light the potential of Sirona Biochem Corp. (TSX-Venture:SBM) (Pink Sheets:SRBCF), a Vancouver, British Columbia-based biotechnology company specializing in carbohydrate chemistry technology.

Sirona Biochem is focused on the development of carbohydrate-based molecules, a technology that has a robust number of uses, but has been a challenge in development because of a major limitation in the lack of stability of carbohydrate molecules. Sirona Biochem's French subsidiary, TFChem, has developed a proprietary chemistry technique that maintains the integrity of carbohydrate-based molecules even after enzyme exposure. In effect, Sirona is clearing the hurdles that have caused other biotechs to stumble related to the instability and has turned its attention primarily to advancing three programs – therapeutics, cosmetic agents and biological ingredients – with its proprietary chemistry. The company aims to maximize the commercial value of carbohydrate-based drugs by improving their pharmaceutical properties and target some of the most lucrative markets in biotechnology.

Sirona's most advanced program, a sodium glucose co-transporter (SGLT) for diabetes, has already achieved positive preclinical results. In a comparative study, Sirona Biochem's SGLT inhibitor performed better than the leading drug candidate, Dapagliflozin (Bristol Myers Squibb & AstraZeneca) in this drug class. Additional research is being conducted to further test Sirona's SGLT inhibitor for safety and toxicology as the company maneuvers towards clinical trials.

The diabetes industry is one of the single, largest disease markets in North America (and the world, for that matter). In the United States alone, nearly 26 million people are diagnosed with diabetes, with millions more being qualified as "pre-diabetes". The prevalence of the disease is reaching epidemic proportions with The International Diabetes Federation (IDF), the umbrella organization of over 200 national diabetes associations in over 160 countries, indicating that the number of people globally living with diabetes is expected to rise from 366 million in 2011 to 552 million by 2030. That's more than 10% of the world's population. IDF also estimates that as many as 183 million people are unaware that they have diabetes.

Recognizing that financing clinical trials is often a major setback, Sirona Biochem intends to complete its IND (Investigational New Drug)-enabling studies, then seek a pharmaceutical partner to handle the downstream clinical and commercial needs of the program. This will be happening at a very opportunistic time as bigger pharmas are acquisition/merger and partnering-hungry because many big drug makers will be losing key patent protection on blockbuster drugs within the next two years. For example, Pfizer, Inc. lost patent protection on Lipitor and Protonix in 2011 and will be losing its patent on Geodon in 2012. Merck's blockbuster asthma drug Singulair is coming off patent this year. Sanofi and Eli Lilly will be seeing 40% and 66%, respectively, of their 2010 pharmaceutical sales exposed to risks from patent expiration by 2013. Patent expiration leads to huge losses in revenue as generic drugs move-in to compete with the popular name-brand drugs; leaving the big biotechs thirsty for novel drugs to rebuild their pipelines. Notoriously weak in developing drugs on their own, big pharma generally looks to absorb or collaborate with smaller biotechs that have drugs with strong potential. Being that money is typically not an issue for majors, developmental biotechs and shareholders can yield strong rewards from new deals.

While targeting the massive diabetes industry as one pipeline component, Sirona Biochem is also building its technologies aimed at cosmetic agents and biological ingredients. Unlike its SGLT inhibitor, these products are not subject to the extensive clinical trials and regulatory pathways, which allows them to be advanced to market much more quickly.

The company is developing anti-aging cosmetic agents that can be used to maintain and improve skin vitality. The global anti-aging cosmetic market was estimated at $64.4 billion in 2009 and is expected to grow to $105.4 billion in 2013, a combined annual growth rate of a stellar 10.4 percent. According to the National Consumers League, 90 million Americans use anti-aging products.

Sirona is also developing a depigmenting agent that has the potential to lighten and evenly tone skin. Sales of skin lightening products are estimated to reach $10 billion globally by 2015. In Asia-Pacific alone, it's estimated that the skin lightener market will exceed $2 billion by 2012.

Regarding its biological ingredients, the company's chemistry technology platform can be used for the development of enhanced inducers for recombinant protein production and adjuvants for the preservation of stem/islet cells. More specifically, inducers could be valuable in the production of insulin, human growth hormone, vaccines, interferon (anti-viral/bacterial/parasitic/tumor) and interleukin-2 (immune), and other recombinant protein produced by E. Coli. The market for recombinant proteins is expected to significantly rise with sales forecasted to reach $75.8 billion in 2012, a 50% increase from 2007.

The management and advisory board for Sirona Biochem rivals that of its big board competitors. Further bolstering its already highly-experienced team, just last week the company appointed organic chemistry expert Professor Pierre Vogel, fluorine chemistry expert Dr. Bernard Langlois and carbohydrate chemistry expert Dr. Eric Leclerc to the Scientific Advisory Board of its subsidiary, TFChem.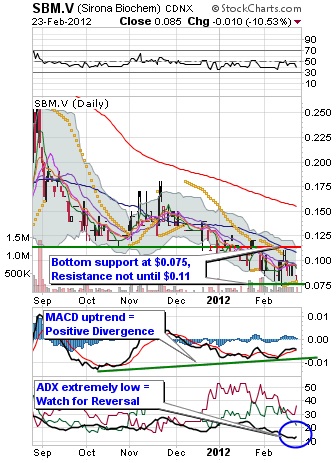 Technically speaking, the SBM chart is what many would consider a perfect bottom play stock. The price per share dipped to a 52-week low of 7.5 cents last week and promptly produced a 50 percent bounce back to 11 cents. Since that point, the value of a share has slipped back and is holding a firm support level at 8 cents. Today's closing candlestick is a dragonfly doji, which is a sign of indecision leaning towards bullishness as the price opened at 8.5 cents and a dip to 8 cents was following by buying taking the stock right back to where it opened. Resistance won't enter the picture again until a 30 percent climb takes the stock back to 11 cents.

While many of the indicators are in bearish positions – as is common with most bottom plays – the Moving Average Convergence/Divergence has been trending back towards zero and making higher lows since October 2011. This is known as a "positive divergence" as the price drops lower, the MACD is climbing higher, many times signaling that a shift in trend is about to happen.

On a different note, the Average Directional Index (ADX), a measure of the strength of direction in a chart, is registering a 13.37. Technical traders will use a 10 handle on the ADX as an exaggerated reading and a sign of weak directional strength, adding credence to a shift in direction. The last time the ADX was this low for SBM, the share price doubled in a matter of days.

As we just mentioned above, with support hovering around $0.075 currently, stop losses just below that level would make a lot of sense in case of wild swings in the wrong direction. As we always mention at this point, these are merely the interpretations of AllPennyStocks.com. We encourage all investors to do their own due diligence and consult with a financial advisor prior to making any investment decisions.

To further add fuel to the fire, the Company just announced some major news after the bell today that should excite investors on its own but could also significantly affect the Company's stock price tomorrow and for the next few trading days. The Company announced after the bell today that its lead compound for the treatment of Type 2 diabetes was effective in lowering blood glucose levels in a well-established preclinical diabetic model.

Sirona Biochem's compound, SBM-TFC-039, significantly and rapidly reduced the blood glucose level in obese diabetic rats (Zucker). In an acute dosing study, six hours after treatment, the blood glucose level of obese diabetic rats was reduced to the level of control lean rats. There was a strong correlation between the decrease in blood glucose level (0 to 6 hours post treatment) and the excretion of urinary glucose.

A study in normal rats also confirmed that SBM-TFC-039 triggered elimination of glucose through the urine (glycosuria) in a dose dependent manner. SBM-TFC-039 also reduced blood glucose excursions following a glucose challenge by 34 percent compared to an untreated group. A separate safety study of SBM-TFC-039 showed the compound was well-tolerated. These preclinical results show the potential that this Company trading under $0.10 a share can have going forward. The diabetes industry is one of the single, largest disease markets in North America (and the world, for that matter). In the United States alone, nearly 26 million people are diagnosed with diabetes, with millions more being qualified as "pre-diabetes". Any compound that is effective in the treatment of this disease, whether its from a biotechnology powerhouse or a junior biotech Company should be closely examined from both a health and financial standpoint.

All the components of finding a value proposition in the biotechnology space are glaringly intact for Sirona Biochem. The company's proprietary fluorine-based chemistry platform not only gives the company the chance to develop new robust compounds, but also allows them to improve previously-developed compounds by other companies that may have been put on hold because of the inherent challenges of these carbohydrate compounds. The company was named as one of the TSX Venture's Top 50 in 2011 and ranked second in the Technology and Life Sciences category. All of this wrapped-up in a company only commanding less than a dime a share and a market cap of about $5 million. It is because of these reasons, as well as the one's mentioned above that we have decided to turn our latest corporate spotlight on Sirona Biochem Corp. (TSX-Venture:SBM) (Pink Sheets:SRBCF) and encourage our members to promptly begin their due diligence and add it to their watchlists.
As always, more information on Sirona Biochem Corp., (TSX-Venture:SBM) (Pink Sheets:SRBCF) can be found by going to the full Sirona Biotech Corp. profile at AllPennyStocks.com or by clicking here.
INVESTMENT HIGHLIGHTS
Robust Industry. The biotechnology industry is impervious to recession and struggling economies. At the same time, developmental companies can yield windfalls for investors in companies that develop therapies for areas of great unmet need.
New Technologies. Carbohydrate-based molecules have long been heralded for their vast number of uses, but development has been stymied by instability in the molecules. Sirona Biochem and its French subsidiary, TFChem, have broken down those instability barriers with their fluorine-based chemistry.
Cosmetic Uses. Sirona's cosmetic applications for their technologies also focus on anti-aging cosmetics (an estimated $105 billion industry in 2013) and depigmenting agents (an extimated $10 billion industry in 2015) to lighten and evenly tone skin.
Biological Ingredient Technologies. Sirona's chemistry technology platform can be used for the development of enhanced inducers for recombinant protein production and adjuvants for the preservation of stem/islet cells. Market projections in the recombinant proteins space are expected to gallop from approximately $50 billion in 2007 to $75.8 billion in 2012.
Highly Experienced Team. Sirona Biochem has a complete staff of physicians, business experts and world's leading chemists with century's worth of experience amongst its executive managers, Board of Directors and Scientific Advisory Board.
A Host Of Accolades. Sirona's technologies are award-winning and the company was named in 2011 as one of the Top 50 Companies listed on the Toronto Venture Exchange, in addition to being ranked 2nd in the Technology and Life Sciences Category.
OVERVIEW
Sirona Biochem is a biotechnology company developing diabetes therapeutics, cancer vaccine antigens, skin depigmenting and anti-aging cosmeceuticals and biological ingredients. The Company is applying a proprietary chemistry technique to improve the pharmaceutical properties of their carbohydrate-based molecules.

Corporate Information

Exchange: TSX-Venture
Market Cap: 5.5 Million
Outstanding Shares: 65.1 Million
Price: $0.085
52 Week Low / High: $0.075 / $0.35
Information As Of February 23, 2012




Useful Profile Links

Corporate Information

Recent News & Press Releases

Management Team

Contact Information




Forward Looking Statements

This report includes forward-looking statements that reflect Sirona Biochem Corp. current expectations about its future results, performance, prospects and opportunities. Sirona Biochem Corp. has tried to identify these forward-looking statements by using words and phrases such as "may," "will," "expects," "anticipates," "believes," "intends," "estimates," "plan," "should," "typical," "preliminary," "we are confident" or similar expressions. These forward-looking statements are based on information currently available and are subject to a number of risks, uncertainties and other factors that could cause Sirona Biochem Corp.'s actual results, performance, prospects or opportunities to differ materially from those expressed in, or implied by, these forward-looking statements. These risks, uncertainties and other factors include, without limitation, the Company's growth expectations and ongoing funding requirements, and specifically, the Company's growth prospects with scalable customers, and those outlined above. Other risks include the Company's limited operating history, the Company's history of operating losses, consumers' acceptance, the Company's use of licensed technologies, risk of increased competition, the potential need for additional financing, the terms and conditions of any financing that is consummated, the limited trading market for the Company's securities, the possible volatility of the Company's stock price, the concentration of ownership, and the potential fluctuation in the Company's operating results.

Disclaimer

AllPennyStocks.com feature stock reports are intended to be stock ideas, NOT recommendations. Please do your own research before investing. It is crucial that you at least look at current SEC filings and read the latest press releases. Information contained in this report was extracted from current documents filed with the SEC, the company web site and other publicly available sources deemed reliable. For more information see our disclaimer section, a link of which can be found on our web site. This document contains forward-looking statements, particularly as related to the business plans of the Company, within the meaning of Section 27A of the Securities Act of 1933 and Sections 21E of the Securities Exchange Act of 1934, and are subject to the safe harbor created by these sections. Actual results may differ materially from the Company's expectations and estimates. This is an advertisement for Sirona Biochem Corp. The purpose of this advertisement, like any advertising, is to provide coverage and awareness for the company. The information provided in this advertisement is not intended for distribution to, or use by, any person or entity in any jurisdiction or country where such distribution or use would be contrary to law or regulation or which would subject us to any registration requirement within such jurisdiction or country.

© 1999-2012 AllPennyStocks.com. All rights reserved. AllPennyStocks.com is not a Registered Broker/Dealer or Financial Advisor, nor do we hold ourselves out to be. All materials presented on our web site and individual reports released to the public through this web site, e-mail or any other means of transmission are not to be regarded as investment advice and are only for informative purposes. Before making a purchase or sale of any securities featured on our web site or mentioned in our reports, we strongly encourage and recommend consultation with a registered securities representative. This is not to be construed as a solicitation or recommendation to buy or sell securities. As with any stock, companies we select to profile involve a degree of investment risk and volatility. Particularly Small-Caps and OTC-BB stocks. All investors are cautioned that they may lose all or a portion of their investment if they decide to make a purchase in any of our profiled companies. Past performance of our profiled stocks is not indicative of future results. The accuracy or completeness of the information on our web site or within our reports is only as reliable as the sources they were obtained from. The profile and opinions expressed herein are expressed as of the date the profile is posted on site and are subject to change without notice. No investor should assume that reliance on the views, opinions or recommendations contained herein will produce profitable results. AllPennyStocks.com may hold positions in securities mentioned herein, and may make purchases or sales in such securities featured on our web site or within our reports. In order to be in full compliance with the Securities Act of 1933, Section 17(b), AllPennyStocks.com will disclose in it's disclaimer, what, if any compensation was received for our efforts in researching, presenting and disseminating this information to our subscriber database and featuring the report on the AllPennyStocks.com web site. AllPennyStocks.com has been compensated seven thousand five hundred dollars by a third-party, Pristine Capital Corp. for its efforts in presenting the V.SBM profile on its web site and distributing it to its database of subscribers as well as other services. AllPennyStocks.com may decide to purchase or sell shares on a voluntary basis in the open market before, during or after the profiling period of this report. As of the profile date, no shares have been sold. Information presented on our web site and within our reports contain "forward looking statements" within the meaning of Section 27A of the Securities Act of 1933 and Section 21E of the Securities Exchange Act of 1934. Any statements that express or involve discussions with respect to predictions, expectations, beliefs, plans, projections, objectives, goals, assumptions or future events or performance are not statements of historical fact and may be "forward looking statements." Forward looking statements are based on expectations, estimates and projections at the time the statements are made that involve a number of risks and uncertainties which could cause actual results or events to differ materially from those presently anticipated. Forward looking statements in this action may be identified through the use of words such as "expects'", "will," "anticipates," "estimates, "believes," or that by statements indicating certain actions "may," "could," or "might" occur.

THE READER SHOULD VERIFY ALL CLAIMS AND DO THEIR OWN DUE DILIGENCE BEFORE INVESTING IN ANY SECURITIES MENTIONED. INVESTING IN SMALL CAP SECURITIES IS SPECULATIVE AND CARRIES A HIGH DEGREE OF RISK.

We encourage our readers to invest carefully and read the investor information available at the web sites of the Securities and Exchange Commission (SEC) at: http://www.sec.gov and/or the National Association of Securities Dealers (NASD) at: http://www.nasd.com. Readers can review all public filings by companies at the SEC's EDGAR page. The NASD has published information on how to invest carefully at its web site.
---