Newsletter
Stocks covered:
Compensation:
Avg $ Volume for Period:
DIRV

$3500

UNKNOWN

Max Profit:

1.20 %

Gain at close:

-15.66 %
By reading this email you acknowledge you have read our disclaimer provided as an image near the bottom of this email or the link included. This is a paid News Dissemination Advertisement. FN Media Group is not responsible or held liable for the information in the email or any included press releases issued by any public company contained herein. Please be sure to ALWAYS perform your OWN Due Diligence. To stop receiving our news alerts and immediately Remove yourself from the FNM online community, please scroll down to the bottom of this message and use the links provided.


DirectView Holdings (DIRV) - Major Alert Issued Today
DIRV Reports on Importance of Integrating Body Camera Technology with Major Wireless Carrier with Largest 4G LTE Network
- July 21, 2015 -

FinancialNewsMedia.com (FNM)

is a leading provider of top tier Market Updates & News Alerts for evolving companies on the move.

FNM

Alerts

never contain hype, over promotion, predictions or personal opinions - just true Time Sensitive News Alerts that are 100% News Driven.
DIRV Breaking News: DirectView CEO Outlines Importance Of Securing Strategic Relationship For Integrating Body-Camera Technology With America's Largest 4G LTE Network


Company Will Have A Key Marketing Advantage As Its Industry Leading Technology Will Be Marketed To The Carriers' Customers Via Their Worldwide Distribution Channels.


New York, JULY 21, 2015 - DirectView Holdings, Inc. (OTC: DIRV), which had previously announced on July 15, that it had initiated its plan to work with one of the world's leading mobile carriers to integrate its industry leading Body-Worn and Security cameras to the carrier's 4G LTE network, the largest in the nation, today shared more details about the advantages the deal would bring to the Company.

In a statement released today, Roger Ralston, CEO and Board Chairman of DirectView, said:

"We have five key components in this deal that can separate us from the field.

(1) First of all, we believe we have a superior technology. We feel we have the best cameras on the market;
(2) Second, through the carrier we will have the ability to wirelessly connect our products to the net even where no signal is usually available;
(3) Third, it's all delivered via a dedicated network that is always available and highly secure;
(4) All data captured will be safely and securely stored in our cost-efficient backend DirectView dedicated storage servers; and
(5) Distribution via the carrier's extensive worldwide reach.

As we mentioned in the earlier press release, having real time situational awareness through body cameras will change the paradigm for law enforcement, government and corporate/private end users. Utilizing the carrier's network connection integrated with xMax private mobile broadband technology (see our Press Release of June 16, 2015; xG Technology, Inc. (NASDAQ: XGTI) that enables secure, robust mobile broadband communications, businesses, security and law enforcement personnel using a DirectView device will be able to easily transfer from networked communications to 4G LTE cellular transmissions in areas where secure networks are unavailable. And have their data safely and securely preserved as well!

Because of our secure dedicated network which is what xMax delivers…and our affiliation with the carrier… we are able to have our Body-Worn and Security cameras wirelessly connect to our proprietary & cost-efficient backend storage, from almost anywhere.

… And via this deal, by way of the carrier's employees and sales partners, we will have access to the carrier's existing customers and its worldwide distribution channels. Our product package may very well be being sold via the carrier's employees in their stores, on their websites, alongside their proprietary products… wherever they are being marketed."
Continued...

Read the entire DIRV press releases here:
http://www.fnmprofiles.com/profiles-dirv.html
---
DirectView Holdings, Inc., together with its subsidiaries, provides teleconferencing and services to businesses and organizations. The company operates in two divisions, Security (Video Surveillance) and Video Conferencing. The Security division offers technologies in surveillance systems providing onsite and remote video and audio surveillance, digital video recording, and services. It also sells and installs surveillance systems; and sells maintenance agreements. The company sells its products and services in the United States and internationally through direct sales force, referrals, and its Websites. The Video Conferencing division offers teleconferencing products and services that enable clients to conduct remote meetings by linking participants in geographically dispersed locations. It is involved in the sale of conferencing services based upon usage, the sale and installation of video equipment, and the sale of maintenance agreements. This division primarily provides conferencing products and services to numerous organizations ranging from law firms, banks, high tech companies and government organizations.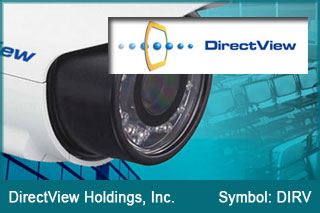 ---
Keep a close eye on your inbox for a future alerts and please feel free to constantly check the FinancialNewsMedia.com website for new announcements posted daily.

You are currently receiving this message because you have visited, opted in or requested information from one of a many affiliated or associated financial sites. FN Media Group completely respects everyone's right to online privacy and wishes to only communicate to those who are interested in receiving premium news alerts for companies that issue real news with real developments. If you believe you have received this message in error or prefer to no longer receive our alerts, please use the unsubscribe link provided below to immediately remove yourself from our online investment community.
FinancialNewsMedia.com is a news dissemination and financial public relations company that delivers breaking news alerts and market commentary updates to the investment community. This complimentary news service is viewed by hundreds of thousands of retail investors from around the globe that frequent other popular online news & financial destinations such as TradeKing, Forbes, CBSMarketwatch, Morningstar, Bloomberg and so many more.

FinancialNewsMedia.com... When the market moves, don't get left behind

Follow Us Now On
FNM Disclosure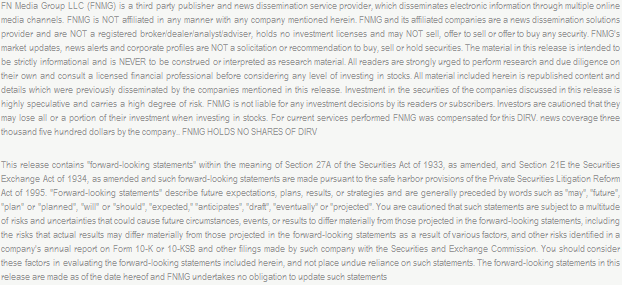 If you are unable to view this disclosure in the included image, please go here to read our entire disclosure online
Contact FN Media by mail:
FN Media
4613 N. University Drive #374
Coral Springs, FL 33067