Newsletter
Stocks covered:
Compensation:
Avg $ Volume for Period:
PFVR

$150000

UNKNOWN

Max Profit:

9.38 %

Gain at close:

9.38 %

*We think that this promoter is a part of a group of promoters.
Mornin'!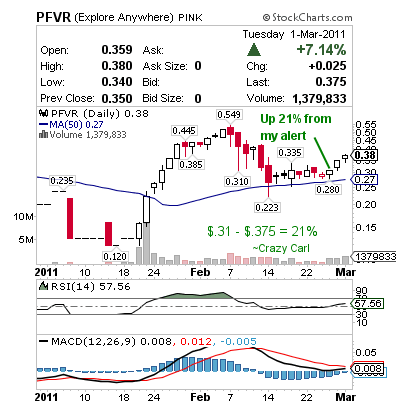 So nice waking up green, right? Well don't forget who took you to the dance baby!

My readers have seen PFVR climb and HOLD 21% already and she's still lookin' pretty!

$.31 - $.375 aint no chump change. Try over 400 bucks with $2k down. I love it!

But wait, there is more!

The RSI is only at 57 and the MACD is literally starring at the signal line like Mario Andretti.

You'd be crazier than I if you didn't see the beauty in this alert. All I ask in return, tell em you heard it hear first.

Addicted to trading and lovin' every minute of it!

Crazy Carl





This newsletter is a paid advertisement and is neither an offer nor recommendation to buy or sell any security. We hold no investment licenses and are thus neither licensed nor qualified to provide investment advice. The content in this report or email is not provided to any individual with a view toward their individual circumstances. PennyStockCraze.com is a wholly-owned subsidiary of BlueWave Advisors, LLC. BlueWave Advisors, LLC has been compensated one hundred and fifty thousand dollars from Market Pulse Media (a non-controlling third party shareholder) for PFVR advertising and promotion. This compensation constitutes a conflict of interest as to our ability to remain objective in our communication regarding the profiled company. Because of this conflict, individuals are strongly encouraged to not use this newsletter as the basis for any investment decision. BlueWave Advisors, LLC does not hold a position in the covered company.

While all information is believed to be reliable, it is not guaranteed by us to be accurate. Individuals should assume that all information contained in our newsletter is not trustworthy unless verified by their own independent research. Also, because events and circumstances frequently do not occur as expected, there will likely be differences between the any predictions and actual results. Always consult a real licensed investment professional before making any investment decision. Be extremely careful, investing in securities carries a high degree of risk; you may likely lose some or all of the investment.
---
---