Newsletter
Stocks covered:
Compensation:
Avg $ Volume for Period:
IMUN

$10000

UNKNOWN

Max Profit:

4.08 %

Gain at close:

0.00 %

*We think that this promoter is a part of a group of promoters.
Hello Class and New Students,
Our latest pick, Immunovative, Inc. (OTC:

IMUN

)

, could start soaring up the charts
today!

IMUN could provide our subscribers who act now with serious profit potential as it is
showing very bullish technicals right now but don't take our word for it.

Check out Barchart.com which shows IMUN as a "Strong Buy" right now and
StockTa.com which shows IMUN as Bullish across the board!

IMUN is Leading the Way in "Immunotherapy" - The New Frontier
of Cancer Treatment

Immunovative, Inc. is developing a new class of immunotherapy drugs designed to
harness the power of the immune system to treat cancer.

Immunotherapy is a new modality for cancer treatment, which holds great promise for
becoming a curative therapy with minimal toxicity that works together with or replaces
current treatment methods.

The human immune system is capable of seeking out and destroying cancers cells
wherever they reside in the body. Harnessing the power of the immune system may
hold one of the greatest potential for winning the battle against cancer.
IMUN and has two experimental immunotherapy products for the treatment of cancer
in clinical development, AlloStim™ and AlloVax™.
AlloVax™ is focused on brain, melanoma, head & neck cancers and child leukemia.
While it may be too early to know how successful this drug will be, but considering how
well AlloStim™ is progressing, we have every reason to believe AlloVax could be a
blockbuster too!
In yesterday's email, we highlighted how AlloStim™ has already successfully
completed Phase I/II clinical trials with 42 advanced metastatic cancer patient and we
believe is poised to be fast-tracked by the FDA to enter into Phase II/III trials!
We fully expect AlloStim™ Phase II/III trials to be very positive, which means the
stock could experience a huge jump in the same time-frame, which is the next six to
nine months!
IMUN Has Huge Potential as a Biotech Buyout Target!
Immunovative Inc. is currently trading at just 25 cents a share and when you compare
it with other biotechs dedicated to immunotherapy, it appears to be significantly
undervalued!
In fact, many biotechs that are working on immunotherapy even have any commercial
products.
Two such companies, Micro-Met and Biovex, were both acquired for $1.16 billion
and $950 million respectively, by Amgen (NASDAQ: AMGN), while their products
were still in Phase II trials!
The same thing could happen to IMUN—with, or without a buyout and here's why…
IMUN's agreement with ITL gives them 25% interest in any commercialized products.
That means if the trials are successful and the drug moves forward, they will reap the
benefits of their 25% ownership.
The market for IMUN's metastatic breast cancer therapy exceeds $2 billion in
the U.S. alone!

If IMUN captured a 50% market share, which is entirely possible because there
are currently no truly successful therapies available, the company would have
a "blockbuster" with annual sales exceeding $1 billion dollars!
If you apply a conservative 2-to-1 price-to-sales ratio to the drug's potential annual
sales-- the company's valuation is more than $2 billion and suddenly IMUN's 25%
ownership is worth something in the neighborhood of $500 million!
Considering the company's current market capitalization is about $40 million,
IMUN's stock price could skyrocket by 1,150% within months!
However, if Amgen or another major drug company likes what they see in IMUN and
AlloStim™, there could be a buy-out even sooner and possibly at a much higher price!

Even without a buyout, we believe that IMUN's shares will begin to soar when the
word gets out about AlloStim™ exciting prospects and its upcoming Phase II/III
trial!

Do not miss this amazing ground-floor opportunity to potentially see enormous profits
with IMUN!
As always, do your own research, don't chase gaps, use limit orders to enter positions,
always use stop loss orders to protect your position, and take profits when you are in
a position to do so.
The Professor Has Spoken.

Sincerely,

Penny Stock Professor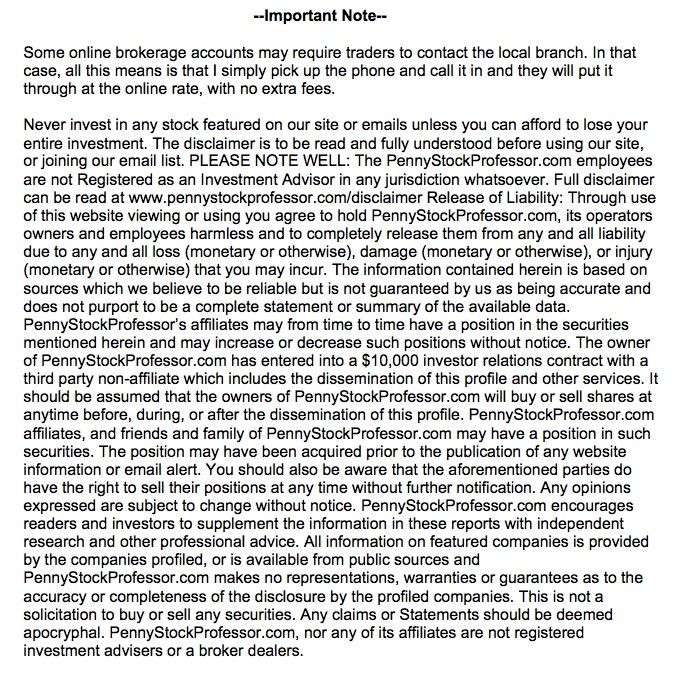 | | |
| --- | --- |
| PennyStockProfessor.com | P.O. Box 416 | Penns Park, PA 18943 | Email Marketing by |