Newsletter
Stocks covered:
Compensation:
Avg $ Volume for Period:
RMES

$24300

35456

Max Profit:

11.76 %

Gain at close:

7.84 %

July 6, 2011
Penny Stock Snapshot ....



Breaking News: Red Metal Acquires 5300-Hectare Copper Property In Chile

(OTCBB: RMES)

"Red Metal only has 16.9 million shares are outstanding (24.7 million fully diluted) and tiny market cap of just over $7 million which facilitates room for added value of each share and easy price movement with buying pressure."

Latest News Release | Quote & News



RMES Snapshot
You don't have to be an analyst to have an idea on what is going on with metals. They play such a huge role in the overall market's sentiment that they are naturally discussed every day on all forms of media. People love making predictions and while there is always some dispute as to what direction – or at least to what level - each metal will go in the future, the consensus seems to be "upward" in the long-term; continuing the bullish path that has been established over the last ten years for both precious and non-precious metals.

One country that has benefited from the growth trend of metals is Chile. The South American country has been a mining hub for literally hundreds of years. Dating back to the early 1800's foreign investors have flocked to Chile because of its prolific nature for a wide variety of metals and the extremely friendly political atmosphere towards miners. Why are gold, silver, copper, etc. so abundant in Chile? Without getting to scientific, it's simply because the country lies above the area where the Pacific plate slips under the various continental plates; something that doesn't happen in other places on the planet. As a result, the "Ring of Fire," an area responsible for volcanoes and 90 percent of all global earthquakes is also where rich mineralization occurs. These subduction zones result in near-surface porphyry deposits which are the most valuable copper deposits known to man. The copper does not stand alone in the deposits. Along with it come lesser amounts, but still extremely valuable, gold, silver, iron and molybdenum reserves to name a few. So can mining the Ring of Fire area be dangerous? Sure. But can it be exorbitantly rewarding? Most definitely.

In particular, when it comes to copper, Chile is king. The country is the world's top copper producer, has the world's largest amount of reserves and is the single-biggest exporter of the valuable metal. Annually, Chile produces a third of the world's supply and it doesn't look to be losing any ground. In fact, in January this year, Chile reported that it expects global copper output will reach 16.5 million tonnes, an increase of 345,000 tonnes over 2010. Of the 16.5 million tonnes of output, Chile expects to supply 5.7 million tonnes, up 6.4 percent from 2010. Moreover, Goldman Sachs estimates a 4.7% growth in global copper demand but only a 2.1% growth in global copper production for 2011; a fact that bodes very well for copper miners.

Looking to capitalize on all that Chile presents to miners, Red Metal Resources Ltd. (OTCBB:RMES) has uniquely positioned itself in the mineral hotspot. The Thunder Bay, Ontario-based mineral exploration company controls copper-gold projects in the prolific Candelaria Iron Oxide Copper-Gold (IOCG) belt in Chile's III Region. The IOCG belt is home to Freeport-McMoRan's Candelaria Mine, Anglo American's Mantoverde Mine, Teck's Relincho Project and Andacollo Mine and Far West's Santo Domingo deposit. Those five projects are reported to hold nearly 2.5 billion ounces in copper and copper equivalent…and they surround Red Metal's three properties.

Red Metal has a 100 percent ownership in its Farellon copper-gold property which is comprised of 1096 hectares. This advanced-stage exploration project has undergone exploration in the late 1990's with 22 reverse circulation holes totaling 3,900 metres along a 1.7 kilometer strike length and 150 meters in depth. The Non-NI 43-101 compliant valuation provided a reasonable expectation of mineralization to 500 meters in depth, 7 million tonne resource and a mine plan for 1 million tonnes per annum from an underground cut and fill operation and onsite concentration plant. Additional drilling in 2009 was highlighted by a cut of 2.57% copper and 4.16 g/t gold over 5 meters. A new NI 43-101 technical report has been completed on the project.

The Mateo copper-gold project, located just south-southeast of the Farellon project, is also 100 percent-owned by Red Metal. Spanning 2,122 hectares in the same belt and formation as Freeport McMoran's Candelaria mine, the property has an ongoing artisanal mining program and has been explored by local miner, ENAMI during 1994 through 1997. ENAMI's efforts resulted in 16,000 tonnes mined grading an average of 3.15% copper, 45.2 g/t silver and .74 g/t gold. Non-NI 43-101 compliant inferred resource by ENAMI from 1994 showed 68,000 tonnes grading 3.6% copper, 78 g/t silver and 0.7 g/t gold.

Last, but not least, Red Metal has a 100 percent ownership of its Perth project comprised of 2,283 hectares of mining and exploration claims. Similar in geology to the Farellon property, 12 veins have been identified on the surface with fault-related copper and gold bearing quartz veins crosscutting the property. The project contains a Joint Venture Earn-In Agreement with UK-based Revonergy, Inc. to sell up to 50% ownership in exchange for the completion of exploration programs costing at least $1.415 million and a preliminary feasibility study by 2015.

If anyone can bring these projects to commercialization, the Red Metal management team certainly fits the bill as their resumes read like a "Who's Who in the Mining Industry." The Red Metal CEO and VP Exploration are both Professional Geoscientists who have done substantial exploration work for Teck, Goldcorp and Placer Dome, among others. The team in Chile knows the country's landscape and business environment through years of highly-relevant experience. When reading through Red Metal management's credentials, it is apparent that the team was assembled for the very specific purpose of success in Chile. Key members of Red Metal are experienced in finance, Canadian and U.S.-listed Company posts and hold a host of experience in Chilean mining, particularly the Chile III area. These facts are often lost amongst companies that seem to put together a "hodge-podge" of a management team, but such is certainly not the case with Red Metal.

When ends come to ends, the value of a junior miner often comes down to share structure as, quite simply, a share generally won't be worth much if there are too many outstanding. In this category, once again, Red Metal is aligned for growth. Only 16.9 million shares are outstanding (24.7 million fully diluted). These figures equate to a tiny market cap of just over $7 million. Insiders apparently have a great deal of faith in the future growth of the Company as demonstrated through a 67 percent insider holding rate presently.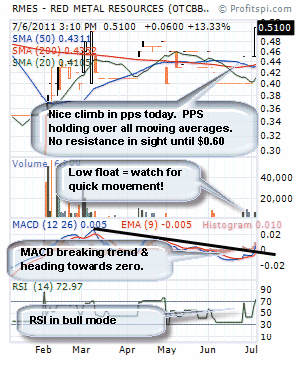 Technically speaking, the RMES stock chart is in a prime position for potential upward movement. Today's buying pushed through resistance at both 46 and 48 cents, leaving a clear path now until $0.60. Not only because of breaking through resistance was the movement substantial in the short term, but also, more importantly in the long term aspect of the chart. Support was being drawn from a static level all the way down to $0.40, but also from the moving averages in the area of 44 cents. Technically strong charts are trading above the longer moving averages (50 and 200 day simple moving averages), which the candles were flirting with before today. Now some distance is put between the price and the MA's which will allow them to start curling upward, a crucial component of uptrending stocks.
Today after the bell, the Company announced that they have signed an agreement to purchase the Veta Negra Property located in III Region Atacama, Chile.

The Veta Negra Property is 5,300 hectares (13,097 acres) in size consisting of eighteen exploration claims. Red Metal acquired a 100% interest in the eighteen exploration claims and concurrently signed an option agreement to purchase 100% of two mining claims totaling 44 hectares (108 acres) underlying the exploration claims.

Red Metal's geologists have reviewed the property and identified three mineralized mantos hosted in andesites on the property. One manto can be traced on surface for approximately 2 kilometres, a second manto for approximately 1 kilometre, and a third manto for approximately 500 metres. The mineralized mantos identified on surface are of variable widths averaging six metres with significant iron oxide, silica, epidote, chlorite and tourmaline alteration with copper mineralization comprised of chrysocolla, a copper oxide. With the announcement of this new acquisition coupled with some strong technical indicators and continued global growth demand for copper, this stock has plenty of ammunition for a possible price spike tomorrow and over the next few weeks as investors digest tonight's news and read more into this largely overlooked mining heavyweight in Chile.

Every trader knows that low float plays can sizzle with any pressure as there just aren't many shares to be had on any given day. Red Metal has its "i's dotted and t's crossed" with respect to our checklist of a value proposition. Positioned in the most prolific copper producing land in the world with a skilled management team and the funds to get it all rolling, Red Metal is hitting on all cylinders in its early stages. It is for this reason that we at AllPennyStocks.com have decided to turn our latest American spotlight on Red Metal Resources Ltd. (OTCBB:RMES) and encourage our members to perform their due diligence and add it to their watchlist.
Read the full profile on Red Metal by clicking here.
OVERVIEW
Red Metal Resources is a mineral exploration company focused on aggressive growth through acquiring, exploring and developing copper-gold assets in Chile. The Company's projects are located in the prolific Candelaria iron oxide copper-gold (IOCG) belt of Chile's coastal Cordillera, host to Freeport-McMoRan's Candelaria Mine and Anglo American's Mantoverde Mine.

Corporate Information

Exchange: OTCBB
Market Cap: 8.6 Million
Outstanding Shares: 16.9 Million
Price: $0.51
52 Week Low / High: $0.20 / $0.59
Information As Of July 6, 2011




Useful Profile Links

Company Website

Recent News & Press Releases

Forward Looking Statements

This report includes forward-looking statements that reflect Red Metal Resources Ltd. current expectations about its future results, performance, prospects and opportunities. Red Metal Resources Ltd. has tried to identify these forward-looking statements by using words and phrases such as "may," "will," "expects," "anticipates," "believes," "intends," "estimates," "plan," "should," "typical," "preliminary," "we are confident" or similar expressions. These forward-looking statements are based on information currently available and are subject to a number of risks, uncertainties and other factors that could cause Red Metal Resources Ltd.'s actual results, performance, prospects or opportunities to differ materially from those expressed in, or implied by, these forward-looking statements. These risks, uncertainties and other factors include, without limitation, the Company's growth expectations and ongoing funding requirements, and specifically, the Company's growth prospects with scalable customers, and those outlined above. Other risks include the Company's limited operating history, the Company's history of operating losses, consumers' acceptance, the Company's use of licensed technologies, risk of increased competition, the potential need for additional financing, the terms and conditions of any financing that is consummated, the limited trading market for the Company's securities, the possible volatility of the Company's stock price, the concentration of ownership, and the potential fluctuation in the Company's operating results.

Disclaimer

AllPennyStocks.com feature stock reports are intended to be stock ideas, NOT recommendations. Please do your own research before investing. It is crucial that you at least look at current SEC filings and read the latest press releases. Information contained in this report was extracted from current documents filed with the SEC, the company web site and other publicly available sources deemed reliable. For more information see our disclaimer section, a link of which can be found on our web site. This document contains forward-looking statements, particularly as related to the business plans of the Company, within the meaning of Section 27A of the Securities Act of 1933 and Sections 21E of the Securities Exchange Act of 1934, and are subject to the safe harbor created by these sections. Actual results may differ materially from the Company's expectations and estimates. This is an advertisement for Red Metal Resources Ltd. The purpose of this advertisement, like any advertising, is to provide coverage and awareness for the company. The information provided in this advertisement is not intended for distribution to, or use by, any person or entity in any jurisdiction or country where such distribution or use would be contrary to law or regulation or which would subject us to any registration requirement within such jurisdiction or country.

© 1999-2011 AllPennyStocks.com. All rights reserved. AllPennyStocks.com is not a Registered Broker/Dealer or Financial Advisor, nor do we hold ourselves out to be. All materials presented on our web site and individual reports released to the public through this web site, e-mail or any other means of transmission are not to be regarded as investment advice and are only for informative purposes. Before making a purchase or sale of any securities featured on our web site or mentioned in our reports, we strongly encourage and recommend consultation with a registered securities representative. This is not to be construed as a solicitation or recommendation to buy or sell securities. As with any stock, companies we select to profile involve a degree of investment risk and volatility. Particularly Small-Caps and OTC-BB stocks. All investors are cautioned that they may lose all or a portion of their investment if they decide to make a purchase in any of our profiled companies. Past performance of our profiled stocks is not indicative of future results. The accuracy or completeness of the information on our web site or within our reports is only as reliable as the sources they were obtained from. The profile and opinions expressed herein are expressed as of the date the profile is posted on site and are subject to change without notice. No investor should assume that reliance on the views, opinions or recommendations contained herein will produce profitable results. AllPennyStocks.com may hold positions in securities mentioned herein, and may make purchases or sales in such securities featured on our web site or within our reports. In order to be in full compliance with the Securities Act of 1933, Section 17(b), AllPennyStocks.com will disclose in it's disclaimer, what, if any compensation was received for our efforts in researching, presenting and disseminating this information to our subscriber database and featuring the report on the AllPennyStocks.com web site. AllPennyStocks.com has been compensated twenty four thousand three hundred dollars by the Company for its efforts in presenting the RMES profile on its web site and distributing it to its database of subscribers as well as other services. AllPennyStocks.com may decide to purchase or sell shares on a voluntary basis in the open market before, during or after the profiling period of this report. As of the profile date, no shares have been sold. Information presented on our web site and within our reports contain "forward looking statements" within the meaning of Section 27A of the Securities Act of 1933 and Section 21E of the Securities Exchange Act of 1934. Any statements that express or involve discussions with respect to predictions, expectations, beliefs, plans, projections, objectives, goals, assumptions or future events or performance are not statements of historical fact and may be "forward looking statements." Forward looking statements are based on expectations, estimates and projections at the time the statements are made that involve a number of risks and uncertainties which could cause actual results or events to differ materially from those presently anticipated. Forward looking statements in this action may be identified through the use of words such as "expects'", "will," "anticipates," "estimates, "believes," or that by statements indicating certain actions "may," "could," or "might" occur.

THE READER SHOULD VERIFY ALL CLAIMS AND DO THEIR OWN DUE DILIGENCE BEFORE INVESTING IN ANY SECURITIES MENTIONED. INVESTING IN SMALL CAP SECURITIES IS SPECULATIVE AND CARRIES A HIGH DEGREE OF RISK.

We encourage our readers to invest carefully and read the investor information available at the web sites of the Securities and Exchange Commission (SEC) at: http://www.sec.gov and/or the National Association of Securities Dealers (NASD) at: http://www.nasd.com. Readers can review all public filings by companies at the SEC's EDGAR page. The NASD has published information on how to invest carefully at its web site.