Newsletter
Stocks covered:
Compensation:
Avg $ Volume for Period:
BIZZ

$7500

34957

Max Profit:

2.70 %

Gain at close:

-2.70 %

July 19, 2011
Penny Stock Snapshot ....



BIZZ Aims To Becomes The Next Social Media Phenomenon

(OTCBB: BIZZ)

"Bizzingo's platform is set to be fully launched and offers its clients the new standard of social media tools. Clients will see their connections and be able to communicate with all their other social networks instantly in their Bizzingo account as well as being able to use countless features to interact with other businesses in industry-specific networks to promote, brand and market their products and services."

Latest News Release | Quote & News



BIZZ Snapshot
You don't even have to be involved in the stock market to know about Linked In (NYSE:LNKD) going public as it was all over the news on television in paper and print. For those articles that offered commentary about the popular site that was not related to the stock itself, the general purpose of the article surrounded the massive explosion of social media and the dominance that the web-based communication platform has built over the last few years. Honestly, the somewhat scary part is that social media is still relatively new and still gaining incredible amounts of steam.

Countless papers have been written by industry experts on the prowess of social media from every angle including not only simply the magnitude of use across the globe, but also offerings on how to harness the power of it to generate revenue and exposure for a person or company. Often times hailed as the "second internet," social media is a broad platform that consists of more than just Facebook, Twitter, Linked In and others of similar nature. It is a true paradigm shift in marketing that is rolling out of the train station and setting the stage for business marketing for generations to come. It is rapidly becoming the means by which businesses and organization communicate with their customers or constituencies. The extremely popular website SiteProNews authored an article in May which read "…make absolutely no mistake, Social Media, Social Networking and Social Interaction is the future of Business Marketing and should be exploited to its fullest potential."

Email still has its place, but there are some experts that are beginning to allude to email becoming passé with connections through social media –as they become even more refined and secure – as the chosen method of communication. It was three years ago that Boston College stopped issuing students university emails realizing that the students already had their own identities elsewhere for communication. Once again, social means of communication appears to be putting its thumb on traditional solutions.

As investors, we are always looking for ways to capitalize on exponential growth potential. Those that hopped-in LNKD (even in the $70's) have taken it to the bank considering it IPO'd at $45 and shot to $122.70. Shares are still holding over $100 each and heralded as possibly still undervalued. Investors are already chomping at the bit for Facebook and Groupon to go public in the near term.

It is no doubt that Facebook and Groupon will have healthy price tags the day that they hit the public and dates still haven't been released as to when exactly it will even happen. Investors looking for less-expensive plays that offer a substantial upside are turning their attention to Bizzingo, Inc. (OTCBB:BIZZ), a pure social media play that is trading for pennies on the dollar. A start-up company with a business plan that is set to capitalize on the rocket-like launch of social media, Bizzingo is taking a bit of a different approach which clearly sets it apart from any of its already limited competition. The Company is focused on creating a business-to-business social media platform which is soon to be fully-launched in the next few weeks, creating a value opportunity for those looking for a "ground floor" opportunity at under $1 per share.

Like many of its predecessors, Bizzingo connects groups of people based on their interests and social connections (clearly an effective business platform as shown through LinkedIn, Twitter, etc.), but its much, much more. Think of it as an "internet hub" for businesses as well as individuals. From a business standpoint, anyone who wants to create a business, promote and sell their brand or service signs-up with Bizzingo and then uses the platforms state-of-the-art tools to build, promote and transact business within the website. It's a simple concept, but one that has a great deal of value and draws upon the experience – but lacking capacity – of its individual based counterparts. More importantly, Bizzingo is the leader of the pack as they have the technology in place to bring it to fruition.

Moreover, Bizzingo connects automatically to all of the client's other social networks and pulls all the information and activity into one place. That is where the "hub" aspect defines itself. Communication is multi-lateral with incoming and outgoing messages all viable from one spot. Any website that provides an API key can instantly be connected with Bizzingo. This revolutionary feature pulls contacts that may be on one site or the other, but not at all places, into the Bizzingo platform instantly boosting the connections and potential for a business explosion while reducing costs as transactions are moved to an online format. To further bolster any client's ability for growth or promotion, the BIZZ platform allows companies to choose from and connect with thousands of others through specific industry networks as it delivers the most detailed business database in the world and targets Search Engine Optimization to maximize exposure for the client.

Bizzingo is hoping to replicate the incredible growth of company's such as LinkedIn which began with only $4.7 million and 4500 members. In just seven years, LinkedIn exploded into over 100 million members valued at $9 billion. This growth can be facilitated in a very organic nature as it is completely scalable, which keeps costs down for Bizzingo.

The comparison with Linked In is almost innate because of the terms "business" and "social media." A closer look at Bizzingo reveals that the two may share some similarities, but are far from competitors or replicas. In fact, Bizzingo is designed to work side-by-side with several different companies, which actually establishes it as a possible target for acquisition in the future. A more easily understood analogy would be saying that Twitter and LinkedIn are the same thing. Social Media? Yes. The same? Not by any means. Bizzingo is completely unique to itself. While still not toally accurate as Bizzingo brings in a host of new features, it would be fairer to say that it is a mix of LinkedIn, Twitter, Facebook, Ebay, Buzz Up and several other sites which are based upon web-based interaction. Plainly put, it is the next evolution.

Bizzingo has covered all the bases as it also is an e-commerce program by offering a mall-like atmosphere where retail transactions can take place; a perfect marriage of social media and sales. The platform is designed to create security and comfort for sellers to bring their brand and products before millions of potential buyers and establish themselves as a trusted source. Again, this combination of the hottest aspects of the web is completely unique to Bizzingo.

The concept and business model in one of the most lucrative industries available is obviously firmly intact. The management certainly has the credentials as well. Due diligence always entails a look at share structure and with only 73 million shares outstanding; once again, Bizzingo more than meets the standards. The miniscule float of only about 10 million leaves many investors salivating as it means the stock price can move extremely easily with even the smallest amount of buying pressure.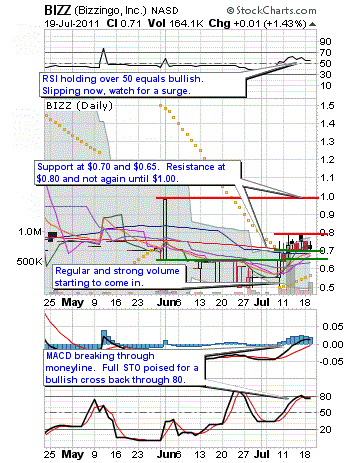 Technically speaking, the BIZZ chart is forming a flag pattern of sorts. Since the move off of 50 cents in the early part of the month, shares have been consolidating in a channel between 70 and 80 cents. Some important aspects of the chart must be noted. First and foremost, the price per share (PPS) is holding over the 50 and 200 day simple moving averages. This is widely regarded as a very bullish position. Both of those moving averages are trending sideways which lends credence to the fact that a large move may be coming to help them pick a direction.

Secondly, volume is starting to come in much more regularly now which shows that interest in Bizzingo is picking-up. A look at a two-year chart shows that as many shares of BIZZ have changed hands in the last couple weeks than did over the rest of that time frame. Volume will play a key role as the chart looks to break-out of the channel (although the channel is only about six days old). A break of $0.80 to the north side and no resistance is in sight until nearly a dollar, offering a roughly 30 percent upside to the next resistance as support sits closely to the current share value. Technical traders will be watching to see if the "buy on support" philosophy starts to be demonstrated at this point.

Our research has Bizzingo meeting standards with flying colors. There is no denying the short-term growth of companies such as Twitter ($8 billion valuation), Linked In ($9 billion valuation), Facebook ($70 billion valuation) and others nor can there be a single argument about how remarkable fast those companies have grown into their worth. With interactive marketing estimated to reach more than $54 billion in the next three years (it's approximately $34 billion presently), finding an entry-level company that could be a game changer in the industry can be a daunting task, but Bizzingo appears to fit the bill. It is for this reason, as well as the one's mentioned above, that we at AllPennyStocks.com have decided to turn our latest corporate spotlight on Bizzingo, Inc. (OTCBB:BIZZ) and encourages its members to begin their due diligence and promptly add it to their watchlists. Lastly, investors are encouraged to watch a video presentation of the benefits of BIZZ and the explosive nature of social media, the full video can be found here.
Read the full profile on Bizzingo by clicking here.
OVERVIEW
Bizzingo is a social media company that will provide businesses a means of introducing their product and/or service to a global network of business users by leveraging and expanding their brand and image, effectively communicating their marketing message to target audiences and facilitating the sale of products or services, while connecting all existing social media relationships together in a single online hub. It is being developed with the express purpose of using social networking as a utility for business to more effectively market, build customer interaction, and sell goods and services online.

Corporate Information

Exchange: OTCBB
Market Cap: 52.0 Million
Outstanding Shares: 73.2 Million
Price: $0.71
52 Week Low / High: $0.50 / $1.50
Information As Of July 19, 2011




Useful Profile Links

Company Website

Recent News & Press Releases

Forward Looking Statements

This report includes forward-looking statements that reflect Bizzingo Inc. current expectations about its future results, performance, prospects and opportunities. Bizzingo Inc. has tried to identify these forward-looking statements by using words and phrases such as "may," "will," "expects," "anticipates," "believes," "intends," "estimates," "plan," "should," "typical," "preliminary," "we are confident" or similar expressions. These forward-looking statements are based on information currently available and are subject to a number of risks, uncertainties and other factors that could cause Bizzingo Inc.'s actual results, performance, prospects or opportunities to differ materially from those expressed in, or implied by, these forward-looking statements. These risks, uncertainties and other factors include, without limitation, the Company's growth expectations and ongoing funding requirements, and specifically, the Company's growth prospects with scalable customers, and those outlined above. Other risks include the Company's limited operating history, the Company's history of operating losses, consumers' acceptance, the Company's use of licensed technologies, risk of increased competition, the potential need for additional financing, the terms and conditions of any financing that is consummated, the limited trading market for the Company's securities, the possible volatility of the Company's stock price, the concentration of ownership, and the potential fluctuation in the Company's operating results.

Disclaimer

AllPennyStocks.com feature stock reports are intended to be stock ideas, NOT recommendations. Please do your own research before investing. It is crucial that you at least look at current SEC filings and read the latest press releases. Information contained in this report was extracted from current documents filed with the SEC, the company web site and other publicly available sources deemed reliable. For more information see our disclaimer section, a link of which can be found on our web site. This document contains forward-looking statements, particularly as related to the business plans of the Company, within the meaning of Section 27A of the Securities Act of 1933 and Sections 21E of the Securities Exchange Act of 1934, and are subject to the safe harbor created by these sections. Actual results may differ materially from the Company's expectations and estimates. This is an advertisement for Bizzingo Inc. The purpose of this advertisement, like any advertising, is to provide coverage and awareness for the company. The information provided in this advertisement is not intended for distribution to, or use by, any person or entity in any jurisdiction or country where such distribution or use would be contrary to law or regulation or which would subject us to any registration requirement within such jurisdiction or country.

© 1999-2011 AllPennyStocks.com. All rights reserved. AllPennyStocks.com is not a Registered Broker/Dealer or Financial Advisor, nor do we hold ourselves out to be. All materials presented on our web site and individual reports released to the public through this web site, e-mail or any other means of transmission are not to be regarded as investment advice and are only for informative purposes. Before making a purchase or sale of any securities featured on our web site or mentioned in our reports, we strongly encourage and recommend consultation with a registered securities representative. This is not to be construed as a solicitation or recommendation to buy or sell securities. As with any stock, companies we select to profile involve a degree of investment risk and volatility. Particularly Small-Caps and OTC-BB stocks. All investors are cautioned that they may lose all or a portion of their investment if they decide to make a purchase in any of our profiled companies. Past performance of our profiled stocks is not indicative of future results. The accuracy or completeness of the information on our web site or within our reports is only as reliable as the sources they were obtained from. The profile and opinions expressed herein are expressed as of the date the profile is posted on site and are subject to change without notice. No investor should assume that reliance on the views, opinions or recommendations contained herein will produce profitable results. AllPennyStocks.com may hold positions in securities mentioned herein, and may make purchases or sales in such securities featured on our web site or within our reports. In order to be in full compliance with the Securities Act of 1933, Section 17(b), AllPennyStocks.com will disclose in it's disclaimer, what, if any compensation was received for our efforts in researching, presenting and disseminating this information to our subscriber database and featuring the report on the AllPennyStocks.com web site. AllPennyStocks.com expects to be compensated seven thousand five hundred dollars by a non-affiliated third-party, Viper Enterprises, LLC. for its efforts in presenting the BIZZ profile on its web site and distributing it to its database of subscribers as well as other services. AllPennyStocks.com may decide to purchase or sell shares on a voluntary basis in the open market before, during or after the profiling period of this report. As of the profile date, no shares have been sold. Information presented on our web site and within our reports contain "forward looking statements" within the meaning of Section 27A of the Securities Act of 1933 and Section 21E of the Securities Exchange Act of 1934. Any statements that express or involve discussions with respect to predictions, expectations, beliefs, plans, projections, objectives, goals, assumptions or future events or performance are not statements of historical fact and may be "forward looking statements." Forward looking statements are based on expectations, estimates and projections at the time the statements are made that involve a number of risks and uncertainties which could cause actual results or events to differ materially from those presently anticipated. Forward looking statements in this action may be identified through the use of words such as "expects'", "will," "anticipates," "estimates, "believes," or that by statements indicating certain actions "may," "could," or "might" occur.

THE READER SHOULD VERIFY ALL CLAIMS AND DO THEIR OWN DUE DILIGENCE BEFORE INVESTING IN ANY SECURITIES MENTIONED. INVESTING IN SMALL CAP SECURITIES IS SPECULATIVE AND CARRIES A HIGH DEGREE OF RISK.

We encourage our readers to invest carefully and read the investor information available at the web sites of the Securities and Exchange Commission (SEC) at: http://www.sec.gov and/or the National Association of Securities Dealers (NASD) at: http://www.nasd.com. Readers can review all public filings by companies at the SEC's EDGAR page. The NASD has published information on how to invest carefully at its web site.