Newsletter
Stocks covered:
Compensation:
Avg $ Volume for Period:
BCCI

Unknown compensation

UNKNOWN

Max Profit:

44.09 %

Gain at close:

38.64 %

*We think that this promoter is a part of a group of promoters.
Welcome to the #1 Rated Penny Stock Newsletter 3 Years Running
Short and sweet today......

I am sorry if you got stuck in a pot stock "halt" today. I have been warning my SuperNova Elite traders for weeks this was coming and I don't think its the last one.

While other penny stock services were scambling to find a way to save their accounts, I was busy alerting my SuperNova Elite traders to BCCI and SYN trades.

BCCI is a trade I added at $.073, then re-alerted today at $.09 which was basically the days open price.

Just before close, we are up 32% and looking for a LOT more on this trade.

Just look at this chart below; don't you want a service that gives you buy and sell alerts on trades like this one?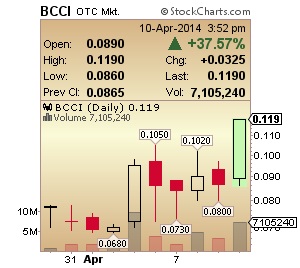 SuperNova Elite is dominating the penny stock market; stocks under $5.00 and above $.001 and it's time you started making money with us!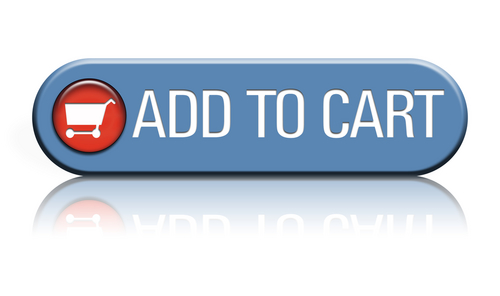 Remember, my SuperNova Elite / Combo service focuses on stocks from $.001 to $10.00 in price, is that something you would like?
Click Here Now To Upgrade Your Portfolio to SuperNova Elite Today and SAVE!
»
»
»
For less than $3 a day for a 91 day membership; SuperNova Elite provides you everything a day trader, short term trader and swing trader could ask for that loves trading stocks from $.001 to $10.00 in price.
Buy and sell text alerts

Buy and sell email alerts

A educational video library valued at $7,000 FREE with membership

Nightly video watch lists

24/7 email support

and more!!
Increase Your Portfolio by 40% with my 3-5 Alerts per week that all traders can follow via email and text.

Largest penny stock chart room on Wall Street - 600 traders daily and growing

I find the trades, make the alerts and

YOU make the profits

.

In as little as 90 days I can help turn your portfolio around by having a much better understanding of technical analysis!

Click Here To Learn more
Jeff
Neither Topstockpicks nor Patriot Publishing (publisher of TopStockPicks) is registered as an investment adviser nor a broker/dealer with either the U. S. Securities & Exchange Commission
or any state securities regulatory authority. Users of this website are advised that all information presented on this website is solely for informational purposes, is not intended to be used as a
personalized investment recommendation, and is not attuned to any specific portfolio or to any user's particular investment needs or objectives. Past performance is NOT indicative of future results. Furthermore, such information is not to be construed as an offer to sell or the solicitation of an offer to buy, nor is it to be construed as a recommendation to buy, hold or sell (short or
otherwise) any security. All users of this website must determine for themselves what specific investments to make or not make and are urged to consult with their own independent financial advisors with respect to any investment decision. All opinions, analyses and information included on this website are based on sources believed to be reliable and written in good faith, but should be independently verified, and no representation or warranty of any kind, express or implied, is made, including but not limited to any representation or warranty concerning accuracy, completeness, correctness, timeliness or appropriateness. In addition, we undertake no responsibility to notify
such opinions, analyses or information or to keep such opinions, analyses or information current. Also be aware that owners, employees and writers of and for Patriot Publishing may have long or short positions in securities that may be discussed on this website or newsletter. Trades issued to paid members are one hundred percent unbiased and TopStockPicks.com is never compensated for them.