Newsletter
Stocks covered:
Compensation:
Avg $ Volume for Period:
IMNG

$10000

UNKNOWN

Max Profit:

2.61 %

Gain at close:

0.00 %

*We think that this promoter is a part of a group of promoters.
Hello Class and New Students,

The Professor's new pick, IMNG is a technology company that looks perfectly positioned
to take a big piece of a growing multi-billion dollar market and is ready to soar this week!
iMing Corp. (OTC: IMNG) is a provider of high-definition web based television and videos
for the Chinese Market with the goal of being a leading provider of set-top boxes in Asia
before expanding into North America and Europe.

All Signs Point to a Breakout for IMNG this Week!
We'll get to the amazing potential of this company for the future in a second but first you
should be aware of 3 key indicators that IMNG is positioned to make a big run this week!
Technical analysis on iMing shows Bullish Technicals right now on
Stockta.com!

Barchart.com lists IMNG as a "Strong Buy" right now!

IMNG has doubled in one day a couple of weeks ago its price has
increased over 400% in the last 3 months!
As you can see, this is a company that you will want to research as soon as possible so
that you're ready to get in on the action starting tomorrow!
The Worldwide Market for Set Top Boxes was $8.7 billion in 2011
and is Expected to Reach more than $15 billion by 2018!
Worldwide set top box markets are poised to achieve significant growth as the next
generation TV Internet systems provide a way to improve bundled channel video services.
It's pretty easy to see why as set top boxes provide entertainment, business, educational,
and healthcare video services delivery in the home.
China is set to represent the fastest growing set top box market in the world as major
manufacturers of set top box devices have set a target of moving from terrestrial television
to digital cable transmission in China by 2015!
iMing is positioning itself to be a major participant in these growing Web TV and
Set-Top Boxes (STB) markets that supply high-definition television through the
Web to consumers across China!
How big is the Chinese market?
It is anticipated that China's Internet population will hit 718 million by 2013, which is still
just over half of the total population so it will likely still grow by hundreds of millions of
users in the coming years.
Not only that, but Chinese Internet users spent an average of 18.7 hours per week
online in 2011, demonstrating the ever increasing demand for access to on-line content
and entertainment programming from a single dedicated device.
The company plans to benefit greatly from this explosive market opportunity by offering
an affordable Set-Top Box that allows the massive Chinese consumer market to access
sports, TV shows and full length movies online through its HD set top boxes.

Even if IMNG captures a fraction of this huge Chinese market, and we believe it can
do much better than that, those who act now stand to make a killing on this stock!

And with all the technicals pointing to a breakout, there couldn't be a better time to move
on iMing than right now!

Why are we so confident that IMNG can achieve great success in this market? Because.....
iMing's Web TV HD Box is a Home entertainment Center that Does
Everything one Needs and Can Imagine for the Set Top Box Industry!
That's right, IMNG's Web TV HD Box enables you to watch over 10,000 online
HD Movies, live TV channels, pre-recorded TV programs and more with a click!
IMNG's Web TV Box brings superior quality and flexibility to consumers' home entertainment
experience and its technology enables it to strongly compete with other industry players.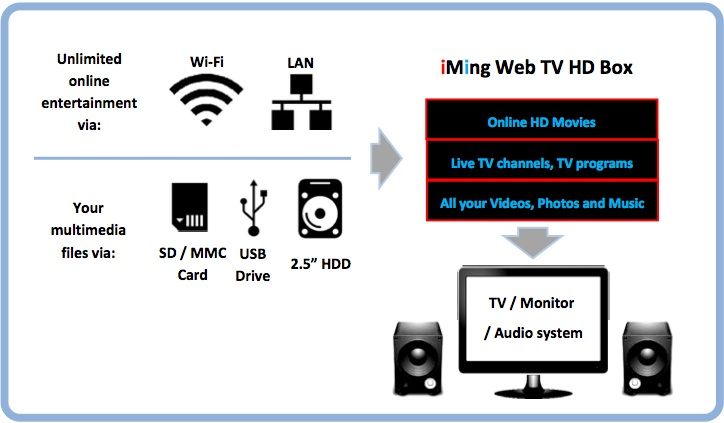 The company's HD set top box simply connects to your TV or Computer Monitor and home
AV system and through your home Wi-fi, you can enjoy unlimited numbers of HD movies,
sports, TV shows and music in its gigantic database that is constantly being updated!

What's more, the iMing Web TV HD Box is able to play all your videos, music and photos
in any format and even allows you to install a hard disk for recording and playing your files.
Do not miss this chance to cash in early on a company that could become a major
player in the biggest and fastest growing Web TV market!

We urge all of you to research this opportunity as soon as possible so you're ready to
benefit from what the technicals, past price movement and huge market potential are
telling you - IMNG is ready to fly this week!

Stay tuned for our follow-up email on iMing Corp. before the open tomorrow - don't miss it.

The Professor Has Spoken.

Sincerely,

Penny Stock Professor