Newsletter
Stocks covered:
Compensation:
Avg $ Volume for Period:
AEDC

$10000

UNKNOWN

Max Profit:

1.89 %

Gain at close:

0.00 %

*We think that this promoter is a part of a group of promoters.
Hello Class and New Students,
Our next pick is an oil and gas company with huge proven reserves that could make it the next
American oil juggernaut!
American Energy Development (OTCBB: AEDC) is an independent energy company that
engages in the acquisition, exploration and development of oil and gas properties.
Right now is the perfect time to get involved with AEDC which has shown a huge surge
in trading volume last week and today and we believe is primed to soar up the charts!
AEDC currently has several projects which are situated in close proximity to high-output producing
wells operated by some of the world's largest oil companies!

The company's holdings represent in excess of 30,000 acres of what it believes to be prime
oil and gas acreage with large prospective potential reserves!

How much oil could be in AEDC's reserves?
Just One of AEDC's Michigan Wells is Proven to Hold 8 Million Barrels of Oil!
Very few people realize that Michigan is becoming one of the US's most talked about energy
producing states that the mainland has seen in a long time.


American Energy Development's Michigan oil play is surrounded by wells drilled by giant oil companies like Chevron, ExxonMobil, BP, Marathon and others but it's AEDC's wells that
could be worth billions and provide our subscribers with a tremendous profit opportunity now!
Though literally surrounded by wells drilled by these oil majors, AEDC has claimed a prized spot
over an oil and gas discovery that the USGS reports to be holding over 1.8 billion barrels of oil and
more thant 17 trillion cubic feet of natural gas!
AEDC's massive 5,543 acre holding in Michigan's oil belt could be one of the most prolific oil plays
in decades! How prolific?


The company's Dansville project Michigan has proven reserves of 8 million barrels of oil!
At today's prices, this property's oil reserves could be worth upwards of $800 Million!
These proven reserves are on just one well and with plans to drill more, AEDC could be a billion
dollar company by summer!
In fact, the company just announced the arrival of a drilling rig and spud date for a new well on its
Dansville project.
Silurian-Niagaran Reefs in Michigan have produced a total of 472 million barrels oil and 2.8
trillion cubic feet of natural gas with American Energy Development's acreage found in the
midst of a proven oil bearing reef belt which encircles the entire Michigan Basin!
Read the Full Press Release Here!

With such reserve potential and trading around $1.00 per share right now, this Jr. oil company could be set for a huge run up the charts for those who act now before the rest of the street
gets wind of this gem!
The following map shows that AEDC's Dansville project is located dead center in the middle of this
Michigan energy bonanza!
AEDC's Property in the UK has Potential Production of 615 Million Barrels of Oil!
As if AEDC's huge oil and gas play in Michigan isn't enough to get you excited about the company
right now, this is not the only place where the company holds property surrounded by oil and gas giants with huge potential for hundreds of millions of barrels of oil!
Nestled in the hills in Southen England, AEDC has acquired the Windsor Prospect, a 24,700 acre property holding in a vaunted oil zone that holds a potential 615 Million barrels of oil!
The Windsor Prospect is located amongst sizeable UK onshore fields such as BP's 500 million barrel Wytch farm oil field, Europe's largest onshore oil and gas field.

The property is also located in geological formations and structures that extend in from the 30
billion barrel North Sea which is occupied by Exxon Mobil, Royal Dutch Shell, BP and the BG
Group.

For years, these majors have been content drilling in the North Sea, and getting rich from their efforts, but it's getting more expensive to drill in those deep waters.
Forcing many to abandon their ocean efforts and move inland (closer to AEDC) where drilling is not only easier, but cheaper as well.

AEDC's Windsor Prospect is starting to be surrounded by many of the same majors as their Michigan project - giving them a head start over them in this potential play for 615 million barrels
of oil!
It's rare to find a company that can give two seismic imagery proven area plays in two different continents which makes AEDC such a great opportunity!
If AEDC is Bought by a Major - Early Shareholders will Reap the Rewards!


We believe that it is just a matter of time until a major or junior oil company wants to make an offer to purchase AEDC, potentially starting a bidding war that could immediately send its shares through the roof!
Being a potential buyout target is a huge perk of AEDC sharing property explored by giant oil companies like Chevron, Exxon Mobil, BP, Marathon and more on two different continents!


The question is: which one of these companies would strike first on AEDC?
Let's say that AEDC's next wells produce real gushers - and there's 80% accurate 3D seismic imagery that says they will - who do you think will hear about this news first?
Of course, the company's management with over 95 years of combined experience working with and for companies like Shell, Mobil, Amoco and Chevron, would get the first reports.
But it won't take long until the management of Chevron, Exxon Mobil, BP or Marathon hear about it - and we're betting that it wouldn't be long after that until one of these giants decides they want AEDC's oil fields for themselves!
And if not the giants of the oil industry, what about the smaller companies that could grab American Energy Development?
$16 Billion Continental Resources (CLR) is always on the lookout for new prospects - and AEDC is priced perfectly for this company to swoop in and steal them from right under the majors' noses.
You do not want to miss this opportunity to get involved with an oil Jr. that has such large proven
reserves and could skyrocket from oil production, a buyout or both!
Perform your research right away on AEDC and be ready to act on this prolific oil play now!
The company's website is www.aed-corp.com.
Stay tuned for our second email on AEDC coming tomorrow morning before the market!
The Professor Has Spoken.

Sincerely,

Penny Stock Professor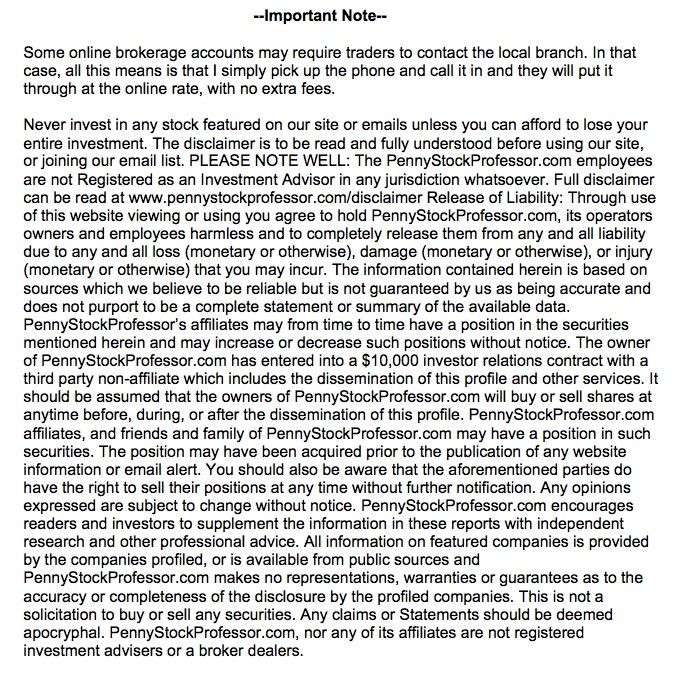 This message was sent to xxxxxx@gmail.com from:

PennyStockProfessor.com | P.O. Box 416 | Penns Park, PA 18943

Email Marketing by