Newsletter
Stocks covered:
Compensation:
Avg $ Volume for Period:
AMEL

$6500

140852

Max Profit:

27.27 %

Gain at close:

15.45 %

January 10, 2012
Penny Stock Profile ....



Amerilithium Corp.

(OTCBB: AMEL)

For complete profile, CLICK HERE.

"As Lithium demand continues to grow, supply cannot keep up with demand. There is limited competition in the States, with AmeriLithium already emerging as one of the largest landholders of lithium properties."

Company Profile | Quote & News



AMEL Profile
Our dependence in the United States on foreign oil has reached epidemic levels. "Epidemic" may seem like a harsh word, but a closer look at just how severely addicted we are to the black gold reveals the fairness of the term and commands a need to implement changes to alternative fuels for transportation.

As the world's largest economy, the U.S. still only has less than five percent of the world's population, but consumes a whopping 20 percent of the world's oil each year. Making matters worse, only 40 percent of that oil is produced domestically; meaning that we import more than $600 billion worth of oil each year. In 2008, that was more than the entire defense budget and roughly twice the amount of growth for the nation's Gross Domestic Product.

Moreover, oil plays a major role as one of the world's leading causes of pollution. Unfortunately, oil pollutes from multiple angles. The transportation of oil is the number one cause of air pollution in urban areas. But, once it gets to its destination and is used for gasoline, it pollutes even more as gasoline-powered vehicles are amongst the leading contributors to greenhouse gas emissions each year. With all of the awareness about pollution and our country operating in a much "greener" manner, there is clearly a need to diversify into alternate fuels for many reasons.

Luckily, there are many solutions already in place. It's just a matter of time and ongoing initiatives to grow the new technologies into the multi-billion dollar industries that they will one day become. In 2010, the U.S. launched "America's Next Top Energy Innovator Challenge," an initiative to encourage commercial production of new technologies. More than 40 companies have already signed option agreements to license the new technologies. The Obama administration has introduced $5 billion in funding and incentives for the development of a secure, domestic battery industry with special focus on Lithium-ion batteries.

The Lithium battery industry should see a massive expansion as electric vehicles continue to burgeon and head towards mainstream manufacturing. Across the globe, governments are showing a strong commitment to clean energy initiatives by establishing policies and budgeting for research and development in Lithium battery technologies. An already growing industry, non-linear growth is anticipated in the next few years. Companies such as Vorbeck Materials are taking Lithium ion batteries to the next level to enhance performance. Vorbeck's proprietary technologies for Lithium air and Lithium sulfur batteries are expected to double Lithium battery electric storage capacity and bolster cycle life.

With established technologies already in use and new technologies on the horizon, the future for Lithium miners is looking very optimistic as there is limited competition to meet demand. In fact, most experts believe that Lithium production will not be able to maintain demand in the near term.

This bodes well for Amerilithium Corp. (OTCBB:AMEL), a Nevada-based mining company committed to progressively developing into one of the leading American players in the global Lithium industry. AmeriLithium has amassed a Lithium portfolio consisting of more than 700,000 acres, including four Nevada -based projects nearby the only Lithium producing plant in the US, a large project in Alberta, Canada, and a project in Western Australia. With over 700,000 acres of Lithium-rich properties, AmeriLithium is already one of the largest Lithium players in the United States.

AmeriLithium has positioned itself to fulfill a large portion of Lithium demand in the future. As the electric vehicle market builds towards commercialization, Lithium demand is high in other areas already which will further fuel demand for the company's Lithium. Lithium use in batteries alone represented 20 percent of total Lithium consumption in 2009 (up more than 6% from 2000).

To rapidly move towards production, AmeriLithium is focusing its efforts on exploring Lithium brine properties. Brines have a shorter time to production and are widely recognized as a lower-cost, more energy efficient and eco-friendly source of extraction than hard rock Lithium mining.

Initially, AmeriLithium is concentrating its exploration efforts in Nevada, an area that has proven to contain large Lithium brine reserves. The Nevada projects include:

PAYMASTER: 5,880-acre claim block adjacent to the Clayton Valley playa, where Lithium-rich brines and evaporates have been accumulating for more than 30,000 years, resulting in the highest Lithium content found in any brines tested by the US Geological Survey (USGS) in southwestern US playas and basins. Clayton Valley is home to the only US-based Lithium producing plant, operated by neighboring Chemetall Foote Corporation, a subsidiary of Rockwood Holdings, Inc. The plant has been in production since 1967, producing an estimated 40 million kg (44,000+ tons) of Lithium to date from the region's rich brines.

CLAYTON DEEP: AmeriLithium owns 100% of the 5,280-acre (8.25 square mile) Clayton Deep Lithium brine project assets, covering the entire Southwest Gravity Low in Clayton Valley. The Clayton Deep project's placer claims lie less than 10 miles southwest of the Chemetall Lithium producing plant.

FULL MONTY: 5,300-acre block (8.25 square miles) of federal placer mining claims in Nye County, Nevada , 25 miles north of Clayton Valley's prime Lithium-mining region. The project covers the gravity low of the intersection of the Montezuma Trough (gravity) lineament with the Big Smoky Valley lineament. Gravity lows such as the Full Monty Gravity Low are thought to be traps for Lithium-bearing groundwater.

JACKSON WASH: AmeriLithium has a 100% interest in the Jackson Wash Lithium brine project in Esmeralda County, Nevada. The project's 65 placer mining claims total 2,450 acres (3.83 square miles), covering the center of an identified gravity low to the east of Nevada 's Lithium-producing Clayton Valley. The project lies to the immediate east of the Montezuma Range; to the immediate west of the range lies the Clayton Valley playa.

The company has completed two stages of geophysical exploration on all four of the Nevada projects with preliminary findings suggesting good potential for Lithium resources on all. The Company's management is comprised of industry professionals with extensive experience in the identification, exploration and development of properties and is aided by a highly-experienced advisory board. Matthew Worrall sits as AmeriLithium's Chief Executive Officer and President. He has a wealth of financial and management expertise, including leading a maritime company from a fledgling into one of the largest and most successful businesses of its kind. Robert Allender serves as the company's VP of Exploration and Chief Geologist. Mr. Allender has in excess of three decades of experience in mineral exploration, development and mining industries. He has been responsible for the discovery of several highly significant sites in both the U.S. and Africa, including the nine million ounce Miller's corner silver deposit in Nevada.

The share structure for AMEL is positioned to facilitate growth for the company. Fully diluted, the company only has about 75 million shares outstanding, leaving only 54 million in the float. While many miners decimate their capital structure during development, AmeriLithium still has theirs completely intact for the future.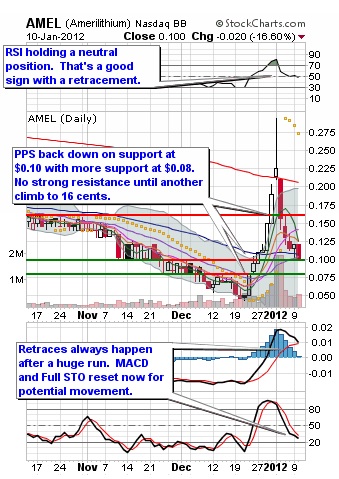 Technically speaking, the AMEL chart is having a strong pullback after a monster move when shares ran from under a nickel to nearly 30 cents. As often happens, the stock price has retraced to support levels as traders secured profits from the big move. Volume has been contracting, which may be a sign that the selling pressure is coming to a close, which will have the attention of the many traders who played the run the first time around. As such, technical traders will be watching for volume to rise again and for the first level of support at a dime to continue to hold, indicating that people see it as a buying opportunity based on the commonly-used adage of "buy on support." Should the dime mark fail, additional support comes into play at 8 cents.

To the upside, there will be some secondary resistance at 12.5 cents, which will represent a 25 percent move from today's closing price, but the main resistance won't factor into the technicals of the chart until the area of 16 cents, leaving plenty of headroom for share appreciation before that level is met. Panning out to view a larger chart will reveal more resistance at a clean double to 20 cents and top-end resistance comes at the old highs of 29.5 cents.

The Company announced news after the bell on January 10th, discussing positive results from their 2nd stage controlled source audio magneto-telluric (CSAMT) survey on the Company's Clayton Deep lithium project. The press release is quite technical, but in layman's terms, the Company has just announced positive results from their latest survey to evaluate the prospects of lithium-bearing brine on the Company's Clayton Deep lithium project. The results indicated what could be lithium brines below the surface within the Company's claim block, however further testing needs to be done to prove their results. This is a big first step, and one that may excite some bottom picking investors as the stock has been on a wild roller coaster ride and now finds itself down significantly after the last stock price rally over the holidays. To read the Company's press release, click here.

The Moving Average Convergence/Divergence and the commonly used Full Stochastics indicators are retracing as well from the run. A breather is not only common after that type of movement, but also required for the chart to reset itself from exaggerated levels. That being said, the MACD and Full STO have retraced from highs and aligned again for possible movement. The Relative Strength Index, a measure of momentum in a chart, has also regressed back to modest levels and is holding a relatively neutral reading right around 50. Given the size of the retracement in the price per share, the RSI holding neutral levels could be viewed as a positive indication of momentum trying to remain in the play. Assessing a chart after a large move is subject to interpretation, but certain key components are always true. If support stays intact on an increase in volume, the trend and momentum indicators will quickly turn again and resume bullish positions, so technical traders will have a close eye on those things to happen. As always, this is only AllPennyStocks.com's assessment of the AMEL technical chart and we strongly encourage all investors to perform their own due diligence and consult with a financial advisor prior to making any trades.

As the hybrid/electric automotive market is projected to reach $337 million in 2012 and $1.6 billion in 2015, AmeriLithium plans to be thriving with its host of properties worldwide. It is really a product of riches as the company should be hitting production as Lithium demand starts ratcheting upward in the next few years. Shares have dipped to all-time lows, offering a significant opportunity for entry level positions, which seems to be happening as the latest news and depressed share value has produced a bounce off the bottom. It is for these reasons, as well as the ones mentioned, that we have chosen AmeriLithium Corp. (OTCBB:AMEL) as our latest U.S. corporate spotlight and encourage our members to immediately begin their due diligence and add it to their watchlists.

As always, more information on the Company can be found on AllPennyStocks.com, or by clicking here.
INVESTMENT HIGHLIGHTS
Burgeoning Industry. Lithium demand continues to escalate year over year, even during the financial meltdown in 2008. The United States' addiction to oil is constantly in focus and the subject of initiatives to support development of alternative fuels, including Lithium-ion battery powered cars.
Large Portfolio. With aggressive acquisitions, AmeriLithium has amassed a portfolio that rivals majors in the industry. The company controls more than 700,000 acres of properties in Nevada, Canada and Australia.
Early Exploration Complete. Recently, both stages of the companies geophysical exploration program on all four of Amerilithium's Nevada projects have been completed with preliminary findings suggesting good potential for Lithium resources on each.
Strong Leadership. AmeriLithium has a CEO with proven success in building a fledgling into one of the largest companies in its field and other team members with extensive experience in the mining industry. Their Chief Geologist was responsible for the nine million ounce Miller's corner silver deposit find in Nevada.
OVERVIEW
AmeriLithium is a publicly traded, mining company committed to progressively developing into one of the leading American players in the global Lithium industry. The Company is headquartered in Henderson, NV. AmeriLithium has amassed a Lithium portfolio consisting of ~727,319 acres, including four Nevada-based projects nearby the only Lithium producing plant in the US, a large project in Alberta, Canada, and a project in Western Australia.

Corporate Information

Exchange: OTCBB
Market Cap: 7.5 Million
Outstanding Shares: 75.0 Million
Price: $0.10
52 Week Low / High: $0.044 / $0.57
Information As Of January 10, 2012




Useful Profile Links

Corporate Write-Up

Recent News & Press Releases

Management Team

Contact Information




Forward Looking Statements

This report includes forward-looking statements that reflect Amerilithium Corp. current expectations about its future results, performance, prospects and opportunities. Amerilithium Corp. has tried to identify these forward-looking statements by using words and phrases such as "may," "will," "expects," "anticipates," "believes," "intends," "estimates," "plan," "should," "typical," "preliminary," "we are confident" or similar expressions. These forward-looking statements are based on information currently available and are subject to a number of risks, uncertainties and other factors that could cause Amerilithium Corp.'s actual results, performance, prospects or opportunities to differ materially from those expressed in, or implied by, these forward-looking statements. These risks, uncertainties and other factors include, without limitation, the Company's growth expectations and ongoing funding requirements, and specifically, the Company's growth prospects with scalable customers, and those outlined above. Other risks include the Company's limited operating history, the Company's history of operating losses, consumers' acceptance, the Company's use of licensed technologies, risk of increased competition, the potential need for additional financing, the terms and conditions of any financing that is consummated, the limited trading market for the Company's securities, the possible volatility of the Company's stock price, the concentration of ownership, and the potential fluctuation in the Company's operating results.

Disclaimer

AllPennyStocks.com feature stock reports are intended to be stock ideas, NOT recommendations. Please do your own research before investing. It is crucial that you at least look at current SEC filings and read the latest press releases. Information contained in this report was extracted from current documents filed with the SEC, the company web site and other publicly available sources deemed reliable. For more information see our disclaimer section, a link of which can be found on our web site. This document contains forward-looking statements, particularly as related to the business plans of the Company, within the meaning of Section 27A of the Securities Act of 1933 and Sections 21E of the Securities Exchange Act of 1934, and are subject to the safe harbor created by these sections. Actual results may differ materially from the Company's expectations and estimates. This is an advertisement for Amerilithium Corp. The purpose of this advertisement, like any advertising, is to provide coverage and awareness for the company. The information provided in this advertisement is not intended for distribution to, or use by, any person or entity in any jurisdiction or country where such distribution or use would be contrary to law or regulation or which would subject us to any registration requirement within such jurisdiction or country.

© 1999-2012 AllPennyStocks.com. All rights reserved. AllPennyStocks.com is not a Registered Broker/Dealer or Financial Advisor, nor do we hold ourselves out to be. All materials presented on our web site and individual reports released to the public through this web site, e-mail or any other means of transmission are not to be regarded as investment advice and are only for informative purposes. Before making a purchase or sale of any securities featured on our web site or mentioned in our reports, we strongly encourage and recommend consultation with a registered securities representative. This is not to be construed as a solicitation or recommendation to buy or sell securities. As with any stock, companies we select to profile involve a degree of investment risk and volatility. Particularly Small-Caps and OTC-BB stocks. All investors are cautioned that they may lose all or a portion of their investment if they decide to make a purchase in any of our profiled companies. Past performance of our profiled stocks is not indicative of future results. The accuracy or completeness of the information on our web site or within our reports is only as reliable as the sources they were obtained from. The profile and opinions expressed herein are expressed as of the date the profile is posted on site and are subject to change without notice. No investor should assume that reliance on the views, opinions or recommendations contained herein will produce profitable results. AllPennyStocks.com may hold positions in securities mentioned herein, and may make purchases or sales in such securities featured on our web site or within our reports. In order to be in full compliance with the Securities Act of 1933, Section 17(b), AllPennyStocks.com will disclose in it's disclaimer, what, if any compensation was received for our efforts in researching, presenting and disseminating this information to our subscriber database and featuring the report on the AllPennyStocks.com web site. AllPennyStocks.com has been compensated six thousand five hundred dollars by a non-affiliated third-party, SmallCapVoice.com for its efforts in presenting the AMEL profile on its web site and distributing it to its database of subscribers as well as other services. AllPennyStocks.com may decide to purchase or sell shares on a voluntary basis in the open market before, during or after the profiling period of this report. As of the profile date, no shares have been sold. Information presented on our web site and within our reports contain "forward looking statements" within the meaning of Section 27A of the Securities Act of 1933 and Section 21E of the Securities Exchange Act of 1934. Any statements that express or involve discussions with respect to predictions, expectations, beliefs, plans, projections, objectives, goals, assumptions or future events or performance are not statements of historical fact and may be "forward looking statements." Forward looking statements are based on expectations, estimates and projections at the time the statements are made that involve a number of risks and uncertainties which could cause actual results or events to differ materially from those presently anticipated. Forward looking statements in this action may be identified through the use of words such as "expects'", "will," "anticipates," "estimates, "believes," or that by statements indicating certain actions "may," "could," or "might" occur.

THE READER SHOULD VERIFY ALL CLAIMS AND DO THEIR OWN DUE DILIGENCE BEFORE INVESTING IN ANY SECURITIES MENTIONED. INVESTING IN SMALL CAP SECURITIES IS SPECULATIVE AND CARRIES A HIGH DEGREE OF RISK.

We encourage our readers to invest carefully and read the investor information available at the web sites of the Securities and Exchange Commission (SEC) at: http://www.sec.gov and/or the National Association of Securities Dealers (NASD) at: http://www.nasd.com. Readers can review all public filings by companies at the SEC's EDGAR page. The NASD has published information on how to invest carefully at its web site.