Newsletter
Stocks covered:
Compensation:
Avg $ Volume for Period:
PRZCF

$24500

UNKNOWN

Max Profit:

Pending

Gain at close:

Pending

October 4, 2011
Penny Stock Profile ....



Greenlight Resources Inc.

(TSX-Venture: GR)

For complete profile, CLICK HERE.

"GreenLight Resources, Inc. is focused on mineral exploration in Atlantic Canada with a robust portfolio containing a wide array of mineral properties including gold, silver, rare earth elements, graphite and lithium."

Company Profile | Quote & News



V.GR PROFILE
Finding valuable minerals, whether it's highly-touted gold and silver or rare earth minerals that are still very valuable, but not quite as glamorous, is one thing, but finding them in a mining-friendly portion of the world is another. The Frasier Institute is widely regarded as the foremost expert on grading regions and creating a report card as to the attractiveness of governments and their mining policies. Called the "Policy Potential Index (PPI)," the Frasier Institute's grading scale is a key index for mining investors and corporations in evaluating mining properties and their path to production.

The Index ranks jurisdictions on a series of questions covering a broad spectrum of mining influences from taxation to socioeconomic conditions to political climate and back again under the basic premise of "encourages investment." Canada is a particular standout in the Frasier Institute's PPI, holding 8 of the top 23 spots worldwide, including Newfoundland and Labrador, New Brunswick, Nova Scotia, Alberta, Quebec, Manitoba, Ontario and Saskatchewan.

A company smack in the middle of those high-ranking Canadian mining areas is GreenLight Resources Inc. (TSX-Venture:GR), a burgeoning mineral explorer with a complete focus on the prolific nature for a wide array of minerals in Atlantic Canada with a particular concentration in New Brunswick and Nova Scotia. The company holds six different properties in its portfolio with the Keymet Property (Silver and Base Metals), Porcupine Property (Rare Earth Elements and Base Metals), Tomahawk Property (Manganese) and Golden Grove (Graphite) in New Brunswick. Nova Scotia is home to its Kemptville Property (Gold) and Brazil Lake Property (Lithium and Rare Metals).

GreenLight's holdings cover the whole gamut of valuable minerals in world-class deposits with each property containing an enormous amount of potential in the mid and long-terms. Gold and silver, of course, are a primary focus every day in the investment world as the precious metals have been on a searing upward ride for years now with a "the sky is the limit" price tag put to them by many analysts. Continuing work by Ayarco Gold from 2005, GreenLight has commenced testing bulk till samples for potential economic quantities of placer gold at its Kemptville gold property. The head grades from the 2005 tests rivaled most placer mining in the Yukon. In August, a nine hole, 2,322 meter diamond drill program was completed at Kemptville which showed a cut of 1.6 meters intersecting a stellar 60 grams of gold. The company is currently working at identifying additional drill targets which it plans to drill shortly.

Regarding silver, the Keymet property is of particular interest. The 6,400-acre property hosts (and got its name from) a past producing mine that stopped production in the 1956 after a fire destroyed the mine buildings. Assays from surface exposure have shown high volumes of minerals in a 6.7 meters wide quartz-carbonate-sulphide vein including 4.2 meters of 8.48% lead, 10.99% zinc, and 2.96 ounces per ton (opt) silver. In only two years of production before the fire, a 366 meter shaft was sunk and 56,000 tons of ore were removed containing 0.25% copper, 2.44% lead, 2.59% zinc and 0.99 opt silver. In addition to that vein, there is strong evidence that a series of three or four parallel vein systems occur on the property as several drill holes have been drilled outside of the mine area showing strikes up to 1.2 meters of 15.9% copper, 0.91% lead, 9.95% zinc and 30.91 opt silver, clearly there is still lots to uncover on this past producing property.

Given the data collected and the past producing mine, coupled with neighbors Puma Exploration's Nicholas-Denys (cuts up to 106 grams per tonne silver) property and Castle Resources' Elmtree gold property (525,000 indicated tonnes grading 2.45 g/t gold) surrounding the Keymet project, GreenLight appears to have a very valuable property in its control.

While those five properties have incredible potential, GreenLight also has another true gem in its portfolio, its Brazil Lake Lithium and Rare Metal property. Comprised of 14 square kilometers, the property hosts several pegmatites which drilling has shown parallels or even outstrips the results shown by Canadian Lithium's prolific Quebec Lithium project with 20,935,000 inferred tonnes grading 1.15% Li2O. GreenLight has spent the summer determining more spodumene-bearing pegmatite dikes with future drilling anticipated to validate large reserves of both lithium and rare earth oxides.

Lithium demand is anticipated to soar in the future as a result of not only demand in the ever-growing electronics industry, but - as mentioned regarding graphite - the expansive growth that is expected in the electronic vehicle industry. Estimates by leading researcher signumBOX places 16 million electric and hybrid vehicles on the roads in 2025, utilizing 181,000 tonnes of lithium carbonate in batteries; a 34 percent increase over forecasted lithium demands this year. Lithium is currently bringing approximately $6,000 per tonne.

Now, as if this Company didn't already have plenty going for it, here is one more game changer. In addition to its properties, GreenLight has been advancing a technology that addresses the extraction and processing of ore from its Brazil Lake project. This technology is currently being independently bench tested, by Dr. Ian Flint a qualified person under 43-101, outside of Halifax to verify its process and his report just came out after the bell on October 4th, 2011, but more on that below. The process in theory, uses heat pressure and chlorination in a controlled environment to extract each element separately, whether that be lithium or any of the other rare metals associated in the Brazil Lake deposit, they are removed as a gas and then re-crystallized in their purist form. The technology can have several industry benefits, including minimizing waste products and replacing conventional hydrometallurgical processes which are expensive and environmentally unfriendly.

Going back to the recently announced report on the patented Silchlor Cyclic Vacuum Chlorination Process technology, the Company just announced news after the bell that may spark additional interest in V.GR as the Company stated in today's announcement that "tests have been completed to confirm the validity of the Silchlor chlorination process in extracting economic minerals from the Company's Brazil Lake lithium concentrate material. The patented Silchlor Cyclic Vacuum Chlorination Process technology assessment report verifying the process was completed by an independent qualified person. Greenlight retained Dr. Ian Flint of Halifax, NS to independently confirm if this technology could be applied to the extraction of economic minerals from the Brazil Lake Lithium and rare metal project."

This could prove to be a game changer as this technology can be used by not only GreenLight but by many other mining Companies around the world. The press release goes on to say that "confirmation tests were successfully conducted for the digestion of the lithium pyroxene concentrate from the Brazil Lake deposit. The iron, aluminum and lithium chloride products where produced under the test conditions claimed by Silchlor. These products can be converted to oxides or carbonates if required by known chemical processes. The process also shows promise for the purification of tantalum, niobium and rubidium. The next stage of development will be the modification of the vessel design to allow the testing of larger samples in preparation for pilot plant work."

AllPennyStocks.com contacted Dr. Ian Flint after this announcement and inquired about Beryllium processing, as that was not mentioned in the PR. Beryllium, used in the aerospace industry, the nuclear industry and for countless military applications is in great demand and hard to process, all while rising in value dramatically. GreenLight has recently discovered new targets at their Brazil Lake Property which among other elements, have a high concentration of Beryllium. Even though there is no broad commodity market that sets the price of beryllium, pricing is usually set between the mine and the production facility based on the usual factors of supply and demand. The (USGS) United States Geological Survey estimates the average annual price per pound of contained beryllium was US$230 per pound in 2010, up from US$154 in 2009. GreenLight may be on the cusp of a significant Beryllium discovery at Brazil Lake, which could prove very lucrative. However up until now, the only downside to Beryllium was that it was extremely difficult and medically dangerous to process, but that has changed with this technology. Dr. Ian Flint stated when asked about whether this technology can process Beryllium in a safe and environmentally friendly way like other minerals, his response was, "it's potentially plausible to process Beryllium, but that further tests would need to be made to be absolutely certain." We liked what we heard there, so didn't push him on elaborating any more than he did.

Prolific properties are just a piece of land without the proper team to develop them. Led by President and CEO Christopher R. Anderson and Director J. Paul Sorbara, M.Sc., P.Geo, GreenLight has the human capital, a highly-experienced team built of mine finders, prospectors and geologists that live, eat, sleep and breathe Atlantic Canada mineral exploration. Because of their proactive approach to exploration and strength of their team - from the top execs to the boots and hammers on the ground - GreenLight offers a tremendous competitive advantage when it comes to exploration in Atlantic Canada, an area mineral rich which hosts world class deposits and many producers past and present.

The numbers behind the Company point towards a solid upside. Outstanding shares only tally about 27 million with a similar sized float, providing enough shares for liquidity, but still support a rise in value as the market cap at this point is a miniscule $3.6 million, almost hard to believe with all the potential and properties that the Company has in such strategically important mining areas.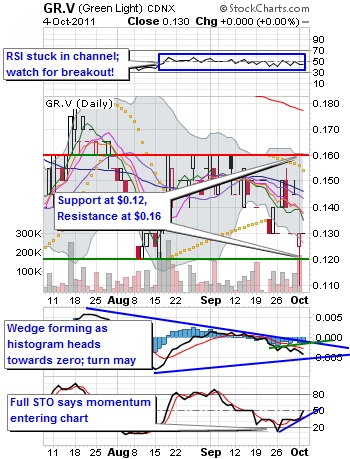 Technically speaking, the GreenLight stock chart may be offering a prime opportunity. Gapping down on Monday as the general markets fell apart for yet another day, buying pressure came back into the stock with a solid support level at 12 cents holding with a closing price of 13 cents. Today, the stock held firm at those levels as selling indecision seemed to reign supreme. These facts, coupled with some indecisive indicators may offer a substantial upside to the chart as the "buy on support" philosophy could be put into effect by technical traders.

The indicators are somewhat indecisive at this point when taking a mid-term look. The Relative Strength Index (RSI) is still hovering around 50, a classic sign of the bulls and bears fighting for momentum. The RSI does get support of upward potential from the Full Stochastics as it has been churning out of oversold territory for more than a week, showing that positive momentum is entering the stock. The Moving Average Convergence/Divergence shows a three-month wedge that appears to be forming as the histogram is moving back towards zero, a sign of a potential bullish cross. These indicators, coupled with resistance not entering the picture until secondary levels at 14 cents, but more significant levels at 16 cents will have the eyes of those that trade on technical as a more than 20 percent short-term upside is possible.

What needs to also be remembered is that news almost always trumps technicals, so GreenLight's positive announcement after the bell today could very well be the catalyst for some price appreciation on its own. With support hovering around $0.12 currently, stop losses just below that level would make a lot of sense in case of wild swings in the wrong direction. As we always mention at this point, these are merely the interpretations of AllPennyStocks.com. We encourage all investors to do their own due diligence and consult with a financial advisor prior to making any investment decisions.

Focused in an area with a rich history of producing mines and a safe, sovereign political environment that facilitates low-cost exploration through a strong infrastructure, GreenLight is an aggressive miner that looks poised to move. The phrase, "all the ducks are in a row" certainly seems appropriate as the investment checklist shows a solid portfolio, solid management and straight capital structure. It is for these reasons, as well as the ones mentioned above, that we have decided to turn our next Canadian spotlight on GreeLight Resources Inc. (TSX-Venture:GR) and encourage our members to begin their due diligence and add it to their watchlists.
As always, more information on Greenlight Resources Inc., (TSX-Venture:GR) can be found by going to the full Greenlight profile at AllPennyStocks.com or by clicking here.
INVESTMENT HIGHLIGHTS
Friendly Mining Area. The Frasier Institute's Policy Potential Index ranks regions through a variety of mining influences that makes the region "friendly for miners." Regions in Canada hold 8 of the top 23 positions, including Atlantic Canada's Nova Scotia, Newfoundland/Labrador and New Brunswick.
Revolutionary Technology. In addition to its prolific properties, GreenLight is in a joint venture with regards to it Brazil Lake project to develop the "Silchlor Cyclic Vacuum Chlorination Process" which boasts a series of benefits which can change the landscape of processing specific minerals.
Stellar Team. Led by highly experience geologists, GreenLight's unique approach to exploration has attracted a team that from top to bottom is devoted to aggressively explore the Atlantic Canada region.
Tight Capital Structure. GreenLight Resources has approximately 27 million shares outstanding and a similar float and a market cap of less than $4 million, facts that facilitate upward movement.
OVERVIEW
GreenLight is focusing its exploration efforts in Atlantic Canada, which is a sovereign risk free, resource rich domain. The company is aggressively advancing several projects addressing commodities such as Lithium, Graphite, REE's, Rare metals and Precious metals.

Corporate Information

Exchange: TSX-Venture
Market Cap: 3.6 Million
Outstanding Shares: 27.3 Million
Price: $0.13
52 Week Low / High: $0.11 / $0.285
Information As Of October 4, 2011




Useful Profile Links

Corporate Information

Recent News & Press Releases

Management Team

Contact Information




Forward Looking Statements

This report includes forward-looking statements that reflect Greenlight Resources Inc. current expectations about its future results, performance, prospects and opportunities. Greenlight Resources Inc. has tried to identify these forward-looking statements by using words and phrases such as "may," "will," "expects," "anticipates," "believes," "intends," "estimates," "plan," "should," "typical," "preliminary," "we are confident" or similar expressions. These forward-looking statements are based on information currently available and are subject to a number of risks, uncertainties and other factors that could cause Greenlight Resources Inc.'s actual results, performance, prospects or opportunities to differ materially from those expressed in, or implied by, these forward-looking statements. These risks, uncertainties and other factors include, without limitation, the Company's growth expectations and ongoing funding requirements, and specifically, the Company's growth prospects with scalable customers, and those outlined above. Other risks include the Company's limited operating history, the Company's history of operating losses, consumers' acceptance, the Company's use of licensed technologies, risk of increased competition, the potential need for additional financing, the terms and conditions of any financing that is consummated, the limited trading market for the Company's securities, the possible volatility of the Company's stock price, the concentration of ownership, and the potential fluctuation in the Company's operating results.

Disclaimer

AllPennyStocks.com feature stock reports are intended to be stock ideas, NOT recommendations. Please do your own research before investing. It is crucial that you at least look at current SEC filings and read the latest press releases. Information contained in this report was extracted from current documents filed with the SEC, the company web site and other publicly available sources deemed reliable. For more information see our disclaimer section, a link of which can be found on our web site. This document contains forward-looking statements, particularly as related to the business plans of the Company, within the meaning of Section 27A of the Securities Act of 1933 and Sections 21E of the Securities Exchange Act of 1934, and are subject to the safe harbor created by these sections. Actual results may differ materially from the Company's expectations and estimates. This is an advertisement for Greenlight Resources Inc. The purpose of this advertisement, like any advertising, is to provide coverage and awareness for the company. The information provided in this advertisement is not intended for distribution to, or use by, any person or entity in any jurisdiction or country where such distribution or use would be contrary to law or regulation or which would subject us to any registration requirement within such jurisdiction or country.

© 1999-2011 AllPennyStocks.com. All rights reserved. AllPennyStocks.com is not a Registered Broker/Dealer or Financial Advisor, nor do we hold ourselves out to be. All materials presented on our web site and individual reports released to the public through this web site, e-mail or any other means of transmission are not to be regarded as investment advice and are only for informative purposes. Before making a purchase or sale of any securities featured on our web site or mentioned in our reports, we strongly encourage and recommend consultation with a registered securities representative. This is not to be construed as a solicitation or recommendation to buy or sell securities. As with any stock, companies we select to profile involve a degree of investment risk and volatility. Particularly Small-Caps and OTC-BB stocks. All investors are cautioned that they may lose all or a portion of their investment if they decide to make a purchase in any of our profiled companies. Past performance of our profiled stocks is not indicative of future results. The accuracy or completeness of the information on our web site or within our reports is only as reliable as the sources they were obtained from. The profile and opinions expressed herein are expressed as of the date the profile is posted on site and are subject to change without notice. No investor should assume that reliance on the views, opinions or recommendations contained herein will produce profitable results. AllPennyStocks.com may hold positions in securities mentioned herein, and may make purchases or sales in such securities featured on our web site or within our reports. In order to be in full compliance with the Securities Act of 1933, Section 17(b), AllPennyStocks.com will disclose in it's disclaimer, what, if any compensation was received for our efforts in researching, presenting and disseminating this information to our subscriber database and featuring the report on the AllPennyStocks.com web site. AllPennyStocks.com has been compensated twenty four thousand five hundred dollars by the Company for its efforts in presenting the V.GR profile on its web site and distributing it to its database of subscribers as well as other services. AllPennyStocks.com may decide to purchase or sell shares on a voluntary basis in the open market before, during or after the profiling period of this report. As of the profile date, no shares have been sold. Information presented on our web site and within our reports contain "forward looking statements" within the meaning of Section 27A of the Securities Act of 1933 and Section 21E of the Securities Exchange Act of 1934. Any statements that express or involve discussions with respect to predictions, expectations, beliefs, plans, projections, objectives, goals, assumptions or future events or performance are not statements of historical fact and may be "forward looking statements." Forward looking statements are based on expectations, estimates and projections at the time the statements are made that involve a number of risks and uncertainties which could cause actual results or events to differ materially from those presently anticipated. Forward looking statements in this action may be identified through the use of words such as "expects'", "will," "anticipates," "estimates, "believes," or that by statements indicating certain actions "may," "could," or "might" occur.

THE READER SHOULD VERIFY ALL CLAIMS AND DO THEIR OWN DUE DILIGENCE BEFORE INVESTING IN ANY SECURITIES MENTIONED. INVESTING IN SMALL CAP SECURITIES IS SPECULATIVE AND CARRIES A HIGH DEGREE OF RISK.

We encourage our readers to invest carefully and read the investor information available at the web sites of the Securities and Exchange Commission (SEC) at: http://www.sec.gov and/or the National Association of Securities Dealers (NASD) at: http://www.nasd.com. Readers can review all public filings by companies at the SEC's EDGAR page. The NASD has published information on how to invest carefully at its web site.
---